Waterways of Belgium & France from Dover, 29 May 2021

Cruise Line: Fred. Olsen
Ship: Bolette
Non past passengers receive Free Tips & Free Spend
Booking Reassurance Guarantee
Booking Reassurance Guarantee
For any 2020 departures - you are able to transfer to an alternative 2020, 2021 or 2022 sailing currently on sale - as long as you advise us no later than 15 days prior to departure.
Fred. Olsen Covid-19 safety measures
Before Cruising

All guests must have insurance which includes coronavirus cover before sailing, and their recommended insurance partner - Holiday Extras - has been updated to reflect this. This will cover guests should they fall ill during the cruise, and is available to all who meet Holiday Extras' health criteria, including those over 70.

Onboard and Ashore

Every surface in every venue will be cleaned using antiviral and antibacterial solutions, overseen by a Sanitation Officer who will carry out regular audits. Cabins will be cleaned every day, and deep cleaned between cruises. As well as this, guests can enjoy 100% fresh air throughout the fleet of small ships, with little requirement for air recirculation. Tour partners are pre-approved, and will only visit attractions where Fred. Olsen's tour providers are sure that safety standards are being met. Tour groups are limited to 25 guests, while having smaller ships than other lines mean more port options should an itinerary have to change.

Medical

The specialist medical facilities onboard Fred. Olsen ships are operated by doctors and nurses. Working with Public Health England, they are developing processes to ensure any guests showing symptoms can be isolated and treated onshore and onboard.
Day
Port
Arrive
Dep
1
Dover

Arrive ,

Depart

2-3
Antwerp - Overnight onboard

Arrive ,

Depart

4
Honfleur

Arrive ,

Depart

5
St. Malo

Arrive ,

Depart

6
Dover

Arrive ,

Depart
Itinerary details & timings may be subject to change.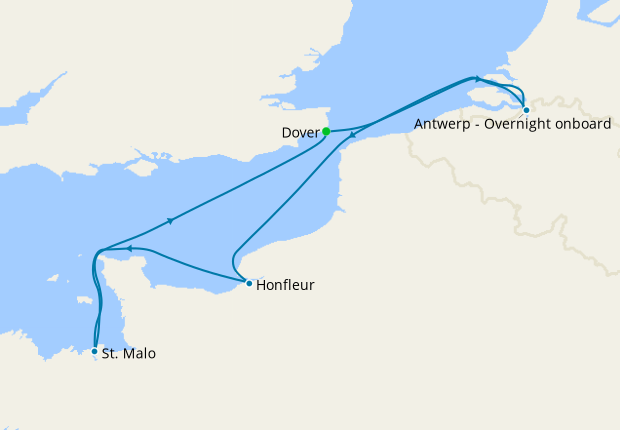 Inside
Price From: £727 pp
Bathroom with shower
Fridge
Hairdryer
Interactive television
Safe
Tea and coffee making facilities
Twin beds can be made into doubles if required
I
Deck 1, Deck 2, Deck 3
H
Deck 1
Bathroom with shower
Fridge
Hairdryer
Interactive television
Safe
Tea and coffee making facilities
Twin beds can be made into doubles if required
Outside
Price From: £824 pp
Balcony
Price From: £1,358 pp
Suite
Price From: £1,552 pp
Ocean Club Members offer is valid from the 22nd Sep - 1st Oct. From the 1st Oct the offer will be live for all passengers. Offer is for Free Drinks & Free tips on selected sailings.
All offers and prices are subject to change and availability at time of enquiry. Prices are based on two passengers sharing unless otherwise stated and are subject to the Tour Operator's terms and conditions. Cabin and Flight supplements may apply. Other supplements may apply in addition to the price shown above. Flight details, timings and routing may be subject to alteration. Other tour operator charges may also apply. Any Onboard Spending money or drinks package value shown will be per cabin, again based on two sharing.
Note: On 13 January 2018, new European legislation is being adopted in the UK which as result will mean that we may change our required method of payment at our discretion, irrespective of how any deposit or prior payment was made.