Renaissance Explorer from Venice, 14 October 2021

Cruise Line: Princess Cruises
Ship: Pacific Princess
Upgrade to Princess Plus, including Premium Beverage Package, WiFi & Gratuities for £35pp per day for all passengers!
Return flights  & hold luggage included
All overseas  transfers
What our customers say
"The itinerary was excellent as was the size of ship for this trip. Very enjoyable cruise...." view more
Couple | United Kingdom | 6-10 cruises | Verified
Cruise with Confidence
For cruises departing up to 30th April 2021 - guests may cancel up to 30 days before the sail date and receive a Future Cruise Credit for any cancellation fees and a refund of additional funds received to the original payment method. Final Payment is now due 60 days before departure, not the usual 90 days
Princess Cruises Covid-19 safety measures
Before Cruising

Before travel, destinations will be monitored to ensure that they are safe to visit, while anyone displaying flu-like symptoms or who has been in contact with someone with COVID-19 or suspected COVID-19 will not be allowed to travel. In addition, prior to boarding guests and crew must undergo health screening. The terminals will also be frequently cleaned and sanitized, as well as fogged between embarkations where possible.

Cleaning

Frequent cleaning will continue onboard, especially on high touch points such as chairs, tables and doors, while hand sanitiser stations will be conveniently located both in public spaces and crew areas to encourage handwashing.

Medical

All cruise ship medical staff will be given special training on COVID-19, and anyone who develops symptoms during their cruise should visit the health centre for testing and treatment.
Day
Port
Arrive
Dep
1
Flight departs

Arrive ,

Depart

1-2
Venice - Overnight onboard

Arrive ,

Depart PM

PM

3
Dubrovnik

Arrive PM,

Depart PM

PM

PM

4
Bari

Arrive AM,

Depart PM

AM

PM

5
At Sea

Arrive ,

Depart

6
Palermo, Sicily

Arrive AM,

Depart PM

AM

PM

7-8
At Sea

Arrive ,

Depart

9
Seville (Cadiz)

Arrive AM,

Depart PM

AM

PM

10-11
At Sea

Arrive ,

Depart

12
Ponta Delgada, Azores

Arrive AM,

Depart PM

AM

PM

13-19
At Sea

Arrive ,

Depart

20
Fort Lauderdale

Arrive AM,

Depart

AM

20-21
Flight departs

Arrive ,

Depart
Itinerary details & timings may be subject to change.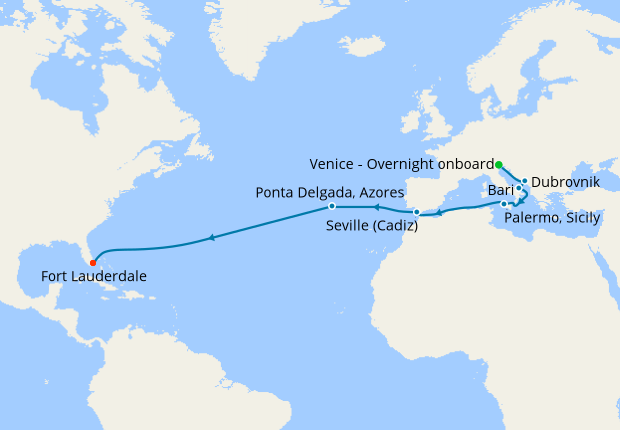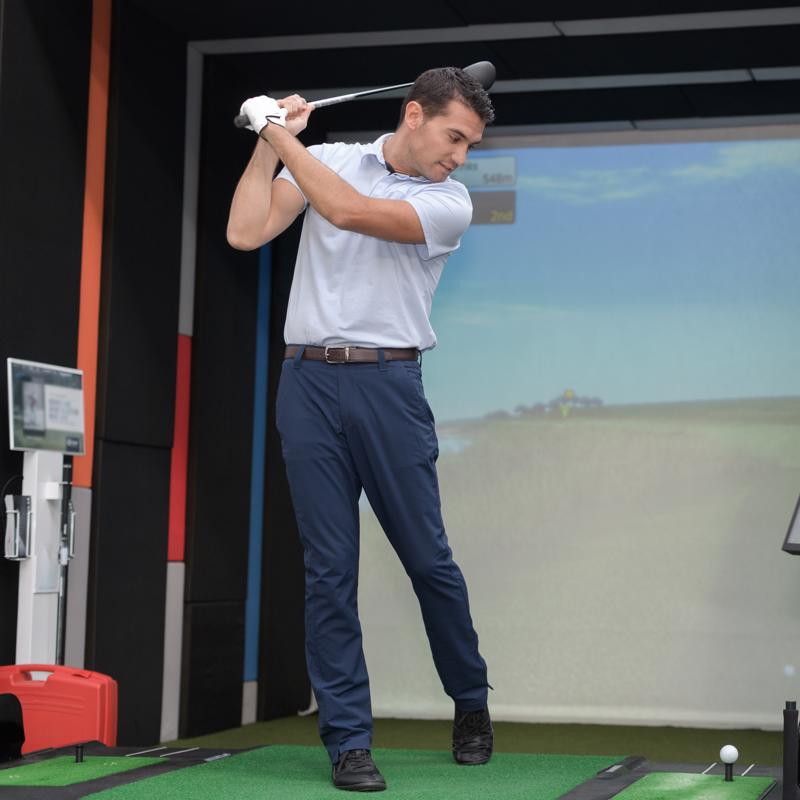 Golf Practise Cage
Go home with fine-tuned golfing skills after a few sessions of practic...
---
Supplement Cost
Activities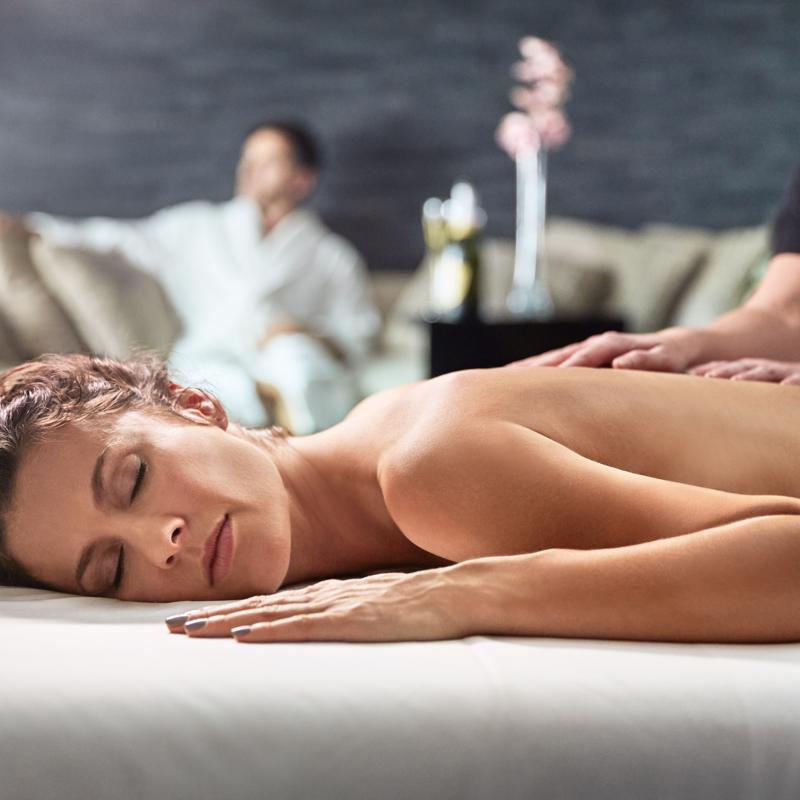 Lotus Spa
The Lotus Spa offers a tranquil space as well as treatments, thermal s...
---
Health
Supplement Cost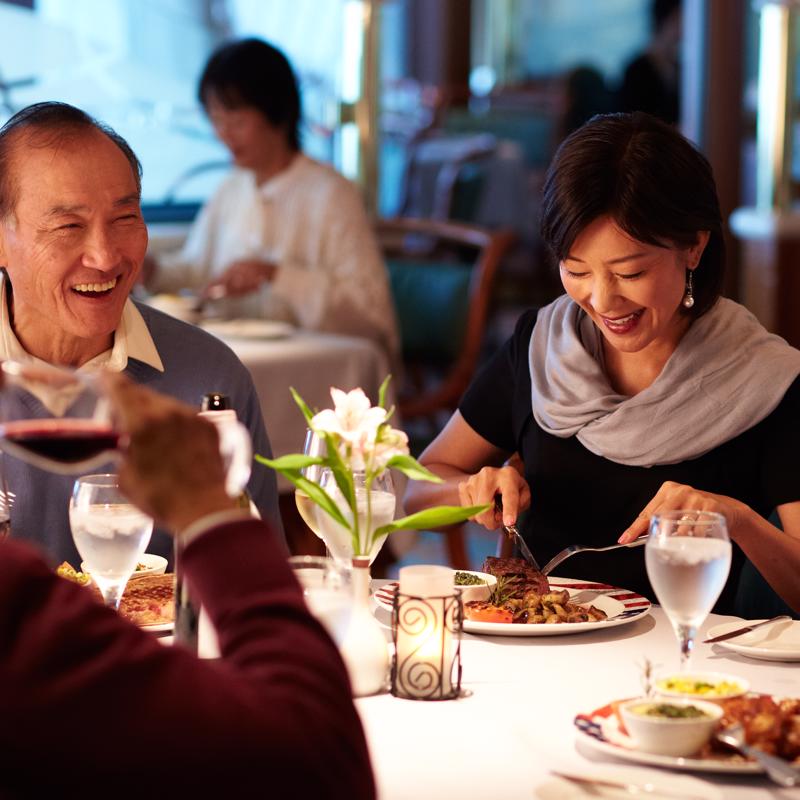 Sterling Steakhouse
An incredible steakhouse with tasty food and wonderful service. Additi...
---
Supplement Cost
Restaurant
Inside
Price From: £1,829 pp
Complimentary 24-hours room service
Hairdryer
Individually Controlled Air-Conditioning
Private Bathroom with Shower
Private Safe
Refrigerator
Sitting Area with Desk
Spacious closet
TV
Twin Bed (convertible to queen-size)
Some cabins are equipped with additional bedding to accommodate a third or fourth guest
IE
Deck 7
IA
Deck 7
Call us for latest availability
IB
Deck 8, Deck 7, Deck 4
Call us for latest availability
IC
Deck 8
Call us for latest availability
Outside
Price From: £2,079 pp
Balcony
Call us for latest availability
Suite
Call us for latest availability
Overall ratings and reviews
Prices shown are subject to availability based upon 2 adults sharing the lowest available grade within the stateroom type specified. Prices and availability are correct at time of publishing, and may go up or down. Standard deposit is required, if cruise falls within 90 days before departure, then full balance would be required as per standard terms and conditions. *Free Oceanview to Balcony Upgrade - Offer is based on buying the lowest grade of Balcony stateroom for the price of an equivalent Oceanview category stateroom. "Princess Plus includes Premier Beverage Package, WiFi & Gratuities and is available on cruises longer than 3 nights in duration. Princess Plus is an additional £35 per person, per day, for all passengers. The total equivalent value for pre-paying or purchasing on board for the elements included in the Princess Plus package is $95.28 per person, per day. Princess Plus can be removed at any time. Offers can change or be withdrawn without notice. ***Premier Beverage Package*** The Premier Coffee & Soda Package applies to all guests in a stateroom that are not eligible for the Premier Beverage Package due to age restrictions. The same terms and conditions for usage of the premier beverage package apply. In the event that a guest does not want the Premier Coffee & Soda Package, no substitutions will be offered. ***Wi-Fi*** Offer applies to all guests in stateroom (one device per guest). ***Gratuities*** Discretionary stateroom gratuities to the value of $14.50 per person per day for Interior, Oceanview, and Balcony staterooms, $15.50 per person per day for Mini-suite and Club Class staterooms and $16.50 per person per day for Suites. Does not include gratuities added to bar charges, dining room wine accounts or Lotus Spa services. An additional service charge will be applied to all drinks purchased from the bars and restaurants. This is including any drink part of the Princess Plus inclusions. Gratuities are not transferable, non-refundable and have no cash value.
All offers and prices are subject to change and availability at time of enquiry. Prices are based on two passengers sharing unless otherwise stated and are subject to the Tour Operator's terms and conditions. Cabin and Flight supplements may apply. Other supplements may apply in addition to the price shown above. Flight details, timings and routing may be subject to alteration. Other tour operator charges may also apply. Any Onboard Spending money or drinks package value shown will be per cabin, again based on two sharing.
Note: On 13 January 2018, new European legislation is being adopted in the UK which as result will mean that we may change our required method of payment at our discretion, irrespective of how any deposit or prior payment was made.