Crociere Oceania
Crociere con Oceania Cruises
Founded in 2002, Oceania Cruises are leaders in providing top-class service, entertainment and cuisine in the luxurious, sophisticated setting of a floating country-club hotel. Offering some of the best cruises around the world, let their fleet of modern, intimately sized ships take you to the most iconic destinations in ultimate comfort and style.
Condizioni di prenotazione flessibile e i protocolli sanitari necessari contro il COVID-19. Scopri di più.
Oceania Cruises: Vita a bordo
Numero di crociere

72

Flotta:

Navi da crociera 4

Destinazioni:

19
Boasting luxurious staterooms, spacious venues and unbeatable comfort wherever you are onboard, the Oceania Cruises fleet sees passengers returning time and time again to experience the joy of ocean voyaging.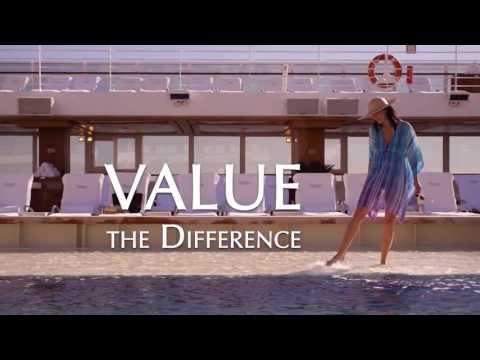 Navi da crociera Oceania Cruises
Thanks to the small size and intimate guest capacity of each Oceania Cruises' vessel, guests can expect outstanding personalised service and attention to detail through every ship. Thanks to the small size and intimate guest capacity of each Oceania Cruises' vessel, guests can expect outstanding personalised service and attention to detail through every ship.


Destinazioni Oceania Cruises
From the hidden gems of the Mediterranean to the white sands of the Caribbean, Oceania Cruises voyage to all corners of the world. Whether you're looking for a short getaway or a world cruise, choose from a range of itineraries to suit your needs.
Novitá dal blog
Qui pui trovare le guide e le notizie aggiornate sul mondo delle crociere!
Guarda il blog
Top FAQs
Children must be at least one year old as of the first day of the sailing with Oceania cruises. The cruise takes no responsibility for infants in terms of childcare or entertainment and guests under 18 must share a cabin with an adult.

Oceania offer a 5% repeat passenger discount and a welcome back treat will be waiting for you in your cabin upon embarkation.

Onboard an Oceania cruise, there is a country club casual dress code during the day, while evenings have an elegant casual resort dress code during the evenings. Shorts, jeans, trainers and caps are not permitted in the restaurants after 6pm.

Beer or spirits are not permitted to be brought onboard Oceania's cruise ships at embarkation but you are allowed up to three wine bottles per cabin. This will incur a $25 corkage charge each if consumed in a public area. Any alcoholic beverages purchased at a port of call or the onboard shops, meanwhile, are simply turned in and returned on the final night of your cruise.

Gluten-free, lactose-free, vegetarian, dairy-free, kosher and diabetic-friendly meals are provided as standard. Guests with any other dietary requirements should declare this in advance.

Oceania Cruises have both US and Continental 2-pin electrical plug sockets in their cabins throughout the fleet. If you are from the UK, an adaptor is advised.

Oceania offer a limited number of single occupancy cabins on their ships. This single occupancy supplement varies depending on your deal, from 50% to 200%.
Accessibility
Oceania cruises have a limited number of easy-access cabins which feature widened doorways for wheelchairs, roll-in bathrooms, grab bars and even alert buttons should you get into any difficulties. Around the ship you will find plenty of space to manoeuvre and ample lifts and ramps, along with reserved spots in the lounges and entertainment venues. There is also assistance available during embarkation and disembarkation.

Expecting mothers are not able to cruise with Oceania if they have entered their 24th week of pregnancy before or at any point during the sailing.

All Oceania cruise ships have a medical centre operated by fully qualified medical staffed. Any service or treatment carried out in the medical facility may incur a charge such as prescriptions and emergency procedures. Prestige passengers may be able to have some service for free but please check your medical and travel insurance to avoids any unwanted fees.