I was fortunate to first be able to visit Celebrity Edge in a cold, wintery St Nazaire shipyard last year. Even though she was unfinished back then, everyone in the group knew this was going to be a very special ship with so much attention to detail, beautiful spaces and design. I then attended the naming ceremony in December in Fort Lauderdale and Edge looked spectacular, especially as we could enjoy the outdoor spaces in the Florida sunshine.
On the second night while in Fort Lauderdale I booked my own family holiday for the following August. Here, I took advantage of the extra onboard spending money I'll probably use on a spa treatment when I return in the summer when Edge is in the Med. It's not the cheapest holiday I've ever booked, and nor should it be. Edge is a level above rest of the Celebrity fleet, even the stunning Solstice class ships, and feels sumptuous and luxurious. I booked because the ship is truly stunning, with chic, modern design and special touches everywhere. The food was also fabulous and there are a lot of beautiful spaces onboard.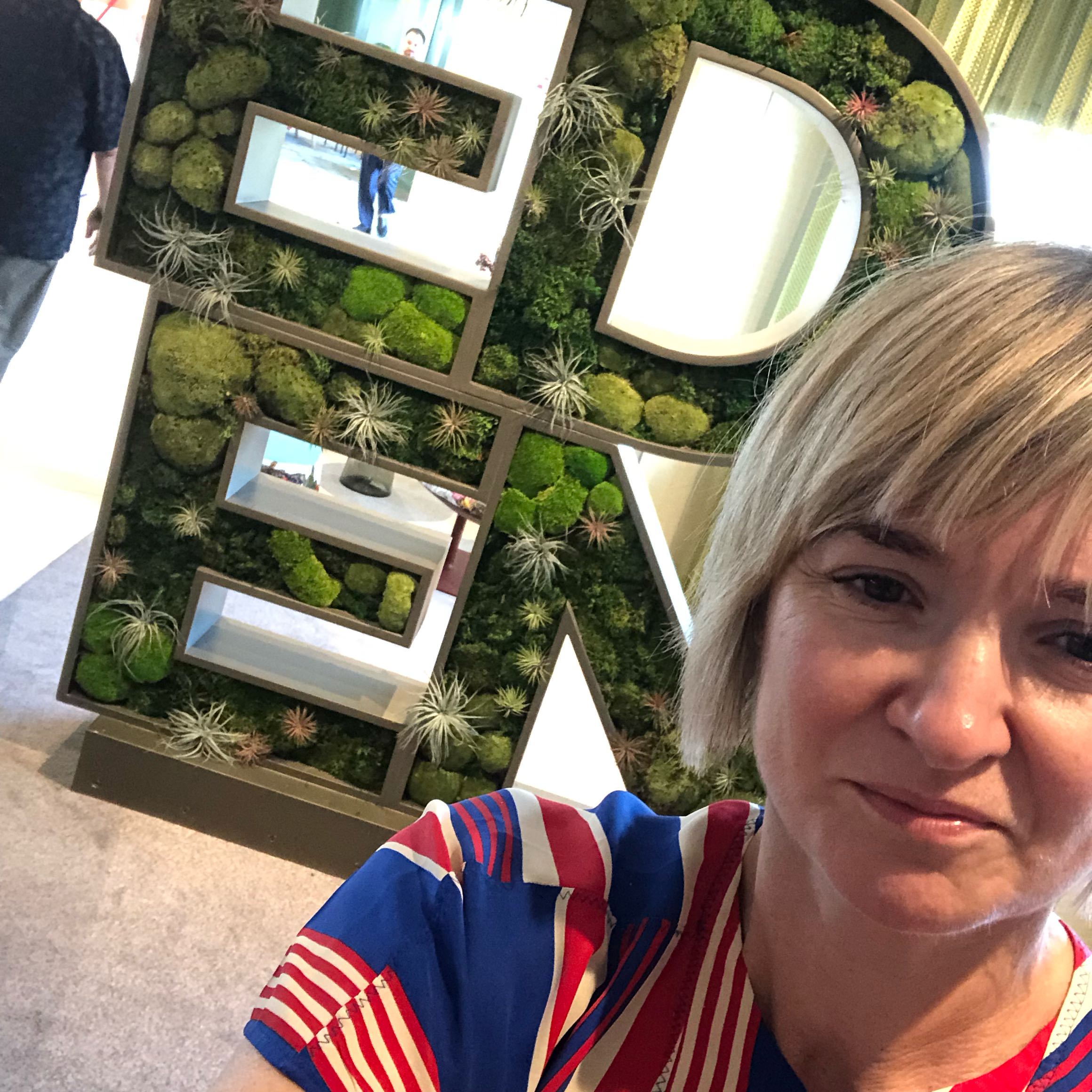 Here's what I loved
Staterooms - you can open the window!
The Kelly Hoppen suites with clean white furnishings are beautiful with plenty of space and uber modern. Suite guests enjoy their own restaurant, retreat area and pool, which is spacious and tranquil. I'm travelling with my family (boyfriend, son and parents) and plan to be ashore or out and about the ship so opted for adjacent Infinite Balcony Concierge Staterooms. Until sailing, I'd thought that the main benefit of this new stateroom is that you can utilise the traditional balcony space as an indoor area which is especially useful if the weather isn't as good as you'd like and also a very practical use of this space. I also loved that there is glass from floor to ceiling, meaning that you definitely feel closer to the ocean. Also, you can open the window, meaning no more dry eyes in the morning from the air-conditioning!
Restaurants - 4 restaurants and no dining room!
I loved the fact that rather than 1 large main dining room there are 4 smaller restaurants (not dining rooms!). They offer different cuisines such as Italian, Mediterranean and French, as well as a more traditional Celebrity menu. I felt that they were as stylish, and the service as good, as the speciality dining options. As well as casual venues, there is an array of speciality restaurants to choose from for an extra charge, including a steakhouse, bistro and raw seafood bar. Le Petit Chef is an incredible visual, interactive experience where animated chefs prepare your food on the table. Can't wait to see my son' reaction! Three other exciting venues are the Rooftop Garden grill, where you dine al fresco, the Magic Carpet at the top of the ship and also Eden for experiential dishes with entertainment. In addition, Aqua and Suite class guests have their own restaurants.
Nigth time - lively and laid back.
Edge is a large ship, but feels surprisingly intimate at night as there are 3 main hubs as well as the theatre.
The Resort Deck features a pool bar at the aft as well as the Rooftop Garden, where you can chill out, dine, play games and watch movies in the evening.
The Grand Lobby has a martini bar at the bottom, which is often one of the quieter bars on cruise ships. On Edge, this is chic and extremely lively with a laid back vibe. Many of the speciality restaurants are also in this area set around the huge centrepiece chandelier.
Eden is a stunning space over 3 decks. During the day it's a place to relax, read, enjoy a coffee and a snack. At night, it transforms into a "sinful" space with the hottest performance artists and the coolest cocktails. You can also dine there with an incredibly decadent tasting menu. It's edgy and it's incredible.
But what about the kids?
Celebrity Cruises don't position themselves as a family cruise line (and let's face it, there are plenty of incredible cruises with lots of family activities). However, they do cater very well for families even if they don't shout about it. Their kid's club is small yet perfectly formed, as there won't be hundreds of kids onboard but there will be hundreds of different activities for children of all ages to choose from. My son, aged 7, is going to love it.
One more thing...
The spa and the fitness centre are state-of-the-art. The contemporary spa has also been designed by Kelly Hoppen and the fitness area features the hottest new classes such as Peloton cycling, HIIT and Barre.
Just one more thing...
The Magic Carpet is the size of a tennis court and is at the side of the ship. At ports where you have to tender it becomes the tender station. This means no more queues as you now relax at the bar with a drink (the specially designed tenders are extremely luxurious too). Other days, the Magic Carpet becomes an additional bar by the pool deck and at night becomes Dining on the Edge, a speciality dining restaurant over the sea. So innovative!
Roll on August!
I can't wait to get onboard as Edge does Summer in the Med. The exciting news is that her sister ship Apex is going to be doing a mini-season out of Southampton next year so is a chance for more people in the UK to enjoy these beautiful ships without having to travel too far.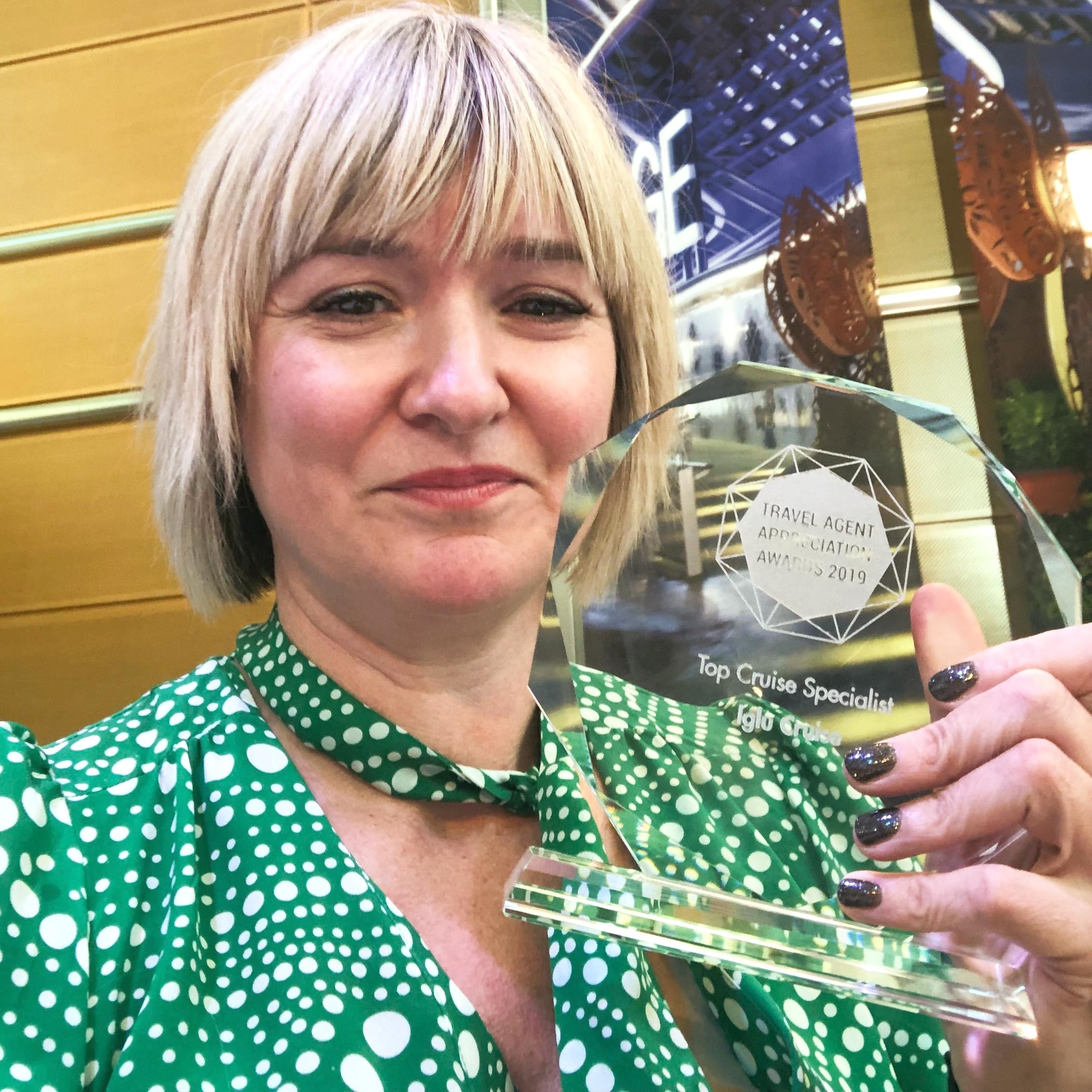 In the picture above Simone holds the Top Cruise Specialist prize awarded in January 2019 by Celebrity Cruises to Planet Cruise.
Back to cruise guides and features
Go