MSC Cruises
MSC World America
Debuting in 2025, MSC World America spans 22 decks, caters for up to 5,200 passengers and offers a wide array of impressive facilities, including the Luna Park Arena!
View Cruises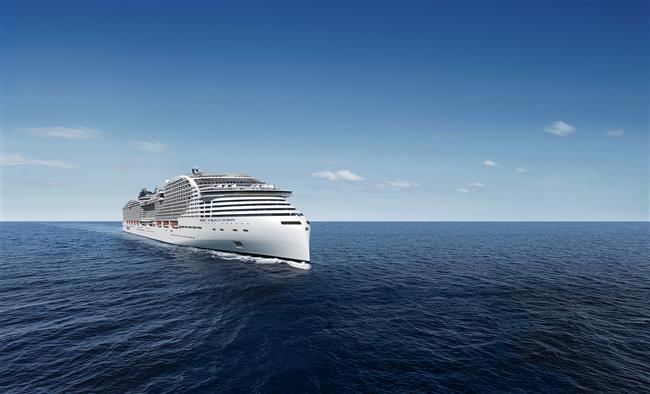 MSC World Europa
Setting sail in 2022, MSC World Europa will be the largest ship in the fleet, packed from bow to stern with unforgettable dining, entertainment and recreation. Click the link below to find out more.
View Cruises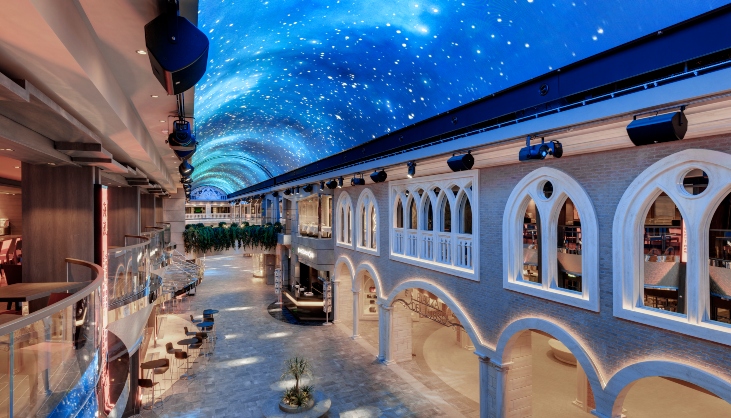 MSC Atrium
Spend your free time exploring MSC's amazing onboard spaces during your cruise.
View Cruises
Cruises with MSC Cruises
For award-winning, extraordinary cruises onboard a modern fleet of ships, look no further than MSC Cruises. Exuding style and world-class hospitality from the moment you step onboard, MSC provides the perfect holiday in the Mediterranean and further afield, whether you're travelling alone, as a family or as a couple. MSC Cruises also strive for a more sustainable future in cruising with a focus on environmental stewardship, with measures taken such as powering several of their ships with Liquefied Natural Gas, and maximising energy efficiency with smart heating and ventilation systems.
MSC Cruises: Life on-board
Total cruises

1,856

Fleet:

22 Ships

Destinations:

26
Boasting facilities that are perfect for guests of any age, from spas and pool decks to live entertainment and clubs for kids, MSC makes your time onboard just as exciting as the destinations visited.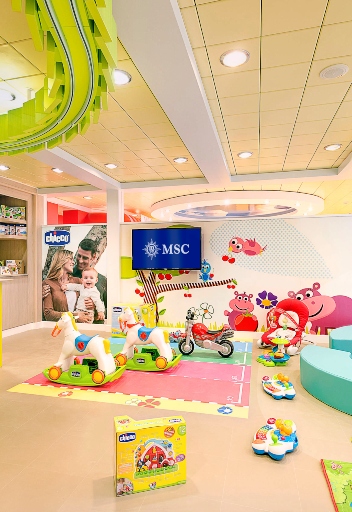 Family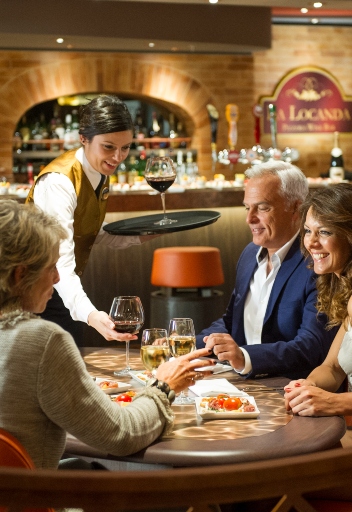 Dining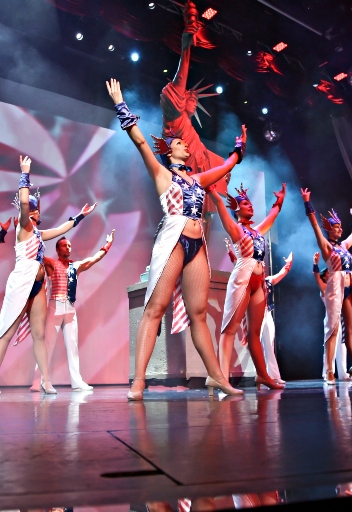 Entertainment
Recreation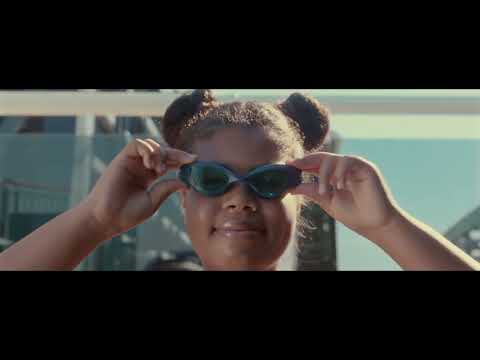 MSC Cruises Ships
With MSC Cruises' innovative ships ranging from midsize to large, whether you're looking for a relaxing escape or a more resort-style cruise experience, the perfect cruise is waiting to take you on the voyage of your dreams.


MSC Cruises ship classes explained
Meraviglia Big ships with exciting features including an LED roof, waterslides and a high ropes course.


Meraviglia Plus Bigger ships than the Meraviglia class with even more innovative features.


Musica Mid-sized ships offering traditional yet modern European-style cruising.


Fantasia Large ships with huge theatres, sports facilities and lots of dining venues.


Seaside Modern cruising with world-class entertainment and space for almost 6,000 guests


Lirica Elegant, traditional cruising with a modern twist onboard mid-size ships.

MSC Magnifica

MSC World Europa

MSC Euribia

MSC Virtuosa

MSC Musica

MSC Poesia

MSC Preziosa

MSC Seaview

MSC Splendida

MSC Armonia

MSC Meraviglia

MSC Orchestra

MSC Divina

MSC Lirica

MSC Seashore

MSC World America

MSC Fantasia

MSC Grandiosa

MSC Seaside

MSC Opera

MSC Seascape

MSC Sinfonia
MSC Cruises Highlights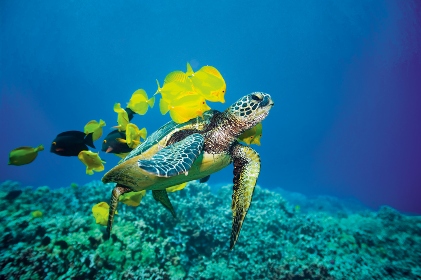 Shore Excursions
If you're looking for a shore excursion on your cruise, look no further than MSC Cruises' vast selection. For example, MSC Cruises' "Protectours" offer wildlife tours with minimal environmental impact and give you the chance to help the world around us, including the chance to save baby turtles in the Caribbean!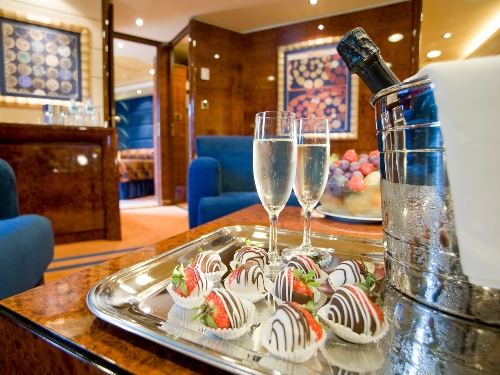 MSC Yacht Club
Those who holiday with MSC Cruises regularly should consider joining the brilliant loyalty scheme: MSC Yacht Club. With this programme you can start accumulating points from your very first MSC cruise, and enjoy a range of benefits and added extras.
Customer reviews for MSC Cruises
group
23 Nov 2023
couple
28 Sep 2023
couple
8 Sep 2023
For a first time cruise for our 50th wedding anniversary we had a fantastic experience and so many lovely people. I can't wait to book another cruise.
family
3 Jul 2023
The cruise was very nice and modern! The workers are nice and helpful. I liked the theater performance. The cocktails were delicious. Food: great selection, but could be tastier. There could be more animation programs in the evening. Children's disco was missing.
MSC Cruises Destinations
Whether you're looking for a winter sun escape, a Greek Island hopping adventure, or want to head further afield to Africa and beyond, MSC has the perfect itinerary for you.
Fresh from the blog
Find all the latest cruise-themed guides and news here!
Visit our blog
Top FAQs
MSC Cruises use a cashless system, meaning you can pay using your credit card or charge things to your room if a card has been registered to your onboard account. Currency used will either be Euros or US Dollars depending on the itinerary.

While some entertainment is at available at an additional cost, MSC Cruises offer plenty of activities onboard included in your fare.

It is usual for a 7-night cruise to have two formal nights (Gala nights). Here guests should wear suits, tuxedos, floor-length gowns, or cocktail dresses.

An onboard newsletter is provided to guests every evening which details all cruise information for the following day. It includes onboard events, excursions, opening times for onboard bars and restaurants, shows, and helpful information about your next port such as the weather and arrival/departure time.

MSC Cruises are fairly relaxed when it comes to what to wear onboard, however they do offer a few suggestions for certain events. For Gala evenings women should wear smart attire such as a pant suit, cocktail dress, or gown, while men should wear a tuxedo, dinner jacket, or suit and tie. There could also be theme nights during your cruise with 60s and 70s-style clothing recommended for the Flower Glory Party, a smart white outfit for the White Party, and green, red, and white colours for the MSC Little Italy night.
Dining
It's best to let your cruise consultant know of any dietary requirements at the time of booking. An MSC Special Needs Form will then be completed and passed on for your cruise. We advise that you also inform the restaurant manager once you are onboard.

Alcohol purchased outside of the ship is not allowed onboard for consumption, however it is possible to buy it in port as a souvenir to take home and hand it in for safe keeping until the end of your cruise. The crew may confiscate personal alcohol from guests at any time.

The age limit for alcohol consumption is 18, excluding itineraries that have stops in North America, where the age limit is 21.

Guests can enjoy room service 24 hours a day, including fresh pizza or light bites. Those on a Bella Experience booking will incur additional charges.

No, however, guests can order room service 24 hours a day, or visit the buffet which is open 20 hours per day.
Booking and Excursions
No, all MSC Cruise excursions come at an additional cost.

MSC Cruise excursions are often discounted when booking online before your cruise. You can do this on their website with your booking reference number or by asking your cruise consultant to help. It is also possible to book excursions while onboard, or with alternative companies. However, due to additional measures put in place due to coronavirus, guests can currently only go ashore on excursions organised by MSC Cruises.

MSC Cruises include gratuities in your cruise fare.

Yes, MSC Cruises offer their customers an opportunity to join their Voyager's Club. This comes with all sorts of great benefits which enhance with every cruise taken. For more information, see our Voyager's Club page.

When you have checked in, MSC Cruises will send you your e-tickets, embarkation form and luggage tags. Check all the information is correct and be sure to bring this paperwork with you when embarking. Luggage tags should be fastened to all your luggage in order for the crew to deliver it to your cabin once you are onboard.