Saga River River Cruises
Cruises with Saga River Cruises
Choose Saga River Cruises for the best way to experience some of the world's most wonderful waterways and destinations through expertly created itineraries at an affordable price. Everything onboard puts customer comfort to the forefront and with gratuities, WiFi, food and drinks all included in the price, you can rest easy in the knowledge that everything has been taken care of before you even step aboard the ship.
Flexible Booking Terms and Covid-19 safety measures. Learn more
Saga River Cruises: Life on-board
Total cruises

170

Fleet:

8 Ships

Destinations:

2
Bringing the award-winning Saga Cruise experience to the rivers of Europe, guests will be delighted by the luxurious range of venues, accommodation and dining onboard. Whether you're enjoying mouth-watering cuisine or dazzling shows, you'll feel right at home on a Saga river cruise.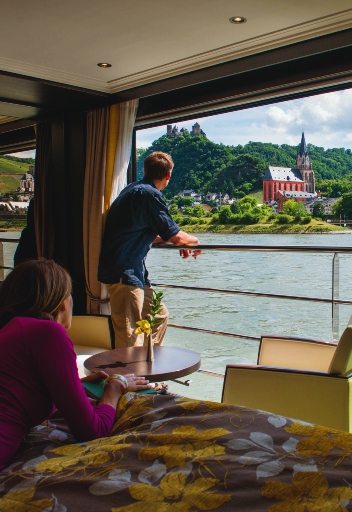 Dining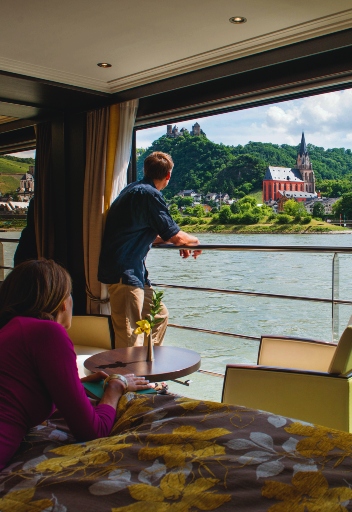 Entertainment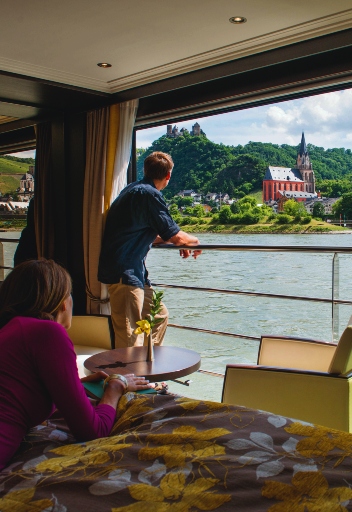 Recreation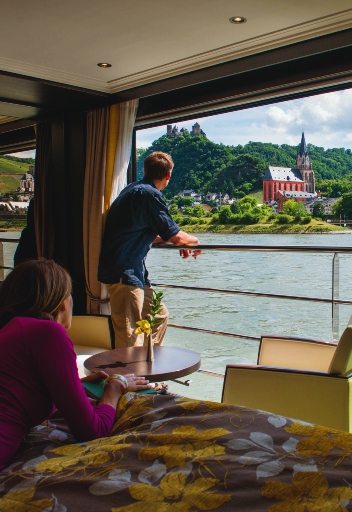 Dining
Shore excursions are the easiest way to make the most of the fantastic destinations on a Saga River Cruise. The standard shore excursion programme offers a choice of activities ranging from hikes to museum visits and city tours. However, if you'd prefer a more bespoke experience, the Explore Ashore teams onboard the ships are led by experts with local knowledge who can advise you on how best to spend your time on dry land.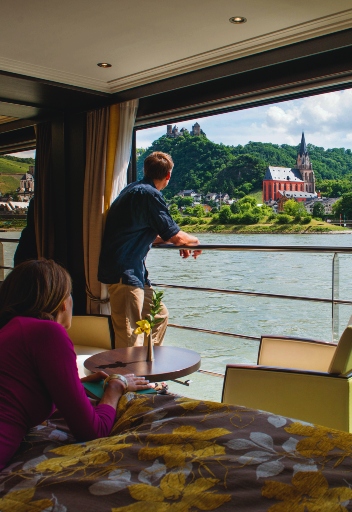 Entertainment
Entertainment onboard Saga River Cruises is second to none and guests will be sure to enjoy every evening they spend onboard. Each ship has a Main Show Lounge with a repertoire of live bands, classical recitals, guest speakers and cabaret shows taking place every day.
Alongside the entertainment, guests can take advantage of the other facilities available onboard, from a workout in the gym, taking part in an exercise class or some time winding down in the sauna.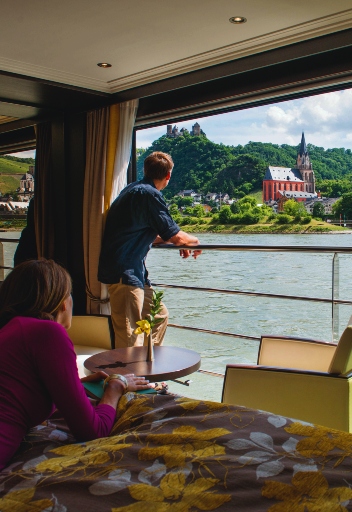 Recreation
Dining onboard a Saga River Cruise is tailored to the destination, meaning that experienced chefs use fresh and local ingredients to serve up delicious cuisine every day, paired with fine wine and beer. Guests can also vary where they eat by visiting the speciality restaurants onboard, all of which can be enjoyed free of charge.
Saga is pleased to provide diners with flexible eating options and with one dinner sitting from 7-9pm, there is no need to rush your meal. If you find yourself feeling hungry at any time of day, you are more than welcome to enjoy afternoon tea, late-night buffets and room service at no extra cost.
Saga River Cruises Ships
Across the Saga River Cruises fleet, guests will find a team of expert chefs ready to take your taste buds on a journey, as well as luxurious cabins, and no shortage of space to relax and unwind.
Saga River Cruises ship classes explained
MV Surikov




MS Dnieper Princess




MS Amadeus Provence




Rex Rheni




Spirit of the Rhine




MS Amadeus Royal




Douro Queen




MS Johannes Brahms



Saga River Cruises Destinations
Fresh from the blog
Find all the latest cruise-themed guides and news here!
Visit our blog