Revealed: The UK's top bucket list destinations by generation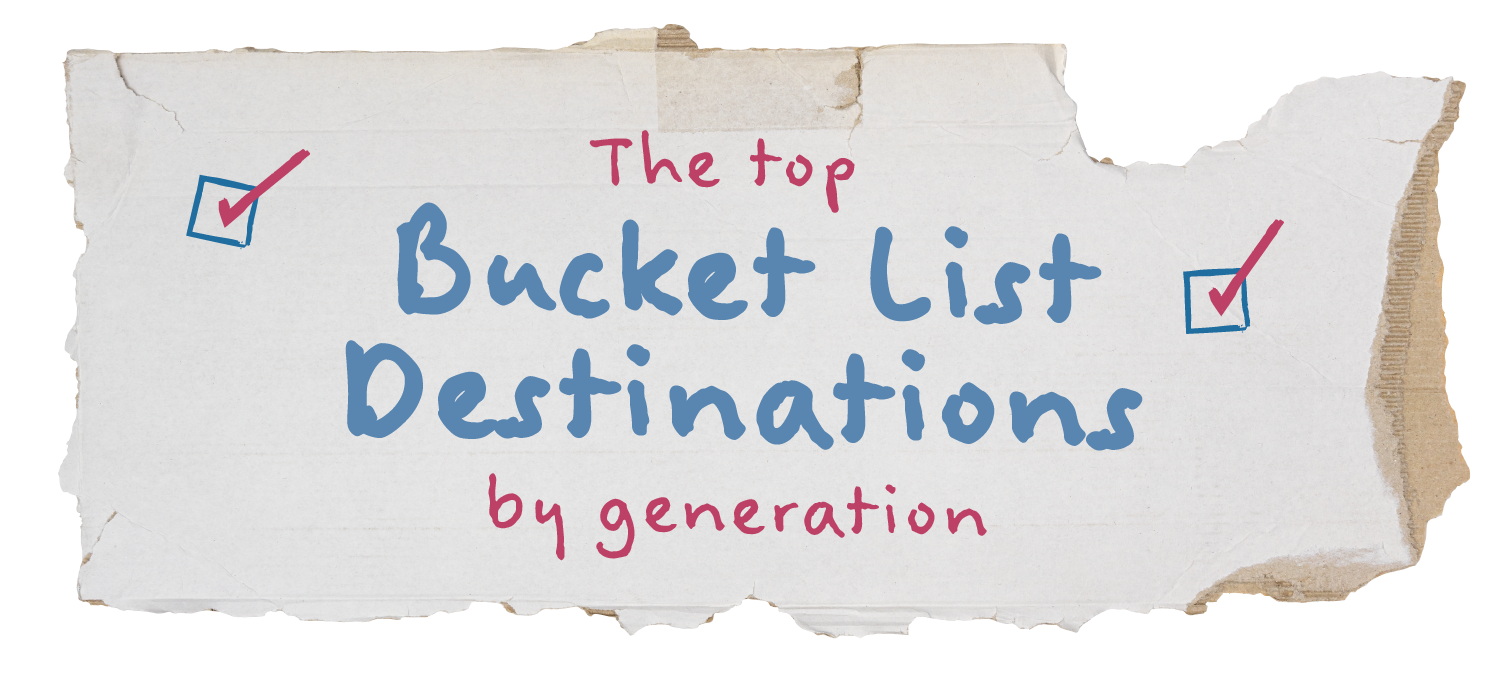 Now that travel is back to normal, the world really is your oyster! In fact, when there are so many places to see, it can be hard knowing where to go next. If you're torn between island hopping in the Caribbean, road tripping across the US, or visiting every European capital you can think of, then you need to create your own bucket list, so you can tick off everything you want to do over the years!
If you're stuck for inspiration on what to include on your bucket list, then you've come to the right place! We've surveyed the nation to see the activities that top their lists, as well as uncovering some of the more unusual activities that were mentioned.
So, sit back, relax, and be prepared for some major travel envy.
From Gen Z to Baby Boomers: These are the top 3 bucket list destinations by generation
Our research has found that top bucket list destinations have some key generational differences. From party animal Gen Z to thrill seeking Millennials, Nature loving Gen X and sightseeing Baby Boomers.
While there are some similarities in bucket-list activities, generations are divided on certain must-dos. For an eco-conscious Gen Z (those aged between 18-24), seeing the Great Barrier Reef is the ultimate dream, followed by driving the USA's famous Route 66, and enjoying a wintry Husky sled ride.
Interestingly, our research also concluded that Gen Z are the biggest partygoers. Several festivals made the bucket lists of people aged 18-24 years - more than any other generation in the study. It revealed that 16% of Gen Z want to go to the Insta-worthy Coachella festival, as well as the Burning Man festival in Nevada, a Full Moon party in Thailand and even 10% want to go to the notoriously X-rated club, Berghain.
Alternatively, for Millennials very few festivals made the cut. Instead, this generation placed visiting Disneyland as a must-do, as well as going on a hot air balloon ride and visiting every single continent in the world.
What stood out on Millennials bucket lists, was their want to explore the world. In contrast to Gen Z, 16% of Millennials included activities such as hiking the Inca trail to Machu Picchu as well as visiting Chernobyl and Petra, partaking in extreme sports, and even climbing Everest. Making Millennials the most adventurous generation in our study.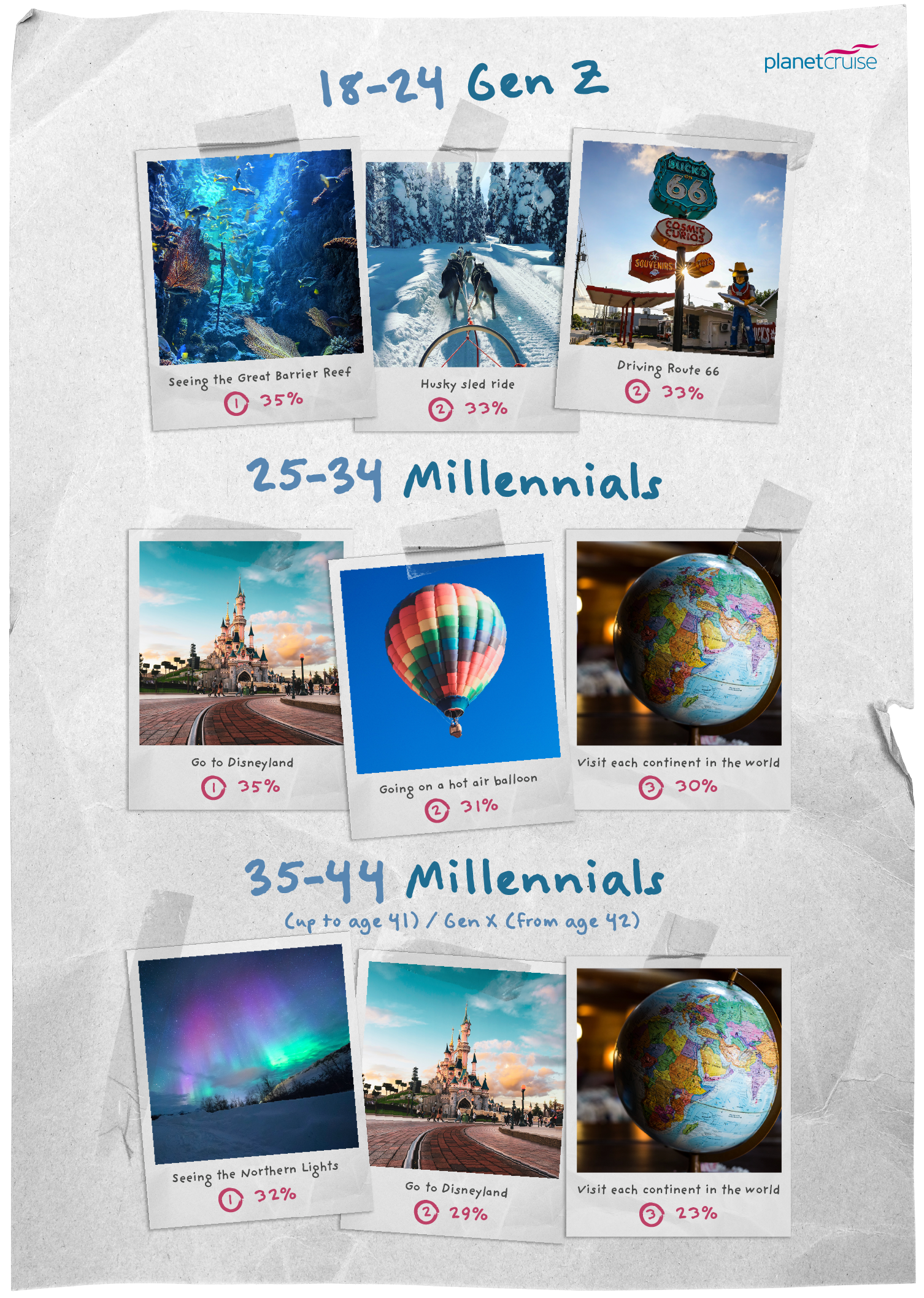 For Gen X and Baby Boomers seeing the Northern Lights is the key thing on both of their bucket lists. However, Gen X believed seeing the Great Barrier Reef and The Pyramids are also of high priority, coming second and third place, whereas for Baby Boomers their second must-do bucket list achievement is visiting Niagara Falls followed by travelling in a hot air balloon.
We've found that the bucket lists activities for Gen X are much calmer in nature in comparison to Gen Z and Millennials. Instead, this generation wants to explore nature and experience the natural wonders of the world from Northern lights to the Great Barrier Reef. To add to their love of nature, Gen X are also the generation most desperate to go on a Safari – making it onto one in five of their bucket lists. Baby Boomers, however, are a lot more classic with their choices. Their bucket lists consist of some of the best national landmarks the world has to offer - from Stonehenge and the Great Wall of China to the Ancient Pyramids, Baby Boomers are keeping it cultural.
One activity which really divides the ages, however, is visiting the Day of the Dead in Mexico. Lots of 18–24-year-olds and 25–34-year-olds want to go (27% and 19% respectively); whereas just 4% of 55-64 year-olds and 2% of 65+ year-old's want to. Whilst many people think it's just an extension of Halloween, this celebration is split over the 1st and 2nd of November, where participants celebrate their loved ones who have passed away by getting dressed up, singing, dancing and taking part in symbolic rituals.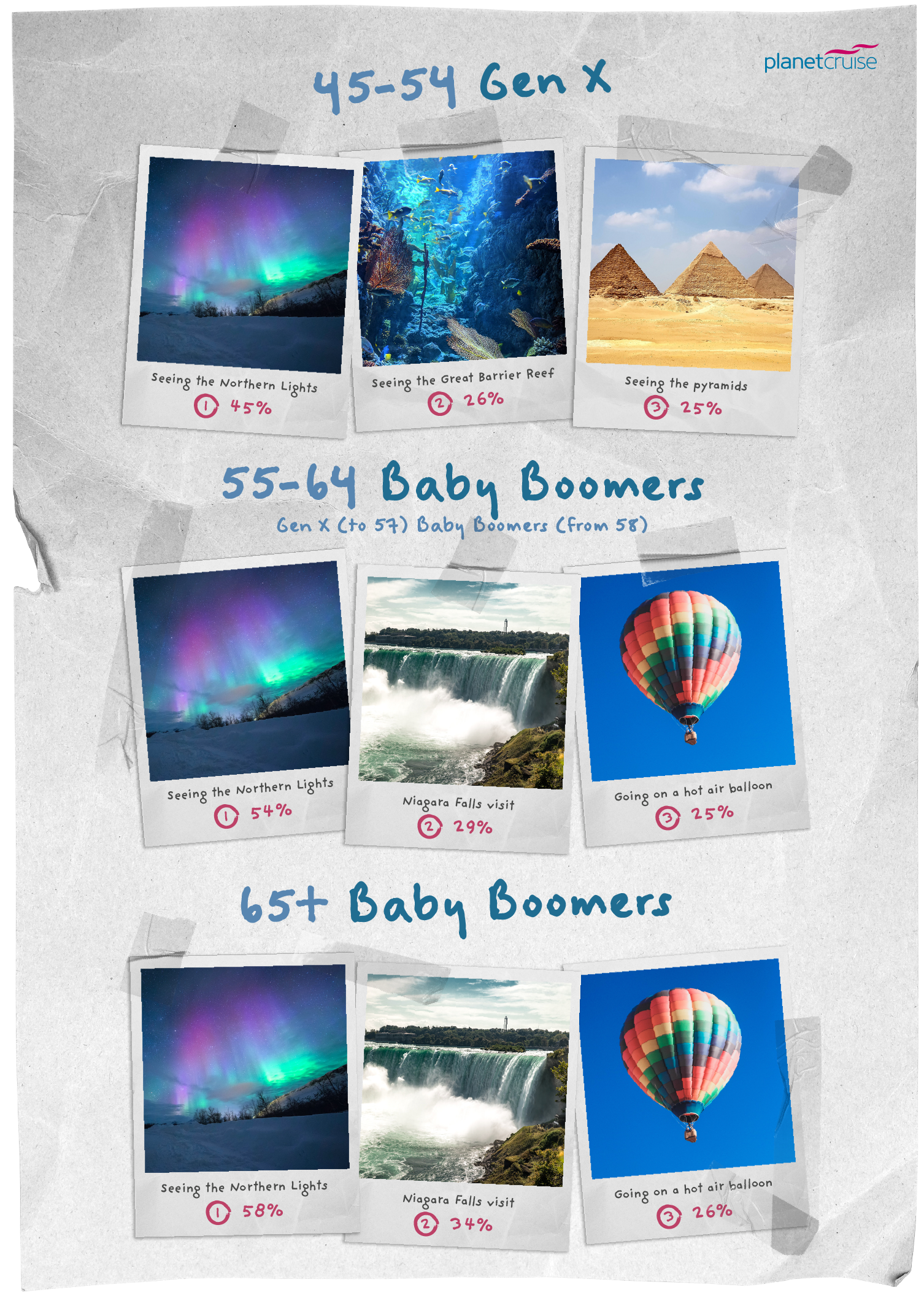 The Northern Lights is crowned the UK's top bucket list destination for 2022
Whilst there are some generational differences, some bucket list destinations have proven to be more timeless than others and remain popular amongst all ages. Visiting the Northern Lights is the most popular bucket list destination in the UK, followed by seeing the Pyramids and going to Disneyland.
Looking at the data overall and not broken down by age, the Northern Lights tops the list as number one, with nearly 40% of respondents saying it was their must-do. Whilst a lot of people flock to Iceland to see them (which is a great choice, as it means you can also visit the Blue Lagoon, and scale a load of glaciers and volcanoes), there's lots of other places you can see the Northern Lights from too, including Canada, northern Norway, Sweden and Finland, as well as Russia… and sometimes even Scotland!
In fact, if the Northern Lights is at the top of your bucket list, then you're in luck! We offer several different Northern Lights cruise itineraries, starting in several UK cities, including Newcastle, Liverpool and Southampton. You could cruise in style up the west coast of Norway, where you'll get to see breath-taking fjords, as well as hopefully catching a glimpse of the Aurora Borealis in action!
You also want to give yourself the best chance of seeing them. By booking your trip during the winter months of November to February, and heading out between 9pm and 2am, you'll also increase your chance of getting to witness this natural phenomenon. Sadly, there is no guarantee you'll get to see them (but at least it's an excuse to go back and try again!).
Seeing the pyramids and going to Disneyland are both in joint second place, with almost 25% of respondents saying they want to visit each of them. If you're heading to the pyramids of Giza, try getting there between 10am and 12pm, as it means you'll miss both the morning rush, and the mid-afternoon haze that can spoil the view.
In fourth place overall is visiting Niagara Falls – whilst you can visit either the American or the Canadian side, the Canadian side has a lot more going on in the way of food and drink, hotels, and casinos – and if you head there during Christmas, you can enjoy the impressive lights display that line the streets!
Riding in a hot air balloon ties up the top five bucket list must-dos, and the great thing about this is you can literally do it anywhere in the world. Whether you want to stay close to home and enjoy the local sights, or visit some stunning scenery abroad (we're thinking Cappadocia in Turkey, where you'll get to uncover the breathtaking chimney-like rocks, or high over the desert in Namibia, where all you can see for miles and miles is fiery red sand); riding in a hot air balloon is an experience we agree everyone should try at least once in their life!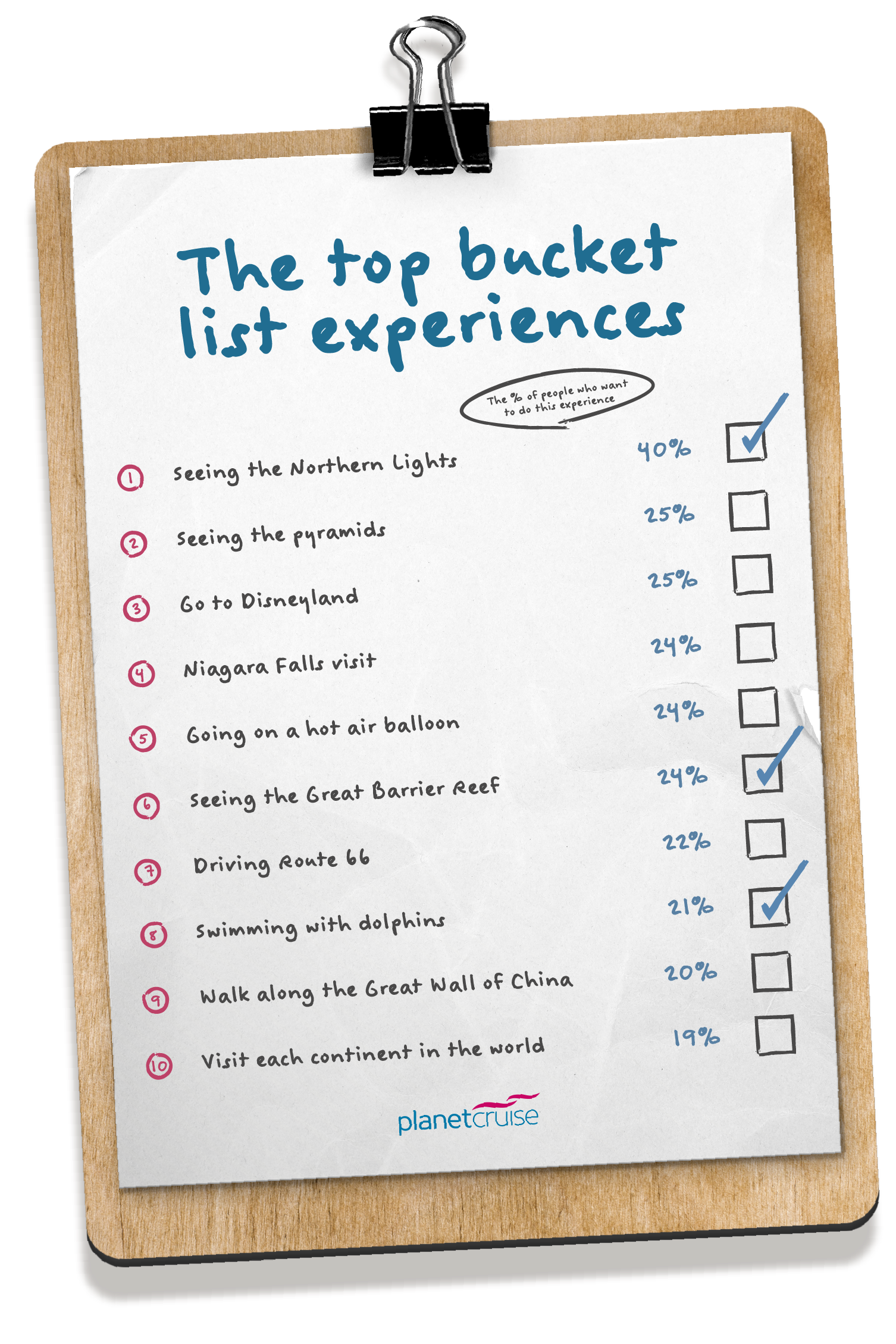 Northern Ireland revealed to have the most unique bucket-list destinations among all UK regions
As well as generational differences, Brits up and down the country have some distinct preferences when it comes to bucket-list destinations. Whilst going on a hot air balloon may seem popular for those in central England, some regions have other ideas, like visiting the Vatican.
Throughout the UK everywhere but Northern Ireland's top activity was visiting the Northern Lights – however, it still made it to the top three. This means that the Northern Lights features on 100% of top bucket list destinations for UK regions, making it the most popular. Other key destinations which featured in the top three on more than half of all regional lists was driving Route 66 and visiting Niagara Falls. However, there were some interesting contenders making the bucket lists.
Instead of placing the Northern Lights at the top of their bucket list, the people of Northern Ireland want to visit the deserted town of Pripyat and uncover the eeriness of the near-abandoned area of Chernobyl. This destination hasn't appeared in any other regional top three. Another destination which only made the top of Northern Ireland's list is visiting the Vatican, which claimed their third spot.
Speaking of standalone activities, the people in the Southeast of England are seemingly the youngest at heart, being the only region in which Disneyland ranked in their top three. Meanwhile, Central England ranked going on a hot air balloon as their third most popular bucket list experience – another activity which failed to conquer the top of any other regional list.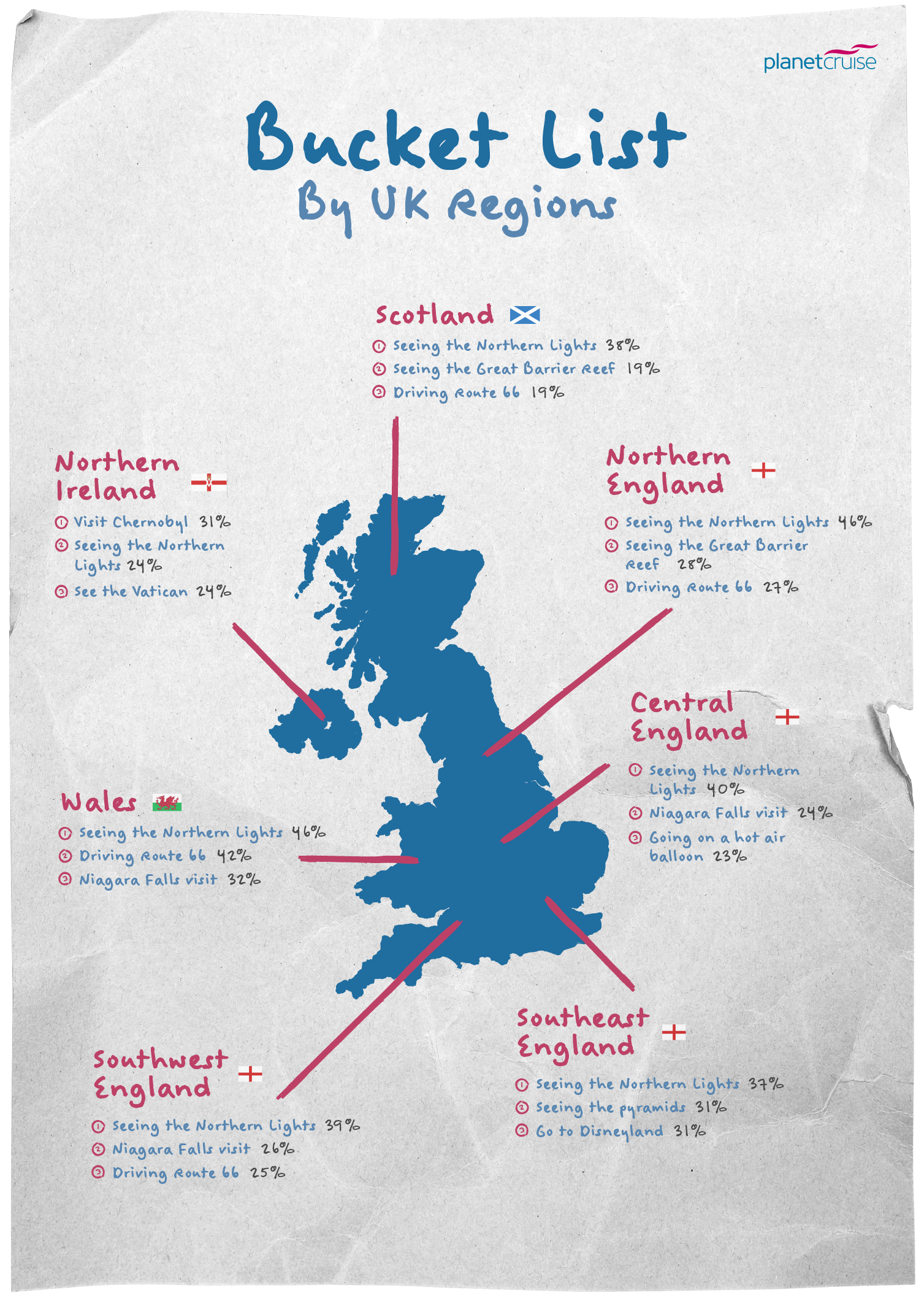 From Chernobyl to Dracula's Castle: Britain's most unusual bucket list activities are revealed
Alongside some of the more popular bucket list activities, our data uncovered the paths that were less trodden too. From Chernobyl to Dracula's Castle, these are the most unexpected destinations making it onto Brits' bucket lists.
For anyone super into music (or just wanting to get into a highly exclusive club), gaining entry to Berlin's elusive Berghain has been listed as a key bucket list opportunity. If you're going to try your luck there, you can take a look at the tips online (allegedly dressing all in black, clueing yourself up on the DJs, and staying silent in the queue will help you get in), but ultimately, a lot of it has to do with timing (don't even attempt a Friday or Saturday night – you're more likely to get in during the day on Sundays).
Other more unusual activities which made the lists were visiting Dracula's Castle, driving an F1 car, seeing a space rocket launch, learning to play Chopin's 1st Ballade, experiencing La Tomatina and even quite simply, to move home. More historical destinations included visiting places such as Chernobyl, Auschwitz, and the D-Day beaches.
Ultimately, a bucket list is a great way to get some inspiration for your next adventure, and it gives you something to look forward to (and a cruise is a great way to see lots of sights, at once!). Whether you've got some pretty popular activities on your list, or a few obscure ones thrown in there, it's time to turn your travel dreams into a reality and discover the world!
So, what are you waiting for? Browse our range of cruise destinations, or for more travel inspiration, head on over to the Planet Cruise blog.
Methodology
We surveyed 1000 people, providing them with 52 bucket list options to tick, as well as another section that enabled them to enter additional bucket list activities.