Celestyal Cruises
Celestyal Journey
The newest ship in the fleet, Celestyal Journey is a mid-sized ship with a capacity of 1,260 passengers. Featuring a variety of onboard amenities, it offers unforgettable getaways with an array of itineraries on offer.
View Cruises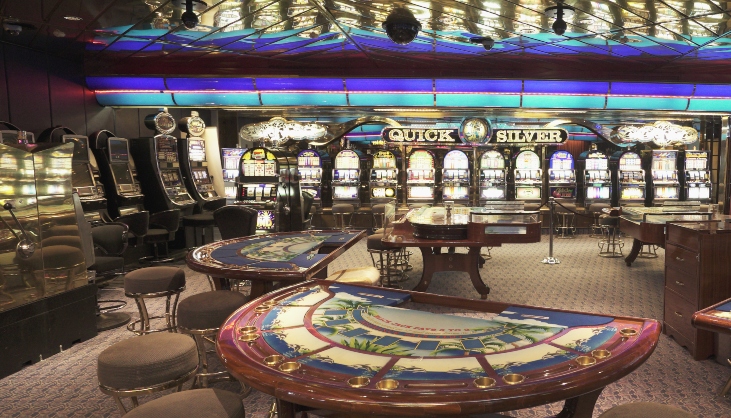 Casino
Try your luck at the onboard casino, complete with games tables and slot machines, and see if it's your chance to hit the jackpot.
View Cruises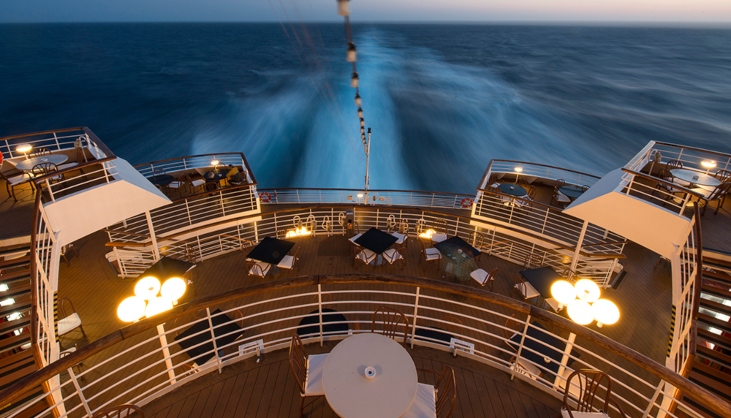 Celestyal Cruises Top Deck
The mid-sized Celestyal fleet are renowned for their luxurious Greek hospitality.
View Cruises
Cruises with Celestyal Cruises
Cruise on one of Celestyal Cruises' mid-sized ships and look forward to an unforgettable experience both onboard and ashore. Having gained a reputation for providing authentic and enriching cruises, as well as superb Greek hospitality, each ship boasts a high standard of service, great gastronomy, and truly authentic cruising moments.
Celestyal Cruises: Life on-board
Total cruises

141

Fleet:

2 Ships

Destinations:

3
Boasting everything from authentic Greek cuisine to inviting pools and plenty of social spaces in which to unwind and enjoy a drink, life onboard a Celestyal Cruises' ship is designed to provide both relaxation and adventure.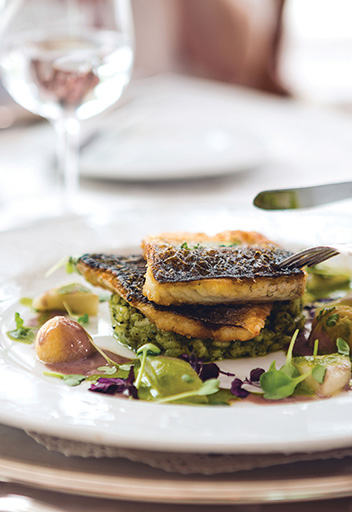 Dining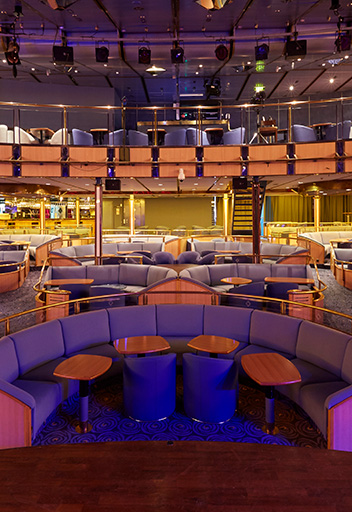 Entertainment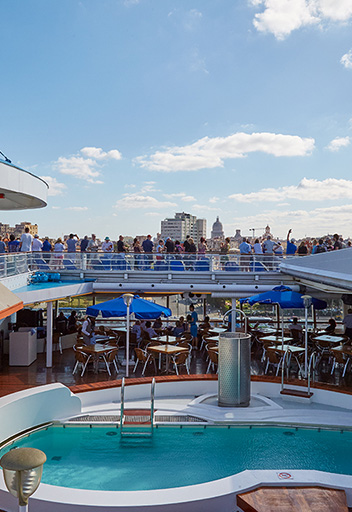 Recreation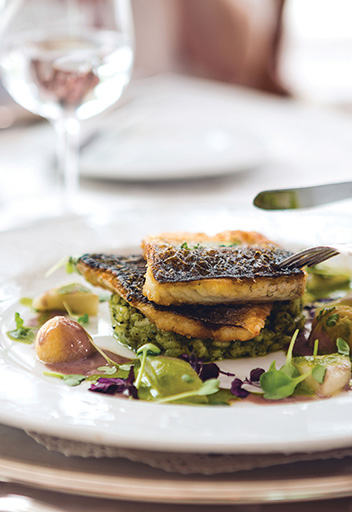 Dining
Tastebuds will be delighted by Celestyal Cruises delicious Mediterranean fare. With quality seasonal and local ingredients, Celestyal Cruises' chefs treat all diners to traditional Greek feasts and cultural culinary journeys like never before. Expect traditional Greek servings such as Greek yoghurt, freshly baked breads, olives and olive oil amongst beloved family recipes, gourmet cuisine and delicious dish of the day options.
If you're looking for fine dining, head to the Aegean Restaurant where you'll be waited on by the exceptional crew as you enjoy dish after dish of exquisite cuisine. Alternatively, if you're looking for something equally delicious but a little more casual, the Aura Grill and Leda are both fantastic options.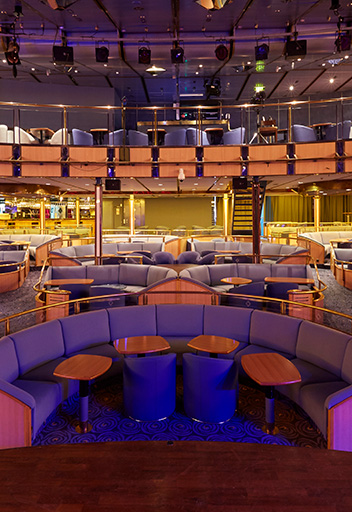 Entertainment
Fantastic fleet-wide entertainment ranges from live music to karaoke, dance classes and talent shows. Comfortable bars and lounges make the ideal setting for a cool cocktail with new friends, such as the Helios, Eclipse and Muses lounges, while the onboard casino is open for anyone hoping to try their luck. For those who don't want the evening to end too early, meanwhile, each Celestyal Cruises ship also features a nightclub for dancing the night away.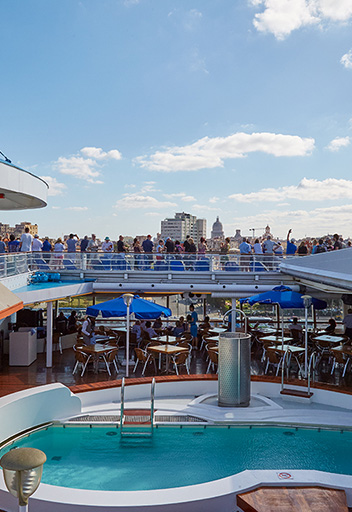 Recreation
If you'd like to stay active during your cruise, you'll be delighted by the onboard fitness centre and sports court where you're guaranteed to get a great workout. If being on the go isn't your idea of the ideal holiday though, there's no need to worry. With each ship boasting a pool, spa and sun deck, there's more than enough opportunity to sit back, relax and watch the world go by. What's more, if you want to use your free time to learn something new, you'll find arts and crafts sessions, dance classes and language lessons, perfect if you fancy picking up a new hobby.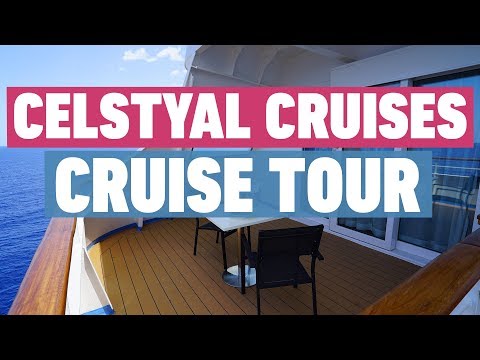 Celestyal Cruises Ships
For a more intimate cruise holiday that has all the fun of a larger ship, look no further than Celestyal Cruises' fleet of mid-sized ships.
Celestyal Cruises ship classes explained
Celestyal Journey

Celestyal Olympia
Customer reviews for Celestyal Cruises
couple
1 Jan 2007
Everything was great. The ship, the food, the staff and the t rips. People were so friendly, u couldnt fault it.The only thing i thought was a bit disappointing was the size of the pool, but as weather wasnt that good, it didnt matter:) Overall, a wonderful experience
couple
1 Jan 2007
couple
1 Jan 2007
Usually cruise with the bigger cruise liners. this was the first on Celestyal Crystal . The excursions were excellent and included in our price. The crew were all friendly and offered an excellent service.
couple
1 Jan 2007
Good size cabin for a small ship with plenty of storage room. Free excursions were great. Staff friendly and everything kept very clean.
Celestyal Cruises Destinations
Homeporting in Greece, Celestyal Cruises can take you on fantastic voyages across Greece, the East Mediterranean and the Adriatic as you discover popular ports of call and hidden gem destinations.
Fresh from the blog
Find all the latest cruise-themed guides and news here!
Visit our blog