A slide spanning over 10 decks, surf machines, zip lines, carousels, and seven neighbourhoods of staterooms may not suggest luxury to you, but on board Royal Caribbean's ship,
Harmony of the Seas
, there is plenty of extravagance just waiting to be discovered.
Below we've outlined some of the luxury elements you can enjoy onboard.
Suites
As well as fresh décor, Harmony of the Seas is the home to the most jaw-dropping collection of staterooms and suites at sea.
Crown Loft Suite
You'll have plenty of space if you stay in a Crown Loft Suite, two levels allow for a mezzanine grand master bedroom, dining area, two bathrooms, and a living room full of luxurious décor. Then, outside you can sit back and relax on your private balcony as you take in the spectacular panoramic views of the ocean.
Sky Loft Suite
A Sky Loft Suite will give you more space than you will know what to do with. Spanning across two levels, the top floor is for the master bedroom and bathroom and the ground floor houses a generous living area, dining area, second bedroom, and a bathroom with a shower big enough for two. You can even sit out on the balcony and enjoy a private dining area.
Royal Loft Suite
If you want true luxury then look no further than a Royal Loft Suite. Enjoy all the space and amenities of a Sky Loft Suite, but with extra beds, a baby grand piano, indoor and outdoor dining rooms, a library, and an expansive private balcony with LCD television and Jacuzzi. If this isn't enough space for you, then connect to a Crown Loft Suite which is able to accommodate ten guests, making luxury available for the whole family. You'll feel as though you are of royalty.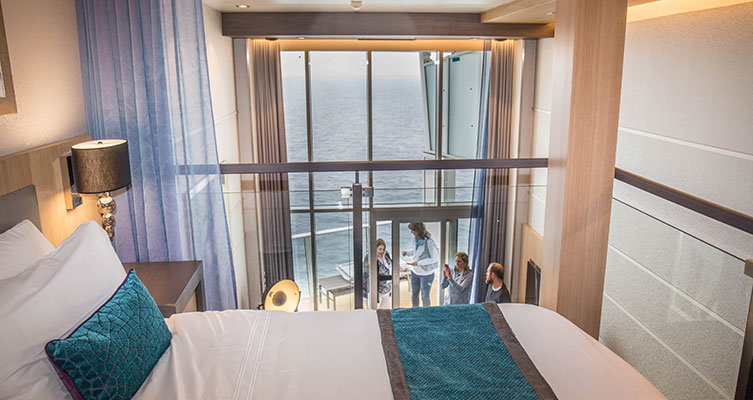 Specialty Dining
Dine when, where, and with whoever you choose. With world leading chefs at the helm, Royal Caribbean promise to take your taste buds around the world.
Coastal Kitchen
Exclusive for Suite guests and Pinnacle members, Coastal Kitchen is a relatively new idea for Royal Caribbean, fusing the distinctive flavours of the Mediterranean with a modern Californian twist to create dishes exuding pure freshness.
Wonderland
Décor that looks as if it's straight off of a movie set welcomes you to the Mad Hatter's tea party. Full of never before seen innovative cuisine, Wonderland is a restaurant offering a multi-sensory experience with a menu inspired by the elements, and iconic 'Drink me' elixirs.
Izumi
A stylish restaurant with an authentic taste of Japan, enjoy the best ingredients and impeccable presentation. Enjoy the spectacle of a live kitchen as you watch the chefs whip up everything from sushi to sashimi to ramen, right next to your table.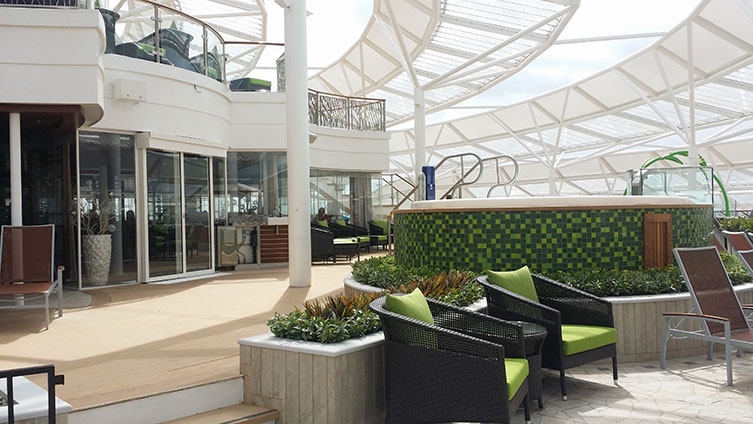 Kick back and relax in the adult only Solarium
Vitality Spa
With a large menu of treatments and pampering options available, there is no better place to unwind than the Vitality Spa. Enjoy a facial, massage, or body wrap to truly feel your best and live in luxury as you indulge in Elemis, Bliss, and La Therapie products.
When onboard Harmony of the Seas, we recommend you make the most of all the facilities available. The luxury will undoubtedly enhance your cruise, and leave you feeling truly relaxed and rejuvenated at the end of your well-deserved holiday. Discover more about
cruising with Royal Caribbean
today.
Back to cruise guides and features
Go