Updated May 2017
FOCUS ON: SOLO RIVER CRUISING
Where will the rivers take you..
The fascinating world of river cruising continues to grow and open up exciting holiday choices for all. As popularity increases, so does the number of well looked after and ever-pleased guests. River cruising has become a big hit with solo cruisers who are swapping the wide open seas for the finest rivers and waterways across the world.
Cruising solo is a great option for all. There are many benefits of cruising solo, whether you're looking to get away on a peaceful retreat full of relaxation, great food, new surroundings and experiences, or simply to broaden your horizons whilst meeting and socialising with other like-minded travellers there is a perfect river cruise for you.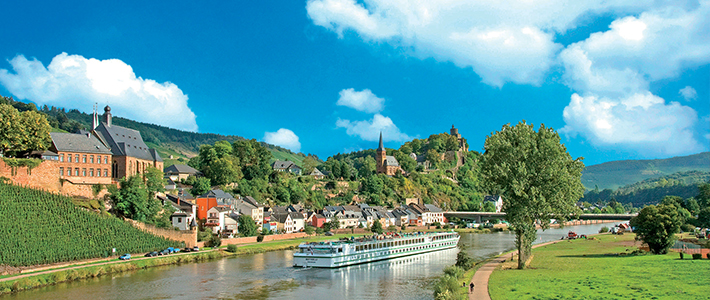 Onboard a river cruise everything moves to your pace, allowing you to feel at home and be on the go as much or as little as you'd like. You can spend your days onboard relaxing in comfortable surroundings, making new friends, enjoying the views on the sun deck with a lovely drink in hand, getting lost in a book you've been waiting to read or trying out all the great onboard amenities that often include spas, gyms, saunas, whirlpool baths and much more.
Around the meandering bends of the world's finest rivers, you'll see beautiful villages, vineyards and picturesque landscapes - all from the comfort of your ship. During the day and for most evenings, you'll be docked at different destinations, giving those who love history and new sights the perfect opportunity to explore unique cultures, relax in luxurious surroundings, visit iconic monuments on guided tours and enjoy the local nightlife. If this takes your fancy then river cruising is your perfect escape, giving you a much richer travel experience.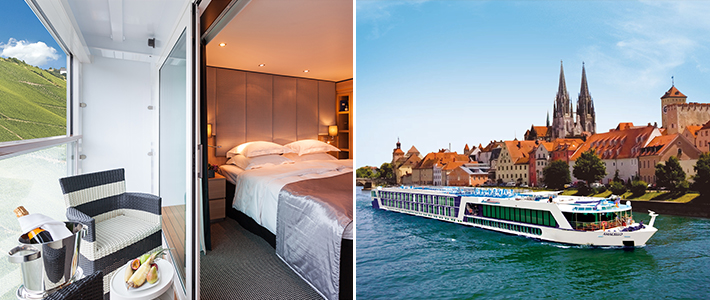 The Perks of Solo River Cruising
Relaxing journeys
Simply embark, unpack once and enjoy the scenery as you float on the calmest of waters. The land is always in sight as you travel on these inland waterways.
Smaller ships
Reach places that can only be accessed on a smaller vessel. Docked in the heart of each destination, you can join an excursion or easily explore by yourself.
Dine with freedom
The flexibility of open seated dining is perfect for solo cruisers, allowing you to choose a different place to sit at every meal or the same favoured spot. So if you prefer to enjoy your breakfast whilst gazing out at wonderful scenery in the morning, and spend dinner with a group of new friends at another table for an evening filled with delightful food and lots of laughter, it is completely your choice.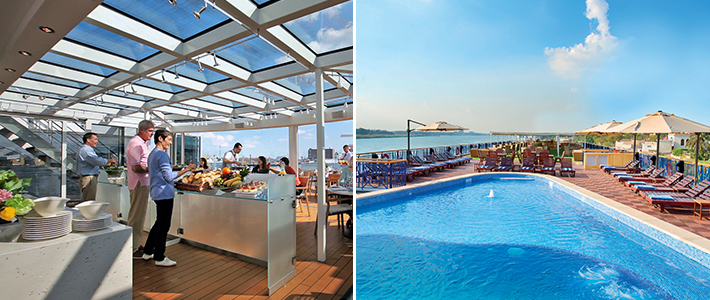 Making new friends
The cruise director will quite often make sure that the solo cruisers are included in all activities and introduce them to other guests. The small intimate vessels also make it easier to meet and socialise with other guests onboard. Members of the crew are also more likely to remember your name and any personal likes or dislikes you may have.
Discover more
Enjoy many of the breathtaking destinations you visit in small sized groups. Some ships provide complimentary bicycles so you can independently explore the sights. Plus, without long transfers, you can stay longer and explore further. Sail with like-minded cruisers.
More inclusive
Set sail with the peace of mind that everything is being cared for. Many river cruises are All Inclusive, covering all meals, excursions, and drinks with dinner. Gratuities and WiFi are usually covered too, so you can leave your wallet at home. Also on an increasing number of sailings the singles supplement is either wavered or non-existent.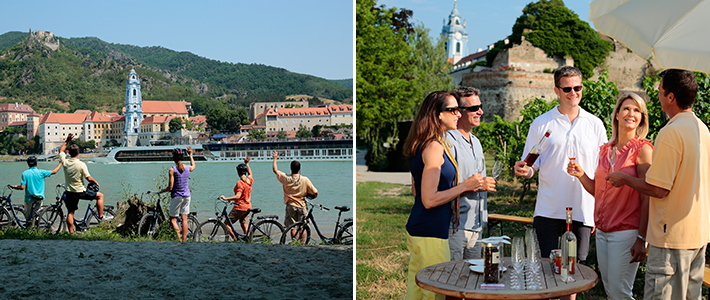 Best Solo River Cruise Lines
Two of the best known river cruise lines for solo cruisers are: Saga River Cruises and Riviera Travel. Both cruise lines offer great special offers on their solo cabins, which quite often have no single supplement at all.
Some river cruise lines like Saga also host cruises dedicated solely to solo cruisers.
Back to cruise guides and features
Go