Spanish cruise line Pullmantur Cruises offer some wonderful and laid back cruising opportunities, perfect for those who want to merely relax during their holiday. Their cruises are all-inclusive as standard, thereby taking out the stress of having to budget each day, or worry about bar tabs and such. Passengers can simply enjoy what they want when they want, knowing that everything has been taken care of.
As it stands, the Pullmantur fleet is comprised of four ships, two of which were acquired from Royal Caribbean, and two from Celebrity Cruises. This means that guests have a choice of different styles of ship, so it should be possible to find a suitable cruise for everyone. The two ex-Royal Caribbean ships are capable of accommodating almost 3,000 guests, and boast a wide variety of dining venues and entertainment options. The other vessels are equally special, offering a more intimate experience with a capacity of around 1,800 passengers, and having fewer public areas as well.
As a Spanish-owned line, Pullmantur are proud of their warm onboard hospitality, and specifically their friendly staff. While Spanish is the predominant language onboard, all staff do speak English and written materials will also have English text as well.
The vision of the cruise line is that they want to supply guests with a trip akin to a Spanish beach holiday. This means that in addition to the laid-back atmosphere, Pullmantur have a real focus on fun. Aimed at a slightly younger audience than many other cruise lines, guests will have plenty of opportunities to dance and party the night away. In fact Pullmantur are the proud hosts of many theme nights, including the annual Waterland Festival during which over DJs are invited onboard to keep everyone up on their feet.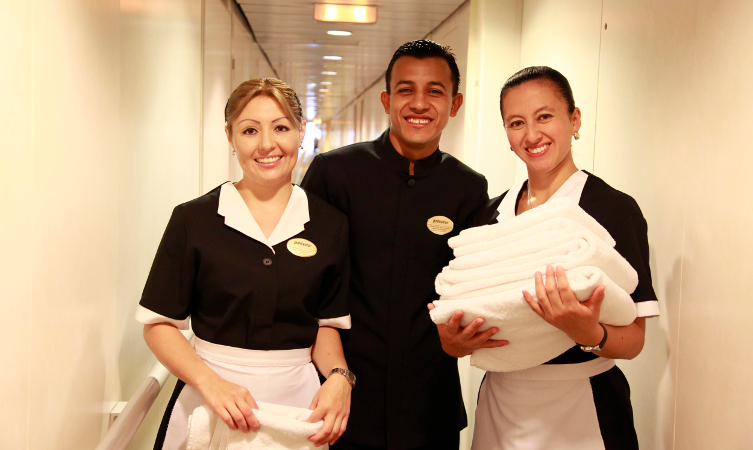 All ships are equipped with a range of bars, lounges, and restaurants, and guests can enjoy live music and shows as well. This cruise line could be the perfect choice for couples, single travellers, or families who are simply looking to have a fun cruise holiday with no stresses. The all-inclusive policy helps to secure this. Have a look at our range of Pullmantur cruises to see where these Mediterranean style hosts could take you.
Back to cruise guides and features
Go