The elegant Seabourn Encore is an Ultra-Luxury cruise ship, launched in September 2016 as Seabourn's fourth ship in the 6* award winning fleet. She has a max capacity of 600 passengers and the crew to passenger ratio is 1:1, meaning you're likely to get the best service at sea while you enjoy your intimate onboard experience.
Destinations are just as important as luxury when you sail with Seabourn Encore, which is why they have formed a partnership with UNESCO for extremely unique experiences which no other cruise lines offer, like exclusive tours at some outstanding World Heritage sites. Encore will even stay docked later to give passengers the chance to explore the destinations for longer. The ship can take you all around the world, from Spanish Rivieras and Norwegian Fjords to the Indian ocean and the Caribbean islands.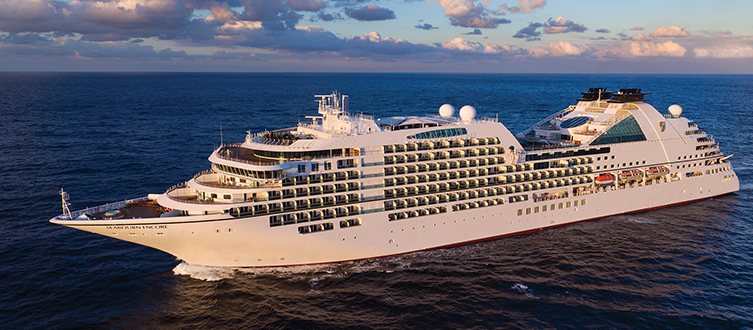 The ship's interior comes from the expert creative mind of luxury hotel designer, Adam D. Tihany, who is credited to hotels in Las Vegas, Jerusalem, South Africa and Dubai. There is luxury around every corner onboard Seabourn Encore. She is an all-inclusive ship, as with the rest of Seabourn's fleet, with extra added touches like the fully customisable not-so-mini mini-bars, and the option of multiple designer soaps in your cabin, which you'll get to choose from on arrival. All cabins allow access to your very own veranda where you can unwind in private while the sea rushes past.
Dining on the Seabourn Encore is like dining in a different Michelin Star restaurant every night, some with menus by Thomas Keller, a Michelin Star chef. There are five restaurants on board. You could visit The Restaurant on deck four for fine dining, Sushi on deck eight for excellent Japanese cuisine using the finest of ingredients, The Colonnade on deck nine for some more casual dining all day with buffets for breakfast and lunch and a sit down meal at dinner, The Patio for even more casual poolside dining, and The Grill, the all American restaurant where all the menus are signed by Thomas Keller. And for drinks, there are a range of bars, for Seabourn's signature cocktails, with a masterclass available in the Grand Salon so that you can learn how to make them the next day.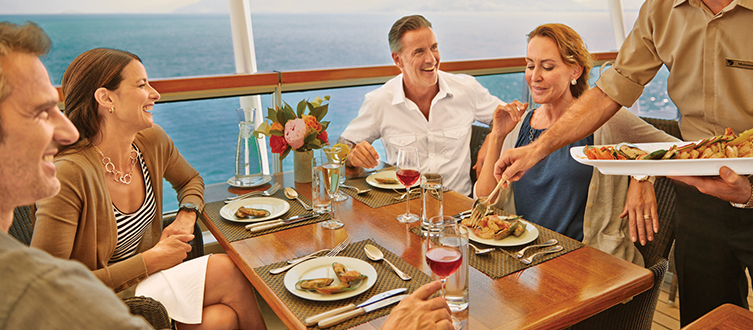 Other notable features of Seabourn Encore include;
The Marina – while anchored in some warm water locations, you'll have the chance to make use of a water-sports arena, for kayaking, board sailing, water-skiing and even banana boat rides.
The Sun Terrace – 20 double sunbeds for sunbathing and stargazing.
The Spa & Wellness with Dr. Andrew Weil – fully equipped with a gym, spa treatments and a full service salon.
The Retreat – a haven for guests with 15 private cabanas, each with their own flat screen HD TV and concierge service.
Card Room – with board and card games as well as a Wii console.
Forward Whirlpool Spa – a large whirlpool spa on deck seven.
The Shops at Seabourn – high quality souvenirs with the Seabourn logo on so you can take home something really quite memorable.
The Casino – your chance to beat some professional dealers at their own game.
The Club – a modern, sophisticated lounge with exclusive access to some amazing pools.
Medical Facility – just in case; accidents happen, but seabourn want to make sure everyone is well looked after.
Think this sounds like the luxury cruise ship of dreams? Browse our range of Seabourn Encore cruises now and let us turn your luxury cruise dreams into reality.
Back to cruise guides and features
Go