Walter from our commercial team enjoyed a dream-holiday onboard the unique Star Clipper, to Thailand and Malaysia. Read about his fantastic adventure below.
An indulgent Business Class flight on the first leg of the journey with Etihad Airways set the tone for our paradise destination of Phuket, largest of the numerous islands that make up the land of smiles in Thailand. Colours everywhere appear alive and vibrant. Our arrival at the luxurious Anantara Mai Khao Phuket Villas was announced with a deep sounding gong, as we were greeted by fully opened bright pink water lilies scattered over the winding lagoon. The reception staff welcomed us with refreshments and an ice cold hand towel infused with the soothing scent of lemongrass, followed by a Phuang Malai flower garland made with the heavenly scented Thai jasmine flowers. I luckily managed to save this - intact - and it now hangs over a Buddha image at home; a wonderful reminder of this trip of a lifetime.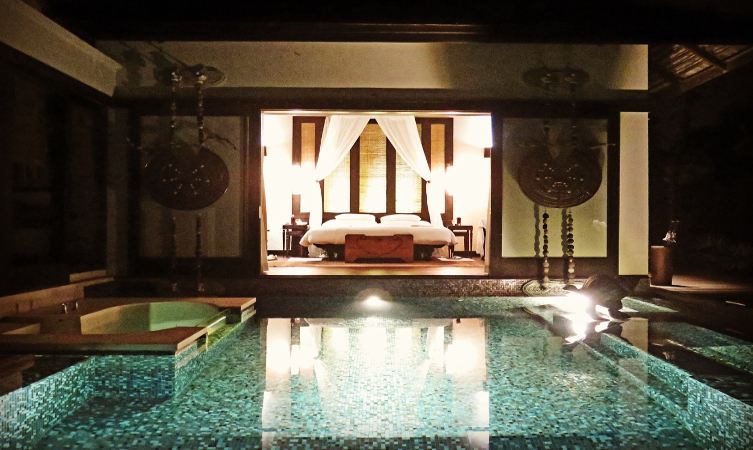 Arriving in Phuket
The General Manager personally welcomed us before we were shown to our individual villas, complete with private swimming pool and infinity bathtub surrounded by a hardwood sun deck. Yes an outdoor bath tub, as Thailand does not experience winter as we do, but rather a dry and a rainy season with average minimum temperatures of 25 degrees!
Dinner that evening was surreal, with hypnotic Thai dancers in the background as we sampled infinite versions of regional Thai curries, salads, desserts, and fruits I have never seen or tasted.
After a good night's rest we were taken on a tour in the old town of Phuket, and to a Buddhist temple where we were given the opportunity to apply gold leaf to a Buddha statue. We learned about the history of the old town, with its Sino-Portuguese architecture. We then headed to the island's most important and revered landmark, the Big Buddha - sitting proudly 25 metres across and 45 metres tall in meditation mudra. The lofty 360 degree views of Phuket town, Kata, Karon beaches, and Chalong Bay make it a popular tourist attraction. The great advantage with sailing on Star Clippers is the 22:00 departure from Phuket, allowing for a leisurely arrival for embarkation. Check-in is at the 4* Seaview Hotel in Patong, across the road from the tender taking you to the ship. Early arrival means you can leave your luggage at the hotel and explore the sights.
The Ship
Stepping onboard to the Captain welcoming you with a refreshing cocktail drink, and finding your luggage waiting for you in your cabin is the way to start a cruise to the Andaman Sea. The attention to detail onboard Star Clipper makes for a lasting impression, particularly when you enter your cabin to a bottle of champagne submerged in ice, with flutes and decadent treats.
The Cruise Destinations
We arrived at Ko Surin the following day, to stretches of white powdery beaches and crystal clear emerald green waters. Established as a National Park in 1981 it's a popular destination for divers from the world over for its coral reef life.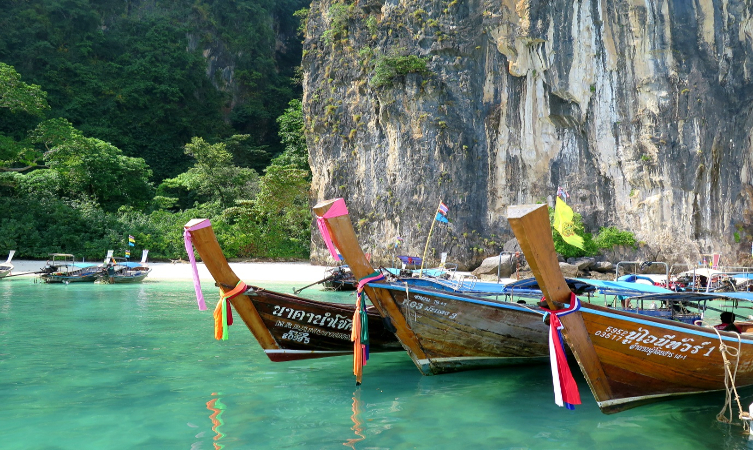 Ko Miang - translated from Thai as Island #4 - is located in the centre of the Similan Islands. The island houses the National Park headquarters, visitors centre, souvenir shop, a restaurant, and ample tents and bungalows. We walked through a rocky path to the iconic Sail Shape Rock located atop a cliff, where you can enjoy a 360 degree view of the island's picture postcard Ao Kuerk Bay.
Ko Similan has been voted one of the best deep diving spots in the world by Dive International USA, due to its clear water and abundant marine life.
Twin limestone islands south of Ko Lanta are named Ko Rok Nok and Ko Rok Nai - with only 100 metres between them. Part of the Ko Lanta archipelago, there are almost no people living on Ko Rok except for the marine park rangers. Star Clippers provide kayaking boats ashore, so as we were close enough to Ko Rok Nai , a group of us kayaked across the sea for a wonder. On our arrival the park ranger was keen to show us the local fauna – which included monitor lizards well over a metre in length ! Our next port of call was Langkawi in Malaysia;accorded the highly-coveted Geopark status by UNESCO because of its beautiful geological heritage of incredible landscapes, karsts, caves, sea arches, stacks, glacial dropstones, and fossils. The biggest island in Malaysia is a Duty-Free island ideal for shopping. We took a taxi from the port to the Oriental Village where we express-tracked ourselves to the steepest cable car ride I have ever been on: the Skycab. This took us us 708 metres above sea level to Langawi's second highest peak - Mt. Machinchang. Along the way up we enjoyed breathtaking views of hillside waterfalls, with occasional glimpses of wildlife and birds. Reaching the top the 2 viewing platforms unfold dramatic views of the Langkawi Islands and Southern Thailand.
The day was made complete with a visit to Tanjung Rhu Beach - a picture perfect, secluded haven in Langkawi, with emerald blue waters and several islands in the background. The word Tanjung in Malaysian means cape and Rhu is for the casuarina trees that fringe the beach. Waters are shallow, making it ideal for swimming.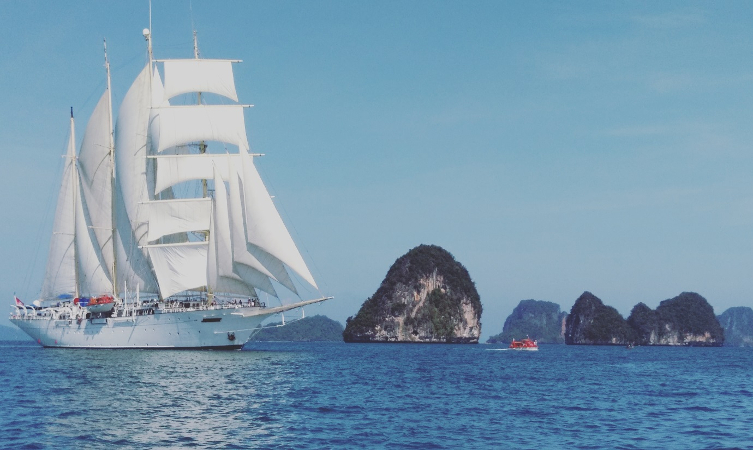 Next we arrived in Ko Kradan; a slender slip of an island belonging to the Hat Jao Nai National Park, which boasts a magnificent coral-sand beach where good snorkelling and low-tide sandbars make for the beach walk of a lifetime. This was the port of call were most looking forward to, as waiting staff and chefs are on hand to serve up a fresh, and perfectly grilled barbecue – what a glorious way to spend the afternoon on the beach!
The last port of call before heading back to Patong was Ao Phang Nga. This is considered one of the most beautiful bays in Thailand; known for its gravity defying limestone rock formations, over 40 islands, beautiful cliffs, caves, and the largest remaining mangrove forests in the country. Visitors flock to visit Ko Khao Phing Kan to see Ko Tapu - popularly known as James Bond Island - the most well-known of the islets, having featured in the James Bond film The Man with the Golden Gun. Star Clipper then anchors off Ko Hong, which is, in my opinion, a little piece of paradise that's genuinely relaxing, with relative anonymity compared to James Bond Island. It's the perfect way to end this wonderful holiday.
Summary
What makes this cruise unique is the well thought out itinerary, taking you to Thailand's hidden treasures, which are inaccessible by ships bigger than a tall ship. This is a cruise where the sea will provide for you, with abundant snorkelling, diving, and warmth for beach loving individuals to embrace life in flip flops. Whether you prefer relaxing on the shore, or exploring its waters, this cruise will give you a great dose of vitamin sea!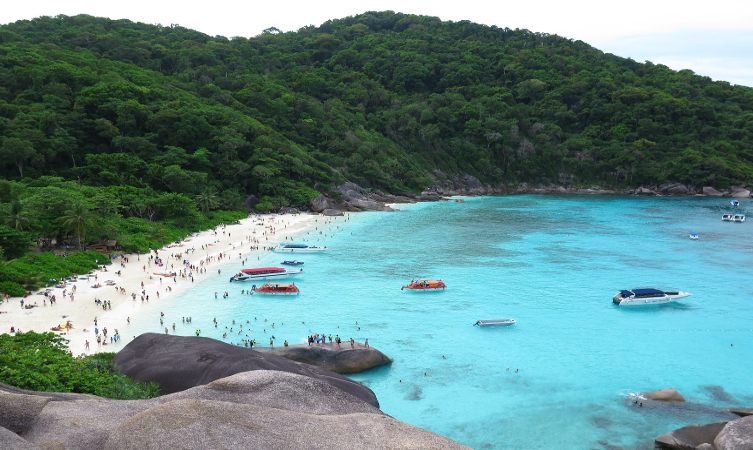 Considering your own South East Asian adventure? Find out more about the incredible destinations you can discover onboard Star Clipper.
Back to cruise guides and features
Go