Words fail to adequately describe the extraordinary Japanese capital of Tokyo, which has been labelled everything under the sun including 'bustling', 'quirky' and 'bewildering'. It is all of these things - and so much more. You'll find an unlimited number of things to do during your time here, so it's important to make the most of it.
Hence our guide to the top things to do in Tokyo. Below, you'll find our absolute favourite activities in this extraordinary metropolis.
Enjoy peace and tranquility in the Meiji Shrine
Japanese society is known for its spirituality and it's something you'll get to grips with as you stroll from street to street, picking out Buddhist temples and Shinto shrines in extraordinary numbers. Each is worth a visit, but if you only have time for one, it has to be the Meiji Shrine in Harajuku. Emerging from the busy metro station, you'll be greeted by a large torii gate that marks the entrance to this sacred place. On either side, there is dense woodland - a few steps in and you're already swallowed up by nature, despite being in the very heart of the city. Once you reach the shrine itself, you can make offerings in the main hall and buy charms and amulets for good fortune.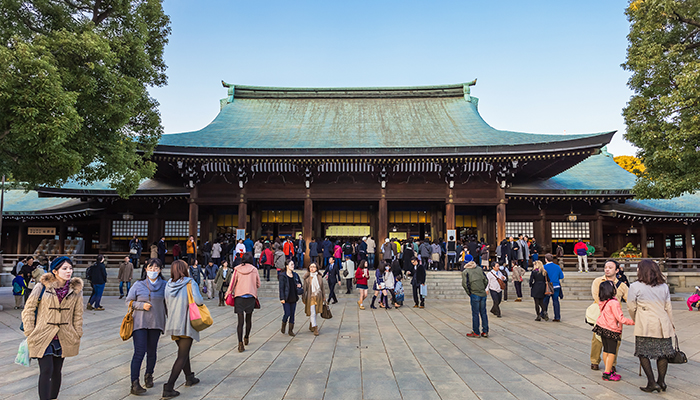 Sample the freshest sushi in the world
Such is the Japanese obsession with fish that a vast infrastructure exists within the country designed to take fish from the ocean and have it on a plate as soon as possible. The best place to try traditional Japanese fares is the Tsukiji Fish Market, where the restaurants go to purchase the day's ingredients. And what a sight it is. Huge heaps of vegetables piled as high as the humans walking next to them. Gigantic tanks full of crabs attempting to climb on top of one another in a bid to escape. Not to mention rows and rows of fish, freshly gutted and ripe for eating. You'll have to get up early to make the most of the market since it starts at six in the morning, but there are a number of sushi restaurants that open at the same time, especially for tourists, so you can be sure you won't go hungry!
Engage in the latest fads
Tokyo crackles and sparkles with the latest fads, from maid cafes to singers produced entirely by software, and you can experience all of them with a visit to Akihabara, the city's renowned electric town. Take tea with cats in a nekorobi (cat cafe) or sit up reading manga (Japanese comics) all night in one of the all-night eateries designed for just this activity. Then there are huge shops to check out containing every gadget, gizmo and technological wonder you can possibly imagine. Spend an evening wandering the neon-lit roads - it's an incredible experience.
Party all night long in Roppongi
For a society deemed wild and unique in pretty much every way possible, it comes as a shock to many that Japanese nightlife is quite sedate compared to some other countries. All night dancing is extremely uncommon with many clubs closing by midnight. But there is one pastime that you can enjoy until the very early hours of the morning - karaoke. The bars in Roppongi are the best places to enjoy this magnificent activity. The thought of singing to a room full of strangers might be daunting at first, but as soon as you see how readily everyone else does it, you'll be raring to go.
A word to the wise - nomihodai (or 'all you can drink') is the way to enjoy extended parties in Japan. Pay between 1,000 yen and 3,000 yen and you're free to sample as many drinks as you like within a given period - usually one to three hours. However, it shouldn't be taken as a challenge to make your liver explode.
Visit Emperor Akihito
The Imperial Palace to the west of Tokyo station is an extremely impressive building that is worth a gander if you're in the area. While members of the public aren't routinely allowed in, the gardens are open and entirely free, although only 200 people are permitted to wander them at any one time. A small museum within the grounds - also free - showcases some traditional Japanese attire worn by various royals.
Enjoy ramen in Shinjuku
Adjacent to Shinjuku Station's main entrance, you'll spot a street heading off to the right (if you're looking away from the station) that is a little less neon-clad than the rest. It's still exciting but for a different reason - this is where you'll find some of the best ramen in Tokyo. Comprising a soup, noodles and various meats, these delicious meals are the sweetest of nectars for anyone who has been traipsing through temples and subway stations all day. Sit up at the bar with your fellow punters and order a bowl. Don't forget to slurp - it's polite in Japan!
If, however, you're looking for a slightly more formal sit-down meal, your best bet might be an izakaya. These are the equivalent of gastropubs in Japan, serving a wide array of drinks with quality foods that range from sushi and sashimi to gyoza and Japanese curry. These are ubiquitous in Tokyo, and always reasonably priced.
Learn more about cruising in this stunning destination, and sign up for our
Asia brochure
today.
Back to cruise guides and features
Go