It's pretty much impossible to have a bad day in Rosas. Located in Girona, Spain, this spectacular port has pretty much everything you could possibly desire while on holiday. Let's introduce you to this Catalonian gem. You'll be surprised by what Rosas has to offer.
History
The original village of Rosas was supposedly founded some 3,000 years ago by Greek settlers from Rhodes, although this story is disputed by some historians. Look to the surrounding hills and you will spot the ruined walls of Santa Maria de Roses, a Benedictine monastery that has stood there since 944AD. Archaeologists say that the medieval town eventually grew up around this place of worship before falling into chaos due to a plague epidemic.
In short, much has happened here, and there is plenty of evidence of it. In the 16th century, King Charles V ordered the construction of a citadel just south of the town. The ruined walls can still be seen today, and make for an interesting afternoon for history buffs. In the Middle Ages, the town was an essential military post and received visitors from many an important person.
Other historical attractions include the remains of the Visigoth Campsite, the portal graves of Creu den Corbetalla - part of the biggest megalithic monuments in Catalonia - and the Trinitat castle.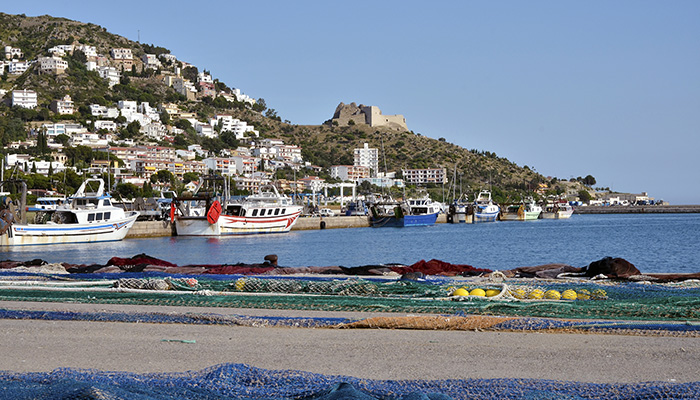 Coastal living
Situated as it is on the west coast of Girona, Rosas is in possession of some truly fabulous coastal scenery. Wide sweeping beaches give way to rough charismatic cliffs here, that meet the waves in a ferocious array of pointy rocks that are in themselves a joy to explore. Pick your way through carefully and find a good spot to relax, safe from the foamy sea!
For those who want to kick back on the beach with a good book, you'll be pleased to learn that Rosas' beaches are golden and sandy, interrupted only by the occasional beach bar or palm tree. Overall, there is 1,800 metres of fine sand and shallow water, making it the ideal destination for families. Central Rosas is given over to a large communal beach that is full of bustling vibrancy during the day. Children play together while couples enjoy a snooze. The smell of suncream is always in the air.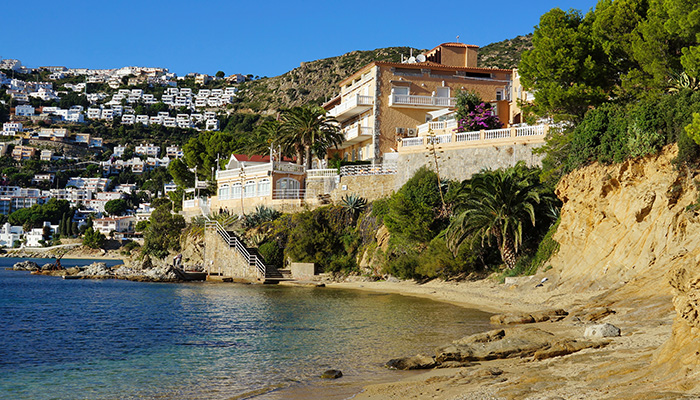 Further north or south, smaller beaches such as Nova, Rastrell and Salatar offer a more sedate atmosphere. These can often only be reached by boat or on foot and you may encounter full or partial nudity.
Water sports are popular in Rosas with many a tourist taking to the waves to hone his or her skills at windsurfing, kite surfing or dinghy sailing. If you've never tried these, the schools dotting the coast offer excellent tuition. Spend a happy day or two learning a new skill and testing yourself against the wind and the sea.
Cuisine
Spanish cuisine is, of course, dominated by tapas, and this is certainly reflected in Rosas. The town also has an abundance of excellent seafood. A good tapas meal might include anything from patatas bravas and cheese croquettes to calamari and baby squid drizzled with olive oil - a Galician tradition. If you'd prefer to have a meal by yourself, there are plenty of options. Particularly renowned is the local speciality suquet. Created by fishermen, it's a fairly simple meal, consisting of freshly caught fish boiled with potatoes, but it's fun to sample the different variations you can find. There's even a friendly rivalry among the local chefs, to the extent they sometimes organise suquet cookery competitions!
Climate
The climate in Rosas typically enjoys many sunny days during the summer of up to and beyond 30 degrees. Nights are also extremely toasty, with temperatures hovering between 20 and 25 degrees. The idyllic weather is only interrupted by the occasional rainstorm, but these rarely last longer than an hour.
Language
Spanish is universally spoken and understood in Rosas, so cries of ¡Hola! and ¿Qué tal? are frequently heard in the streets. However, since Rosas is located in the region of Catalunya, you are likely to hear a lot of Catalan as well. The locals are very proud of their language and heritage, especially in recent years following a drive for independence from Spain. It is a good idea, therefore, to learn some phrases in Catalan as well as Spanish. Bon dia (hello), encantat (pleased to meet you) and adéu (goodbye) are good starting points.
However, since Rosas receives an enormous influx of tourists during the summer, there is plenty of English spoken around the resort areas, with restaurants and bars keen to hire multilingual staff. Even if you don't speak a word of Spanish or Catalan, you are likely to get along fine.
Back to cruise guides and features
Go