Food-loving globetrotters have long looked to the cuisine of Vietnam for incredible and innovative meals. So if you find yourself in Hanoi during your cruise, don't stick with whatever food they have on the ship. Instead, descend into the city's vast underbelly of charismatic twisting streets, populated with thousands of food stalls. Whatever your taste buds desire, Hanoi never disappoints. Here are our favourite eight dishes to try.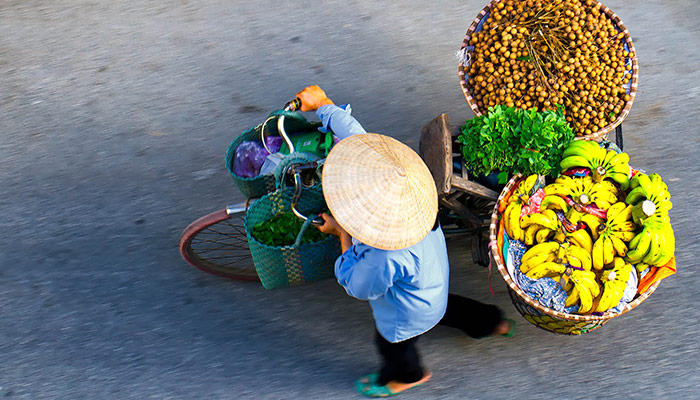 Banh Cuon
The ideal way to start your day, Banh Cuon consists of a rice-flour roll wrapped around minced mushrooms and pork. Sure, it's unconventional and might be a strange breakfast food for those who prefer cereal. But frankly, once you try it, you'll understand what all the fuss is about. Failing that, try Banh Mi, a similar dish that is made using a baguette rather than a roll - one of the more lasting traces of French colonialism.
Bun Bo Hue
Soup and noodles is a winning combination whichever country you happen to be in. A spicy beef-noodle broth forms the base of this particular variant, which hails from Hue, Vietnam's last Imperial capital. Often, you'll find the spiciness is balanced with a handful of herbs or a squirt of citrus juice. Splendid stuff.
Bun Cha
Give the air a good sniff at some point around lunchtime. What's that you can smell? That's right - bun cha. This lunchtime favourite consists of sizzling grilled pork, served alongside a sweet 'n' salty broth and complemented with slices of green papaya, rice noodles and fresh herbs. Portions tend to err on the generous side - vendors take pride in serving up bun cha. It is, after all, considered something of a signature dish for Hanoi.
Keith's Top Tips - Ho Chi Minh
Nuoc Cham
Not strictly a dish in itself, but something that you'll find served up alongside many meals. This salty-sweet-sour dipping sauce consists of fish, citrus juice, sugar, water and - depending on where you go - either garlic, hot peppers or even both. It's delicious.
Nem Cua Be
You can tell nem cua be from its cousin the spring roll by checking the shape. If it's a cylinder, it's a spring roll. If it's a square, it's one of these beauties. Contained within is a taste experience unlike any other you'll have tried before - gorund crab, pork, mushrooms and more. Crunch into the whole thing with an accompaniment of fresh herbs and lettuce which counteracts the greasiness nicely.
Bun Bo Nam Bo
Created in southern-Vietnam, this bed of rice noodles topped by tender grilled beef is now popular throughout the nation. It's not hard to see why. The noodles and meat is supplemented by a veritable garden of vegetables including chopped cucumbers, letuce, papaya slivers, fresh herbs, crushed peanuts and heaps of crunchy fried onions. Mix it all together with a fish sauce, take a bite and moan with joy. Repeat until everything is consumed.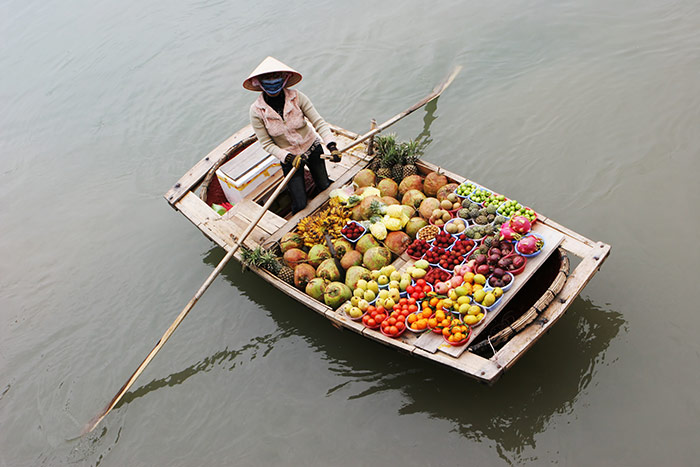 Pho
The legendary noodle soup is sold from sunrise to sundown on street corners citywide. It's typically made from long-oiled beef bones and a variety of spices that might include anything from star anise to cinammon. Pho bo is the traditional beef version, but chicken fans can get their fix by asking for pho ga.
Xoi
The xoi ladies that carry baskets of this tasty treat have helped to keep it popular throughout Hanoi. It's a simple meal, consisting of lotus root, roasted garlic and whatever meat or fish happens to be close by. All this is stuffed into warm sticky rice, which tastes absolutely delicious and can be eaten with the fingers. In all, a mouth-watering experience if ever there was one.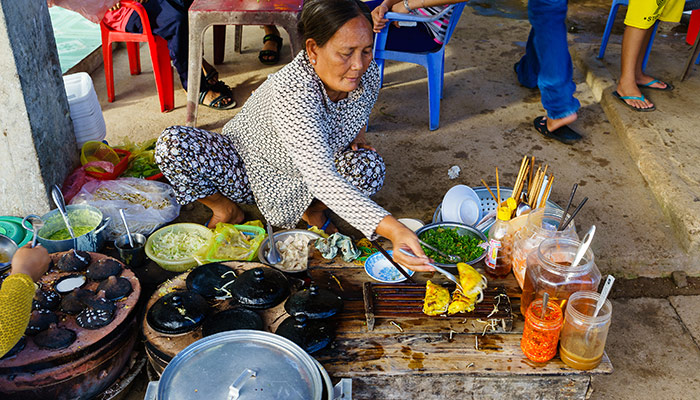 Find your next fantastic Cruise holiday to Vietnam or the Far East today.
Or, for more information about cruising all over Asia, sign up for our Asia brochure today.
Back to cruise guides and features
Go