Mexico is a fantastic place to visit on a cruise, as the country has so many attractions to enjoy. In fact, there are so many things to see and do that the only way to really get the most out of a trip to Mexico is to spend time in several destinations, which is why voyages along the nation's coastline are so popular.
From the famous paintings of Frida Kahlo and Diego Revera to the charismatic Mariachi bands that busk on the streets, Mexico is a country that has a lot to show for itself, which is why it's one of the world's top travel destinations. However, the more tourists that visit, the harder it becomes to distance yourself from them and get a taste of the true Mexico. Fortunately, there are a number of things you can do if you'd like to get off the gringo trail and experience a more authentic side to this intoxicating country. By doing so, you'll realise that beneath the loud, colourful exterior, there's a hidden way of life that only the locals know about. In this guide, we'll give you a few pointers on how you can get to know the real Mexico.
Visit a festival
One of the great things about Mexico is that there's always a festival going on somewhere, with each town having its own annual celebration. By attending a few of these you'll be able to see how the culture varies in different regions of the country, as well as take part in some of the best parties that Mexico has to offer.
Among the biggest of these is the Feria de San Marcos, which takes place in the city of Aguascalientes each April. Lasting for three weeks, it is quite simply the biggest fiesta you're ever likely to experience, and millions of people come from all over the country to indulge in the revelry. Essentially, it's just a massive street party, with the main activities being socialising, dancing and drinking. The entire town also becomes awash with banda groups, playing a type of music that is typical to the north of Mexico.
Elsewhere, the town of Guanajuato is considered to be the nation's theatre capital - a reputation which goes all the way back to colonial times, when the Spanish used to perform the latest plays by Cervantes here. In honour of this, the annual Festival Internacional Cervantino is held in the town each October, showcasing the local artistic talent.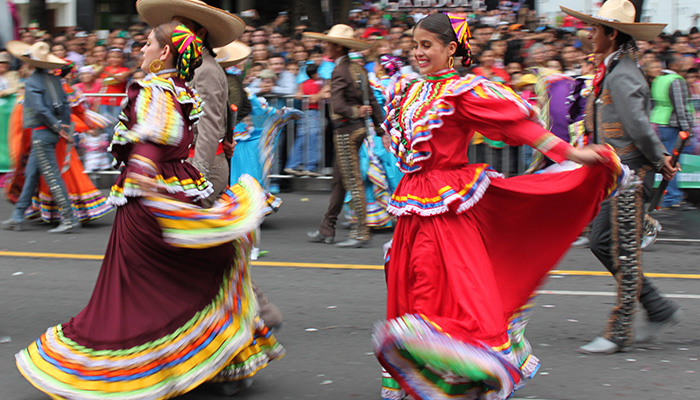 Eat chili with everything
Mexican food is known to be very hot, and while not all stereotypes hold true, this is one that is certainly based on reality. In fact, you'll be amazed at how many things are eaten with chilli here, and if you want to get a taste of real Mexican cuisine then be prepared for an intense experience. Of course, it isn't compulsory to add spice to all your food, although you will be offered the option with pretty much everything you order.
For instance, fruit sellers are often found on street corners in Mexico, selling packets of chopped mango, watermelon, pineapple and other treats. You'll normally be asked if you want some chilli powder sprinkled on top when buying from these vendors, and often they'll be pretty surprised if you say no!
Try a michelada
Most people think that tequila is the national drink of Mexico, and while this is certainly true, it's not the only beverage that's widely enjoyed in the country. In fact, there's one drink that you won't find anywhere else in the world, and which is an absolute favourite of all true Mexicans.
A michelada is essentially a beer, which is then mixed with tomato juice, lime juice, a range of spices and, of course, chilli. It's a bit like a Bloody Mary but with beer instead of vodka, and can sometimes contain 'clamato' instead of tomato. This is tomato juice flavoured with clam broth.


Try grillos
Staying on the subject of drinking, you'll actually find that there are a number of national drinks in Mexico, depending on whereabouts in the country you happen to be. Mezcal, for instance, is similar to tequila in that it is made from agave, but differs in that it is produced from the blue variety of the plant, whereas tequila is made using the green type. It can be found all over Mexico, although it's particularly common in the south, with the state of Oaxaca boasting the largest number of mezcal plantations.
However, if you want to claim to have had a true Mexican drinking experience then simply downing a shot of the stuff isn't enough. To complete the ritual, you'll need to follow this by crunching on a grillo - or deep-fried grasshopper. It may not sound like everyone's cup of tea, but it's a strong tradition in some parts of Mexico. Naturally, the grillos are flavoured with salt and chilli.
Eat at a taqueria
As a tourist, it's easy to spend your entire trip dining in fancy restaurants where the menu caters to foreign tastes. Often these establishments will offer traditional Mexican dishes, although unless you see the locals eating there you can be pretty sure that the food served up isn't quite as authentic as it could be.
In fact, many of Mexico's strongest traditions involve eating, and you'll be able to witness most of these by dinging at a taqueria - or street taco stall. For many Mexicans, these are a real staple and provide the majority of their meals, as it's often cheaper to eat at one of these than to cook at home.
Back to cruise guides and features
Go