Popular cruise line Celebrity Cruises has made a very exciting announcement to cruise agents across the UK. Whilst enjoying a shipyard visit to see the construction of the highly-anticipated Celebrity Edge, the unsuspecting cruise agents were met with a brilliant surprise; details about another new ship – Celebrity Apex.
Our Senior Vice President of Global Supply, Simone, meets Celebrity Cruises' president and CEO.
As another Edge-class ship, Celebrity Apex will be identical to her sister ship, boasting the same innovative and creative features, such as;
The Magic Carpet – a cantilevered extension to the side of the ship, where guests can meet fellow cruisers, share a drink and a meal, or simply relax while enjoying the surrounding views.
Twin-Level Edge Villas – among other accommodation choices sits this elite choice. The suite boasts elegance, style, and an outdoor plunge pool!
The Spa – seeking to give guests the ultimate in at at-sea holiday, The Spa onboard Celebrity Apex will not only offer a wide range of treatments, but also all sorts of effective relaxation rooms – from the Crystalarium to the Salt Room.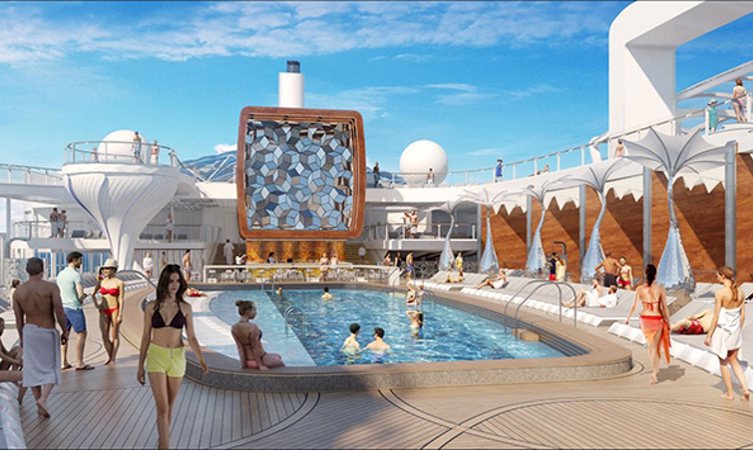 Every single detail has been considered when it comes to the ship's design; in keeping with Celebrity Cruises' philosophy of elevating modern luxury cruising. This means there will be no end of pleasant surprises for guests, who at every turn will be met with another beautiful addition and more unexpected details.
The beautiful ship will be debuting in April 2020 when, after a naming ceremony on Southampton, she will depart for a mini-series of cruises. Celebrity Cruises have chosen the UK for the base for Celebrity Apex, to mark their support and gratitude towards the UK cruise market. After seeing the success and popularity of Celebrity Edge, it is believed that Celebrity Apex will be another thrilling and thriving ship among British holidaymakers. 2020 will also mark ten years since the last Celebrity Cruises ship was named and operated out of the UK – the fabulous Celebrity Silhouette.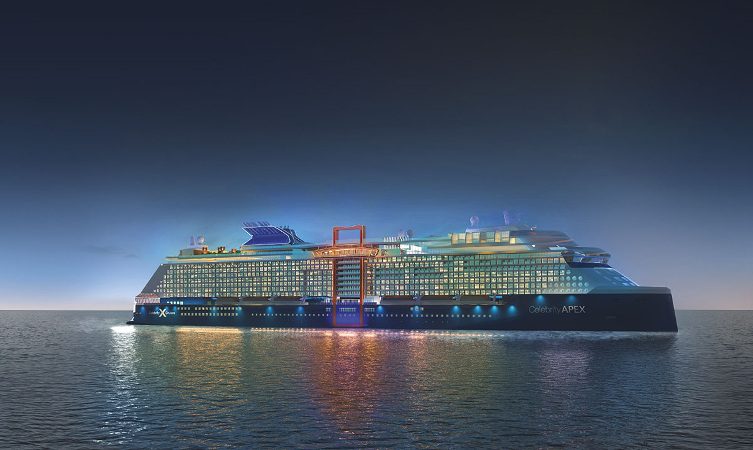 We expect more announcements to be made about Celebrity Apex as time goes on, for instance regarding things like who her Godmother will be. With Celebrity Edge being endorsed by Godmother Malala Yousafzai – the famous Pakistani, Nobel Prize-winning activist, we can't wait to find out which notable and honourable figure will be chosen.
There have also been no announcements regarding where Celebrity Apex will be cruising after her naming ceremony, however itineraries go on sale on 29th November 2018. Make sure you pre-register your interest with us today so that you can be among the first to find out the latest news, and to get an early opportunity to book your ideal sailing.
Back to cruise guides and features
Go