With the introduction of the new cruise line U by Uniworld, and their exciting and innovative ships, 'A' and 'B', we wanted to take closer look at what a river cruise line designed for 21-45 year olds entails. To do this we sent some of our own cruise experts onboard to sample what's on offer. Read on to find out just what they made of the trip.
What did you think of the ship overall?
'The A is a similar shape to other Uniworld ships, however it's a younger, more up to the minute style, and being all black outside it certainly stood out in the crowd! It's quite clearly focused towards the younger crowd – ideally 21-45 year olds – and so is perfect for river cruise holidays for anyone looking to party or celebrate.' - Nikki Cummings, Sales Agent
'I thought the ship was really nice. It looked quite modern and was perfectly geared up for a younger crowd, with modern décor and a variety of fun onboard activities.' - Dennis Straetmans, Sales Agent
'The ship is quite different to the usual river cruise ship, with a jet-black finish which makes it appear modern and edgy. It's small and easy to navigate, and very well decorated. The décor was not grand by any means but simplistic and modern; very much tailored towards the typical Millennial. One specific highlight for me is that there are charging sockets everywhere around the ship; a very nice and well thought out addition. The crew are also friendly, and clearly work very hard.' - Sam Knight, Graphic Design Manager
'The ship was absolutely stunning with its slick and contemporary décor, and the crew were very helpful, providing excellent service for the entire time. All in all it was a great experience and I could easily have spent more time onboard.' – Katherine Julian, Marketing Executive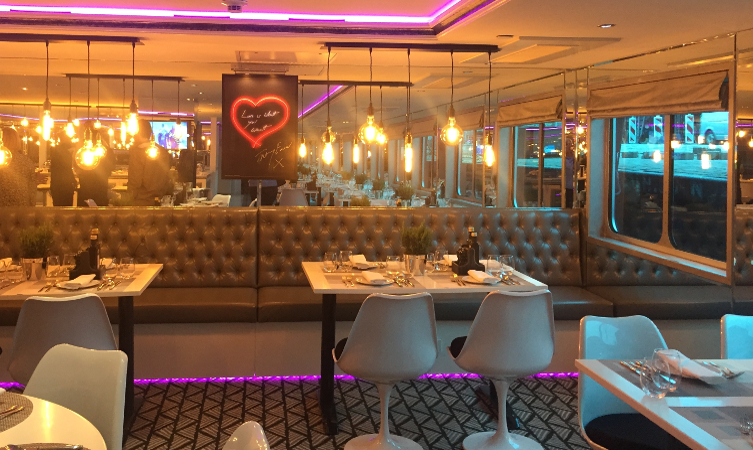 What did you think of the excursions and onboard entertainment?
'I went on an excursion cruising the canals of Amsterdam, which was a phenomenal experience that I would recommend to everyone. Onboard there was no entertainment as such; after dinner the only option was the silent disco which was good fun. I also took part in the mixology class was great.' - Katherine
'When it comes to entertainment, there is plenty to choose from. My favourites were the silent disco, and the range of classes including Mixology, cooking, and Yoga. The excursions are very much geared towards a younger set, such as a pub crawl in Amsterdam! There is an excursion included in each port and the option to purchase more on board.' - Nikki
'The boat tour was a real highlight as it was more intimate than the usual large scale cruise tours. This allowed us to ask questions and take in more information. The attractions within the tour were also a welcome surprise. During the evening we had a cocktail making class which was also very fun and informative, but being in a large group it did get a little hectic.' – Sam
'After dinner we went to the lounge where people had gathered to socialise, and then later on we went to the ICE Bar where there was a silent disco. We partied there for a while and ended the evening in the lounge again. I thought it was great that there were options to dance and meet people as well as simply relax with a drink with friends.' - Dennis
How did you like the cabins?
'The cabins are a good size and have really comfy beds. They also have facilities to connect your phone via Bluetooth to the speakers - I haven't seen this before on a ship and was really impressed. Another innovative feature is the cabin for three, in which each guest has their own pod with a separate TV.' – Dennis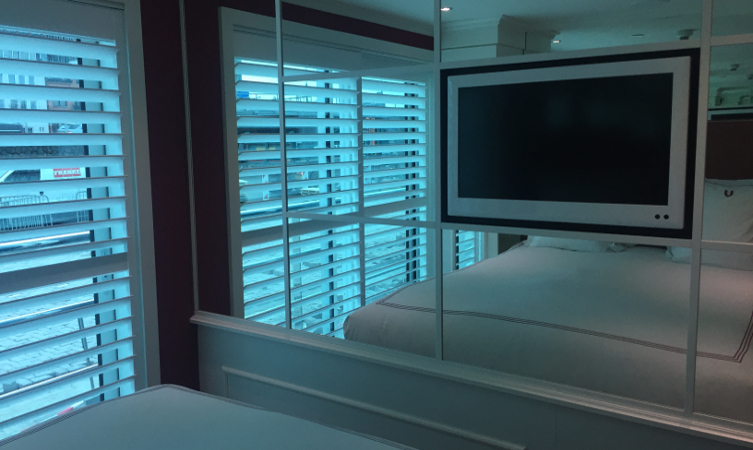 'The rooms themselves are a bit on the small size compared to most ships, but they have some nice features like allowing you to play your own music. The colours of the room were bright and varied, which I thought didn't necessarily suit the rest of the ship's design.' - Sam
'The bed was one of the most comfortable beds I have ever slept in, and I also really liked the interactive TV and the selection of movies they had. I really liked everything about the cabin but if I have to say something, I think it might be a bit small for two people sharing.' - Katherine
'I loved the river view I had thanks to the floor to ceiling windows – very unusual on a river ship and they made the cabin so much lighter! The cabins are all kitted out with the latest technology, with the facility to stream your own music, plenty of charge points, and there is no need for adapters as there are several plug types. The décor is contemporary and fittings are all modern.' - Nikki
Did you enjoy dining on the A?
'I really liked the modern design and lighting in the main dining room, and the staff were very nice, however the food was a bit of a disappointment for me. Being vegan I know my options are always going to be a bit limited, however there was very little in the way of choice for me at dinner. I would advise any guests to ensure that they mention dietary requirements both at the time of booking, and soon after embarkation.' – Sam.
'There is only one restaurant onboard, but the food served in it was delicious. I chose the chicken meat balls which were exquisite.' - Katherine
'Dinner was served in the main restaurant, and started with a huge sharing platter with different cold meats and cheeses etc. I had the cod for my main meal which was really tasty.' - Dennis
'There was one main restaurant which had a really lovely feel and the food was amazing. I particularly enjoyed the sharing platter, and I liked how casual the dining experience was. There are no set times or table plans.' - Nikki
Back to cruise guides and features
Go