Updated October 2017
From the best photo sharing apps to easy file transfer services, there are many ways you can share your holiday photos.

I take photos on my phone
Great! If you use your phone to take photos on holiday there are a number of photo-sharing apps you can use to share your holiday snaps with friends and family. Depending on your tech skills or requirements there are different apps available for editing, storing, and sharing your photos.
Google Photos

Google Photos is an easy to use photo gallery app that stores and organises your photos. Your photo roll is periodically backed up to the cloud, meaning that you'll have it safely stored online and accessible via https://photos.google.com. In your gallery you can create albums, animations, and stories. You will also find many easy options to share your photos via email or social media.

Instagram
Instagram lets you instantly share photos or short movie clips with your followers. Privacy settings allow you to approve your followers if you wish. The app includes basic photo editing functionality, with a range of filters and tools to give your snaps a professional edge. Add locations, tag friends, and use #hashtags to further share and filter your photos.

Flickr
Through Flickr you can upload, organise, edit, and share your photos no matter where in the world you are. Be inspired and connect with other users in the Flickr community, or simply share your pics with family and friends. You get 1000 GB of free storage upon signing up, and with cloud storage you can access your Flickr pics online, saving essential storage space on your phone.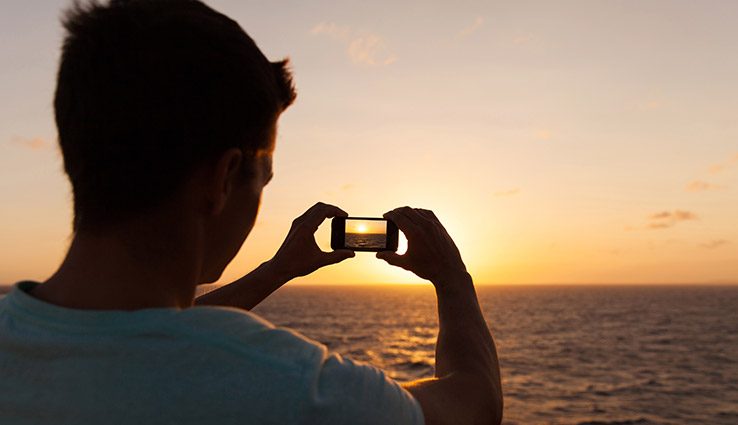 Chromecast
A Chromecast lets you connect your mobile or tablet with your household TV so that you can stream your favourite Netflix series or YouTube videos. You can also stream your photos and treat the family to a slideshow from the comfort of your couch. You have control over which photos appear on the screen and can make sure only the ones you want to share are seen.
Top Tip – want more cruise tips and guides? Watch
Planet Cruise Weekly
on TV by streaming YouTube through a Chromecast.
I take photos on my camera
If you regularly take photos with a digital camera you are probably familiar with how to transfer them to your computer. But what happens next? There are a few different ways in which you can share your photos once retrieved from your camera or memory disc.
Collaborate on Facebook
If you went on a group holiday and want to get all your photos in one easily accessible place, Facebook could be the answer you're looking for. Create an album and add your friends as collaborators. You can add locations, descriptions, and tag people so that they see the photos they are featured in. Tweak your privacy settings if you'd prefer certain images of you not to be made public.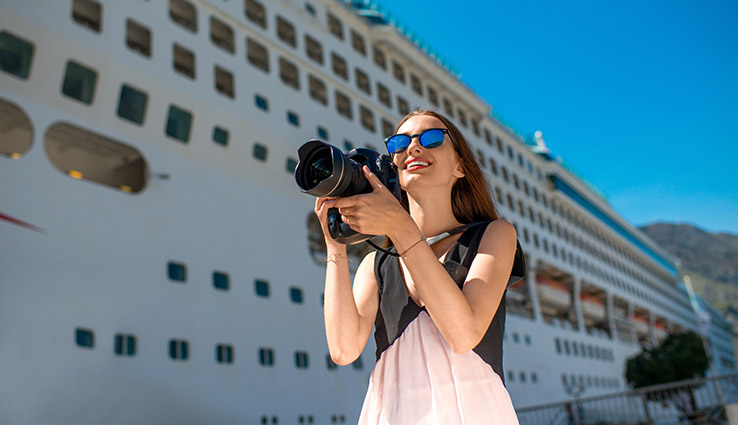 WeTransfer
WeTransfer is a free and easy way for anyone to send files online. The website is extremely user-friendly, and you can email your files or create a shareable link in three easy steps. WeTransfer Plus provides a few snazzy extras like a larger file size allowance and password protection, but the free version is still very good.

Dropbox
Just having passed its tenth anniversary, Dropbox has had plenty of time to refine and perfect its file sharing service. You can sign up free for an account which gives you 2 GB of storage space. Once your photos or files are in your Dropbox account you can easily share them with friends through custom links and emails. Download the Dropbox desktop app to your computer so that you can also access your account while offline.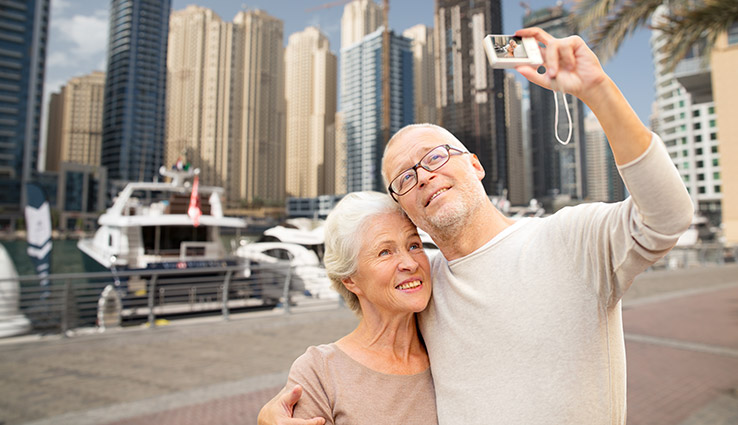 Get Social
We love seeing your holiday snaps, be sure to keep sharing them with us!
• Use the hashtag #PlanetCruiseCapture
• Tag us in your cruise photos on
Facebook
Back to cruise guides and features
Go