After several of our staff were lucky enough to experience a few days cruising onboard the Regent Explorer, we asked what the highlights of their trip were. The answers were unanimous – the food! We thought it only right then, to sit up and pay attention to just what this luxury cruise line has to offer where cuisine is concerned.
With 9 different dining options, The Regent Explorer undoubtedly has something for everyone. We asked our staff what their favourite restaurants and foods were, and here's what they told us:
Mike Davies, Concierge Executive
My personal favourite by far is the pan Asian Pacific Rim located on deck 5. A wide sloping entrance, high ceilings, and low light created the perfect ambiance. The décor was stunning, as was the food - with service to match. My favourite course was the soft shell crab . . . or was it the deep fried lobster? I still can't decide.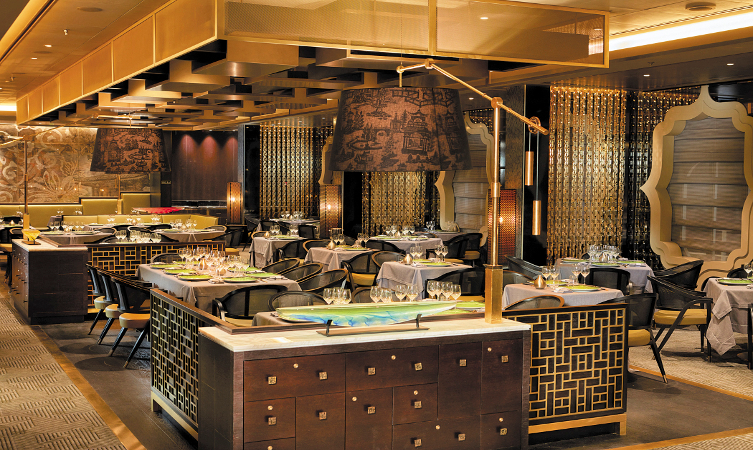 Jo Reid, Head of Commercial
I think the best restaurant for me had to be the steakhouse – Prime 7. There was so much choice it was incredibly hard to decide. The food and venue were absolutely beautiful. We were given an appetiser to start (compliments of the chef) of tomato soup with parmesan foam and a tortilla chip – it was delicious. As well as this we had American French onion soup, surf & turf (lobster) with creamed spinach, onion rings, and a tuna and avocado stack. We finished the evening watching the sun set while eating dessert.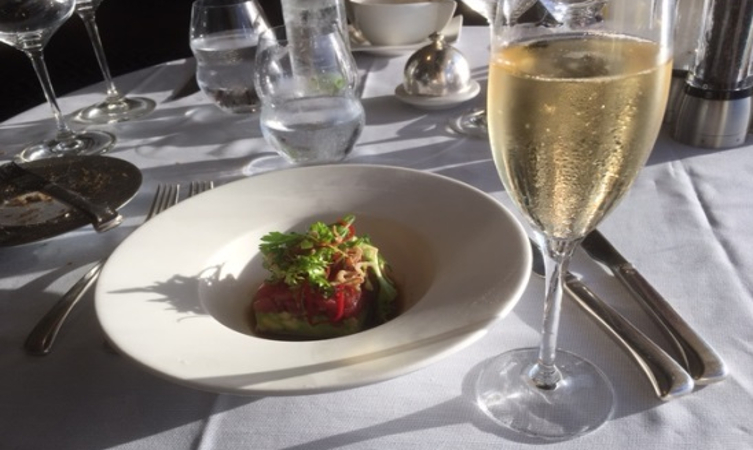 Ed Dixon, Concierge Executive
I found the food and service in the main dining room – Compass Rose – to be faultless. As soon as I arrived I was seated right away with a few other people, which was a great way for me to meet more guests on the ship. All the food was delicious and the waiter was very attentive, and helped me with my wine selections for each of the meals.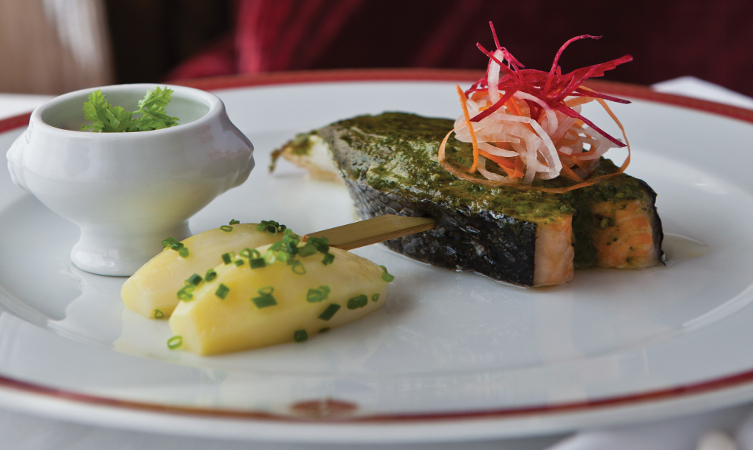 Ellie Holland, Customer Services Executive
My favourite restaurant was also The Compass Rose, because everything from the chairs to the ceiling was a whole other class. All the smallest details were thought of – even the plates were beautiful Versace design. The food was amazing, I can't fault any of the courses especially the dessert; I had an amazing rich chocolate pudding.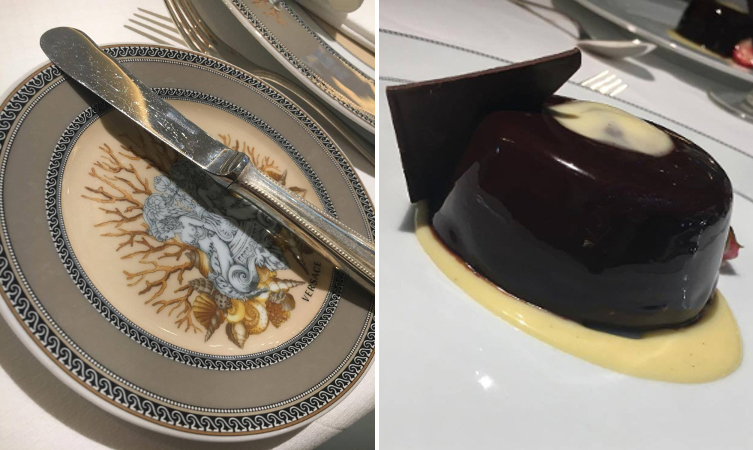 Along with these fabulous dining venues, Regent Explorer also boasts some wonderful bars and lounges. All of our staff were impressed by the attentive and friendly waiters and bartenders – all of whom could not only remember names but also drink orders! A particular favourite was the Observation Lounge, where dark furnishings and soft lighting created a relaxing and comfortable atmosphere. Ed remarked: The barman in the Observation Lounge knew exactly what drinks we wanted, and when I could not decide he even made me my own cocktail that was not on the menu, based on another one I had tried elsewhere before.
Needless to say, the service, food, and drinks found onboard Regent Explorer is highly commendable, and it is likely that all guests will be delighted with what they experience. If you want a taste of the high life with this luxury cruise line, take a look at Regent Seven Seas Cruises.
Back to cruise guides and features
Go