The capital city of Portugal, Lisbon, is a wonderful port of call on a Mediterranean cruise. There is so much to explore in this vibrant city, with its rich historical background, upbeat nightlife, sandy beaches and plentiful cultural experiences. Lisbon can be enjoyed by tourists of all ages, whether they're looking to simply relax, or they want to stay active and get to know Portugal. If you'll be stopping in the city during your cruise, read on for a handy guide on seeing the best of Lisbon in 24 hours.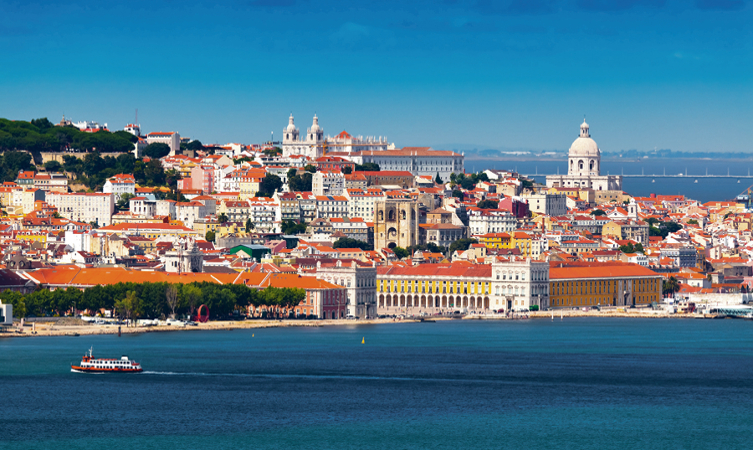 Getting around Lisbon
The most popular form of transport in the city is its trams. There are two tram types; the modern Articulado and the historic Remodelado, the latter of which dates back to the 1930s. Trams are a great way for tourists to explore, and locals still use them frequently as a convenient way to get from A to B. The traditional, wooden Tram 28 is one of the most frequently used. It travels between Martim Moniz to the Campo Ourique parish, passing through popular tourist areas such as Alfama with its quaint streets and cafes, and Estrela which is home to the majestic Basilica da Estrela. The cost of a single ticket onboard the tram is €3 at the time of writing, or another option is to buy the 24-hour public transport ticket - which includes all metro, trams and bus services - at the cost of €6.40.
There are five cruise ship docks at Port Lisbon; Santa Apolonia, Santa Apolonia Jusante, Alcantara, Rocha Conde d'Obidos and Jardim do Tabaco. Most cruises liners use Santa Apolonia (1km from the city) or Alcantara (3km from the city), from which you can walk, take a shuttle bus, taxi, hop on hop off bus, or even the popular tuk-tuks into the city centre.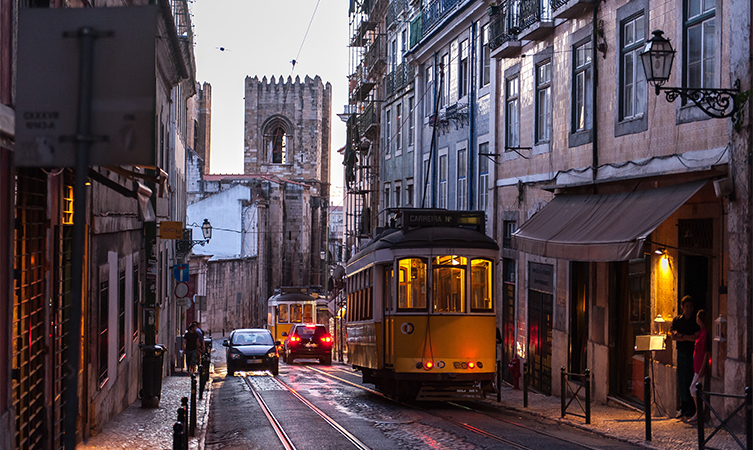 4 Must-See Attractions in Lisbon
Rossio Square
Rossio Square is officially named King Pedro IV Square and pays homage to this 19th-century king with the great Column of Pedro IV in the centre. The square is one of the liveliest in the city; it's a beautiful location with picturesque cobblestones designed in a modern, wave pattern. Rossio Square is a wonderful spot where tourists and locals alike come to stop and relax, enjoy the surroundings, and eat at one of the atmospheric cafés nearby.
Tower of Belem
The district of Belem is located in the southwest of Lisbon and boasts a collection of must-see historical monuments, museums, and gardens. The Tower of Belem is a UNESCO World Heritage site and was built in 1515 as a symbol of the Age of Discovery. It was originally designed to be a lighthouse, but soon became a fortress to protect the city. The tower has five floors, the Governor's Hall, The Kings' Hall, the Audience Hall, the Chapel and Roof terrace.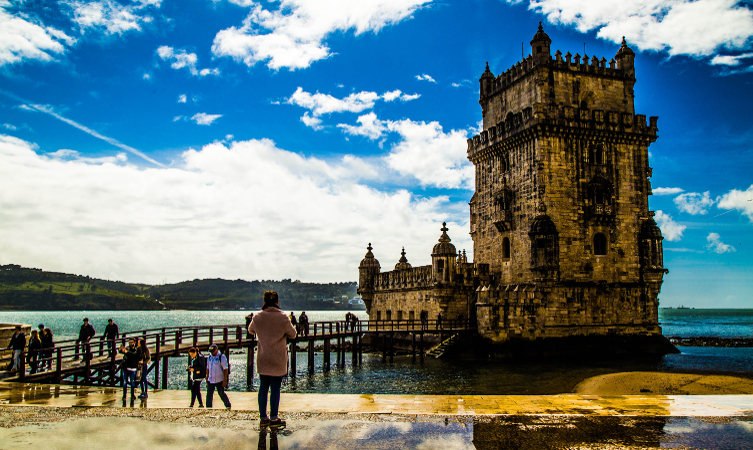 Praca do Comercio
The Praca do Comercio is one of the largest plazas in Lisbon. It's surrounded by stunning, historic buildings, and was home to the Pacos da Ribeira (the Kings' residence) which was destroyed by an earthquake in 1755. The square is home to a grand statue of King Jose, as well as some famous restaurants and attractions such as the Museum of Beer. It's a beautiful, colourful square filled with locals and tourists; and an ideal place to discover more of Portugal's history.
Santa Justa Lift
The Santa Justa Lift - or Carno Lift – dates back to the 19th century, and has become a popular historical site in Lisbon. It takes people up the steep hill in the Baixa district, to the ruins of the Carmo Convent. The lift has a gothic structure, it's a well-loved attraction due to the unique views you can see from the top. The Santa Justa is open every day, and there is an entry cost of around €5 return trip, however, it's worth knowing that it is included in the 24-hour public transport ticket.
5 Must-Try Dishes in Lisbon
1. Pastels de Natas
Pastels de Natas are delicious, traditional Portuguese egg tart pastries, a unique dessert which has been around for centuries. They can be found not just in Portugal, but in Portuguese-speaking countries such as Angola and Brazil. While it's possible to find these little treats in cafes and restaurants all over Lisbon, Pasteis de Belem is the most well-known option. It's in this famous bakery where the first Nata was sold in 1837.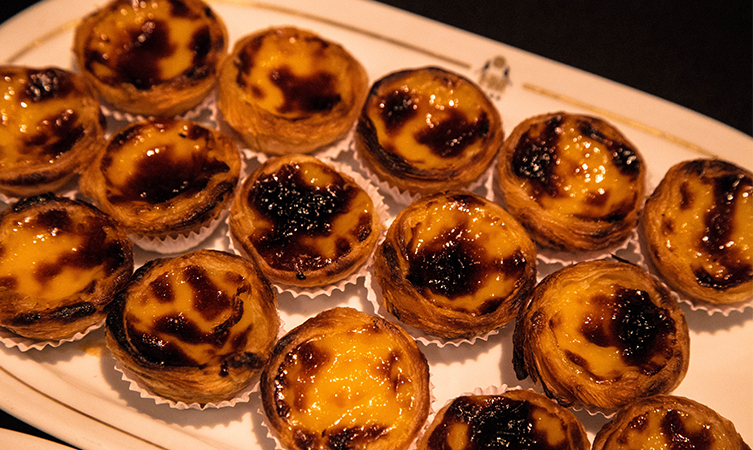 2. Bife a Cavalo
This traditional Portuguese meal consists of grilled steak with a fried egg on top, served with rice and salad. Tourists can find Bife a Cavalo in most restaurants in the Baixa district, and in Praca do Comercio.
3. Bacalhau com Natas
Bacalhau is salted cod, which is popular in Portuguese cuisine. Bacalhau com Natas is an oven-baked dish which consists of bacalhau, onion, potato, and cream. Restaurant Ti Natercia located in Alfama has been branded as the best place to get Bacalhau com Natas.
4. Feijoada
Feijoada is considered one of Portugal's national dishes. It's essentially a stew with beef, pork and black beans served with rice and chorizo. It's an authentic taste of Portugal and a perfect choice for a delicious and warming meal.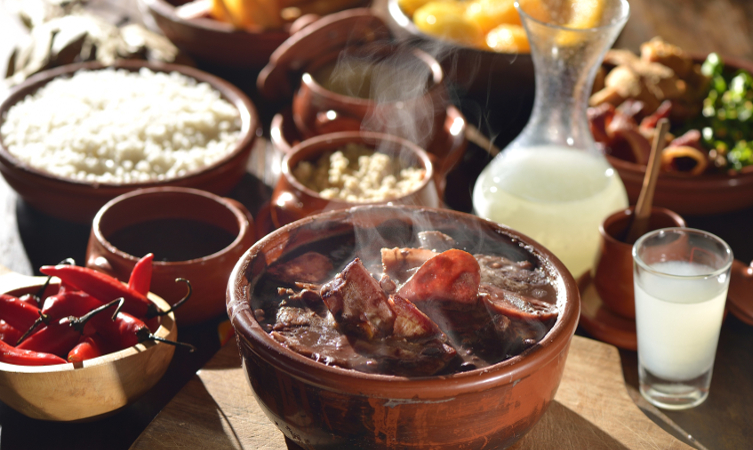 5. Caldo Verde
Caldo Verde is a tasty soup made with collard greens, potatoes, olive oil, salt, garlic, and onion. It's usually eaten before the main dish as a starter. Restaurante O Caldo Verde is a restaurant which specialises in Caldo Verde, located in the Bairro Alto area.
Let the sights, sounds, and tastes of Lisbon delight you on your next romantic cruise, or indeed let the little ones discover a new place that's not far from their doorstep on a family cruise. Browse through our selection of Mediterranean cruise deals to find your next adventure.
Back to cruise guides and features
Go