Cuba is a country drenched in culture, sitting in the Caribbean between the USA and Latin America. Visitors will love the exuberant nature of inhabitants, who are passionate about all things Cuban – from music and dance to food and drink. Find out more about what you can expect on a cruise to Cuba.
Cuban Music and Dance
On every street corner, every bar, and every beach, the smooth sounds of Cuban music will fill your ears. From the soft melodies of jazz bands playing covers of an impressive array of international songs, to the more upbeat Cuban classic, Guantanamera, the infectious rhythmic music will stay with you long after your cruise.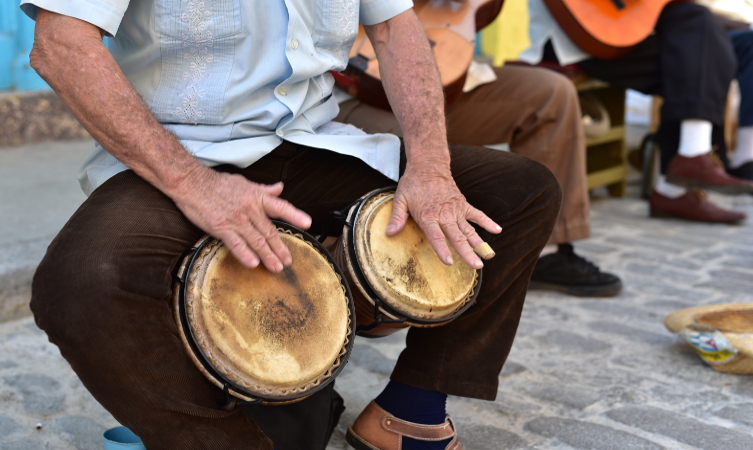 With music comes dancing, and wow do Cubans love to dance. You will see people of all ages joining in at any opportunity, with Latin American dances like salsa, merengue, and mambo, the latter of which is said to have originated in Cuba in the 1940s. Be prepared to be asked to join in, but spectators are also welcome to stand by and enjoy what they see.
Local Food and Drink
You can be sure with all this dancing and music that a bottle of rum is never far away. Cuba is of course famous for its unique blend, which is readily available at all the ports you may visit on your cruise, including capital city Havana, Cannarreos Archipelago, Cayo Largo del Sur, Cienfuegos, Ancon Peninsula, Trinidad, and Santiago de Cuba. Almost every establishment you go to will serve classic Cuban cocktails – mojitos and daiquiris.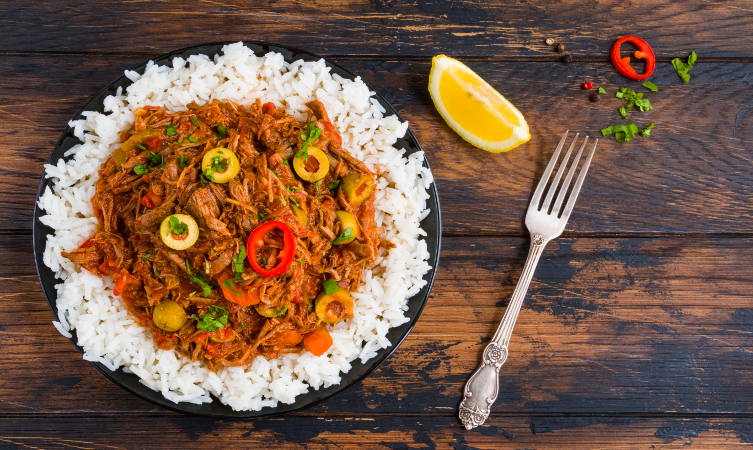 Cuban cuisine is a special blend of Native American, Spanish, African, and Caribbean foods. It's spicy and colourful, and typically includes ingredients like rice and beans, potatoes, plantains, chicken, and pork. Try a Cucurucho for dessert – it contains coconut, sugar, orange, and pineapple wrapped in a palm leaf, and tastes absolutely delicious.
Places to See
Havana
Capital city Havana is a hugely popular port of call. The city is scattered with architectural gems such as the 16th century Castillo del Morro across Havana Bay, famed for its panoramic harbour views and interesting history. The city truly comes alive at night, so take a night tour and dine at a historic hot spot such as La Bodeguita del Medio, made famous by Ernest Hemingway as his favourite place for mojitos. The Tropicana Cabaret is the biggest nightclub in the whole city, showcasing productions to rival Las Vegas.
Cayo Largo del Sur
This small resort island stretches 27km, and is located on the Caribbean Sea off Cuba's south coast. Famed for its untouched white sands and crystal clear waters, it's a hot spot for people to relax and enjoy the sound of the ocean, or even go swimming with dolphins. A catamaran journey to Cayo Blanco is perfect for those looking to simply lounge on their holiday – it's seen as a small piece of paradise, renowned for its great beaches and swaying palm trees.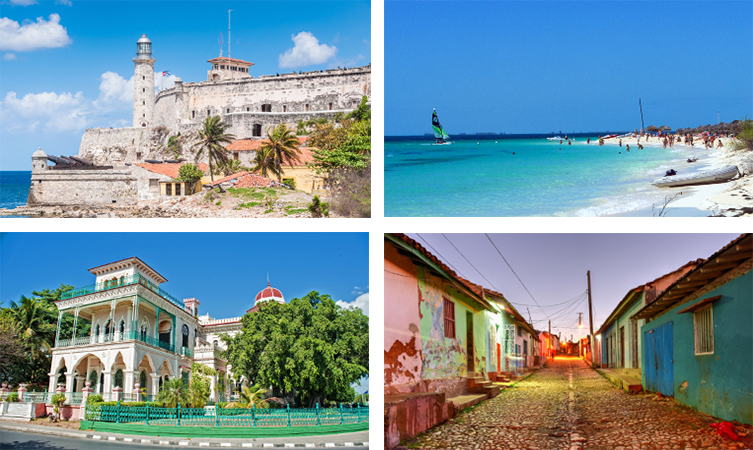 Cienfuegos
Considered the "Paris of Cuba", Cienfuegos was founded by French emigrants in 1819. This is apparent through its elegant ambience and stature of the beautiful colonial buildings. Along with Trinidad, it's a Unesco World Heritage Site, and one of the richest parts of the country. Activities here range from water sport adventures to city tours. Pueblo Nuovo is the city centre, whilst Punta Gorda is the peninsula featuring character-filled 1950s style homes.
Trinidad
Located in central Cuba, Trinidad is famed for its pastel coloured houses. The town was once a centre of trade in the sugar industry. The nearby Valley of the Sugar Mills holds over 70 former mills, which today can be explored by visitors; a trip here is a great way to learn about Cuba's industrial history. After exploring, spend your afternoon relaxing on one of the many beautiful white beaches, or, if you feel like dancing, the town is home to some really unique experiences such as a club located in church ruins, and one inside a cave.
Cruising in Cuba with MSC Cruises
Best known for their range of wonderful Mediterranean and Europe cruises, MSC Cruises actually offer some incredible itineraries further afield – including Cuba.
With authentic Italian heritage, MSC Cruises certainly know how to play host. Their ships boast ample features suitable for all kinds of holidaymakers, from lively and active families, to older couples simply looking to relax. Accommodation ranges from the super-family suite which can cater for up to 6 guests, to the stunning suite with private whirlpool, with a wealth of choice in between.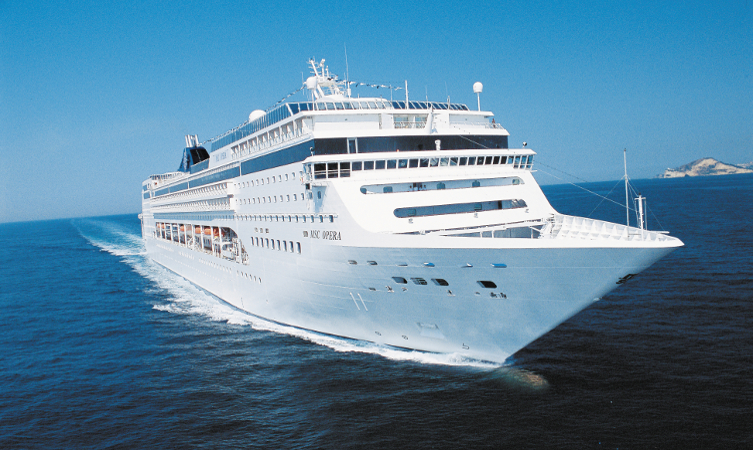 There is something for everyone when it comes to dining and entertainment too. The main restaurants and buffets can cater for all sorts of dietary needs, and children's menus are available here as well. Or there are some beautiful speciality restaurants for something a little different. Onboard entertainment and activities range from live music, extravagant shows, dance classes, arts and crafts, and more. It's safe to say that no one will be bored on those sea days on an MSC Cruises cruise to Cuba.
Cuba really is one destination that visitors always want to return to. Whether you are looking for the perfect place to simply relax, or you are more interested in learning about a distinct an enthralling culture, the country truly has it all. Visit this blissful part of the world, browse through our selection of cruises in Cuba.
Back to cruise guides and features
Go