Cruising from Dover: port info, what to do and see
Dover Cruise Terminal, Port of Dover, Western Docks (Cruise Terminals), CT17 9DQ
Famous for the Eurostar and ferry to Calais, Dover is the UK's second busiest cruise port with up to 200,000 passengers passing through annually. Dover is mostly dedicated to shipping and ferries. As such, outside of the summer months, cruise ships are not so common, with peak season from April to October.
As such, normally there are two separate cruise terminals at the western docks although a third temporary facility can be opened for peak season, allowing three ships to harbour at once. Despite this seasonality, disembarkation tends to be between 7-9am with embarkation between 3-4pm year-round. You can find the sailings from Dover here.
Cruise lines and destinations from Dover
As a large port, Dover is able to cater to both cruise lines with relatively small cruise ships such as Saga, Seabourn, Crystal, Fred. Olsen, Viking, Pullmantur and Costa, and the massive modern cruise ships of Royal Caribbean, Celebrity, Disney, Princess and Oceania.
Dover connects to an impressive 170 ports of call, usually spread around the wider British Isles, Northern Europe (such as the Baltics, Iceland and Fjords), and the Mediterranean. However, there is the occasional world cruise beginning their epic voyages in Dover.
British Isles: Liverpool, Dublin the Hebrides and Isles of Scilly
Northern Europe: Iceland, the Faeroes and Scandinavian Fjords
Baltic: Copenhagen, St Petersburg, Tallinn and Stockholm
Mediterranean: France, Spain, Portugal and Italy
How to get to Dover Cruise Terminal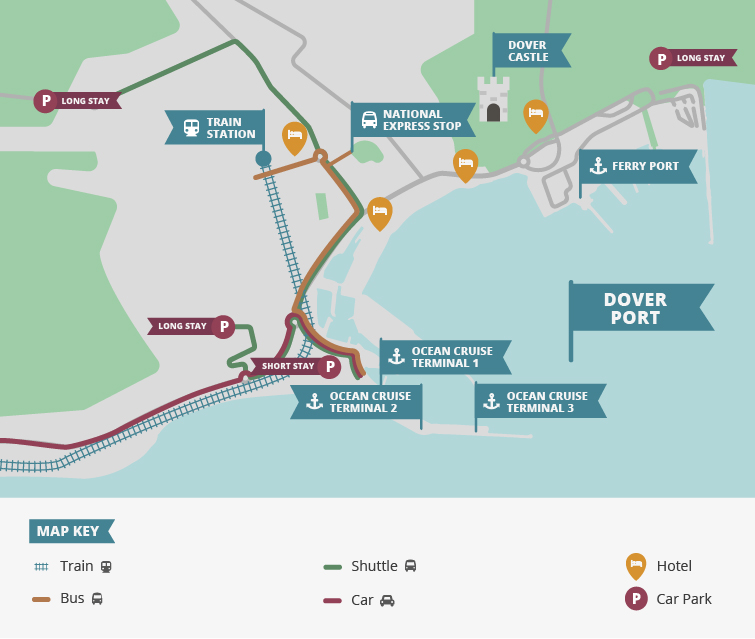 By Car
If travelling by car, Dover is busy but orderly and well set out. Dover's cruise terminals are located at the eastern docks, the other side of the town to the western ferry docks. The Sat Nav address is CT17 9DQ and the approach is clearly signposted. Driving from the M25 just outside London usually takes about 90 minutes, but traffic can get congested at peak times via the M20 motorway and A20 bypass. Whether travelling from the north or west, you will find approaching Dover via the M20 to be the faster route by road.
By Public Transport
The train from London to Dover Priory Station is between 1-2 hours depending on the exact time and route. It is possible to walk from Dover Priory train station to the port, but not advised if bringing luggage. It's just under a mile away, and 15 minutes' walk, so it's best to pre-book a taxi to meet you which will take about 5 minutes. Meanwhile, terminals 1 and 2 have taxi ranks outside for quick drop-offs and pick-ups.
A part of a fly cruise, Gatwick is the closet airport at 80 miles away, and takes about 90 minutes by road. Via train is a longer route, as you will have to go via London, therefore train journeys could be between 2-2.5 hours. One option is to rent a car at the airport and drop it off at one of the equivalent branches located near the port.
Dover Cruise Terminal Facilities
Dover cruise port has three cruise terminals within the facility in order to deal with the high volume of maritime traffic coming and going each day. All three terminals are modern, state-of-the-art complexes designed like airport waiting areas. As a result, each terminal has quick check-in services, a lounge and café area, toilets, Wi-Fi and money exchange services. In addition, there is a great view of the white cliffs of Dover beyond through the panoramic windows as you wait to depart. Meanwhile, the town is only a short walk or quick stop off on the way for any last minute purchases you need for your cruise.
As the UK's largest port, Dover has excellent car parking services available with up to 1000 parking spaces in total, with a shuttle bus service to the terminals. However, you must reserve in advance in order to guarantee a place and to get a cheaper rate. You can book this with us or via the port's online booking system. Meanwhile, there is a short-stay pay and display car park with 64 spaces right at the terminal entrance.
All Dover's cruise terminals and facilities are fully accessible but please inform us of any special assistance you require such as parking, luggage or wheelchair assistance when booking.
Tourism: what to do and see in Dover
Dover Castle is the largest castle in England and is nicknamed the "key to England" due to its strategic location. Owned by English Heritage, Dover Castle is a full day out with guided tours, food and disabled access as well as many events throughout the year.
Secret Wartime Tunnels are a network of tunnels hastily dug into the white chalk of the cliffs of Dover as a defence network during WWII. Only previously discovered in 2011, the National Trust has renovated this fascinating time capsule which offers you a window into the lives of those who protected Britain from invasion during the Second World War.
Of course, the white Cliffs of Dover are a natural wonder of the British coastline – catching a glimpse as you sail in and out of Dover is a mandatory moment in your travels. While in Dover, you can go up onto the cliffs and look out over the channel and rolling English countryside.
Meanwhile, for those staying longer, there are plenty of medium-price-range hotels and shops around the Dover Priory train station and town centre.
Monday to Friday
Price
Info
Dover Castle
10am-5pm
Adults: £20

Kids: £12

Concession: £18

800 years of history in one stunning, medieval castle
Secret Wartime Tunnels
10am-5pm
Included in castle tickets
Tunnels from WWII
Dover Sea Safari
9.30am-4.30pm
Varies, £25 to £80
Explore the white cliffs of Dover on a speed boat