Disney Cruise Line's beautiful Castaway Cay Island is a private island resort for their cruise guests only. Located in the Bahamas, off the coast of Florida, this exclusive destination is blessed with the sunny skies and warm temperature that the region is known for. If your Disney Cruise Line Caribbean cruise includes a stop here, read on to find out more about what you can expect from the island.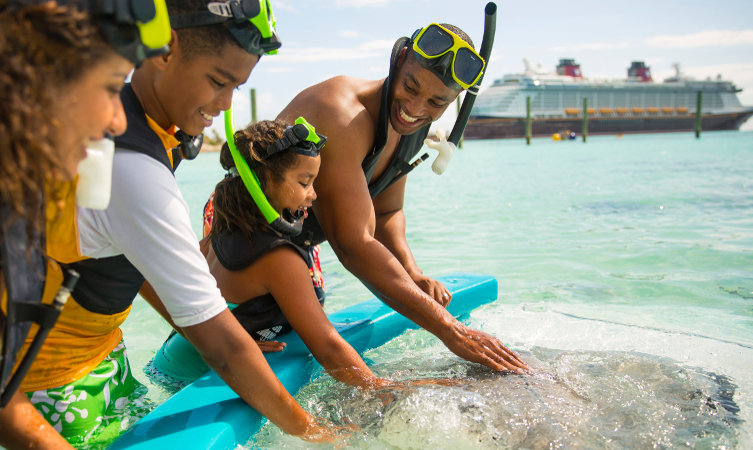 The Perfect Beach Atmosphere
Castaway Cay is around 4km2 in area, and is comprised of white sandy beaches, gently swaying palm trees, and clear, warm surrounding waters. At every turn visitors will find plenty of opportunities to have fun in the sea, relax and soak up the rays, enjoy the best of summer fare and refreshing drinks, and bask in the tropical ambience with the help of some gentle background music. Whether travelling alone, as a couple, or with a family of mixed ages there is a wide variety of choice when it comes to how to spend your time at Castaway Cay, making it the ideal retreat for all.
Plenty to See and Do
No matter whether you simply feel like taking it easy for the day, and indulging in a couple of your favourite cocktails, or if you want an action-packed experience making the most of everything on offer, every guest can find their ideal holiday experience on Castaway Cay. Here's a snippet of the things you can see and do on the island.
- Snorkelling. The Bahamian island is home to a range of marine life that can be explored individually or on an excursion. See some stunning coral reef and variety of colourful reef, and you might even spot Minnie or Mickey!
- Fishing. Disney Cruise Line offers some fantastic fishing excursions in the surrounding waters. Try your luck and test your skill on one of these trips which are suitable for all ages.
- Parasailing. See the gorgeous flora and fauna of the island from a unique angle while soaring above on this exhilarating excursion option.
- Meet your favourite characters. A number of Disney characters have been known to make appearances on the island, so keep your eyes and ears open to ensure your little ones meet their favourite folks.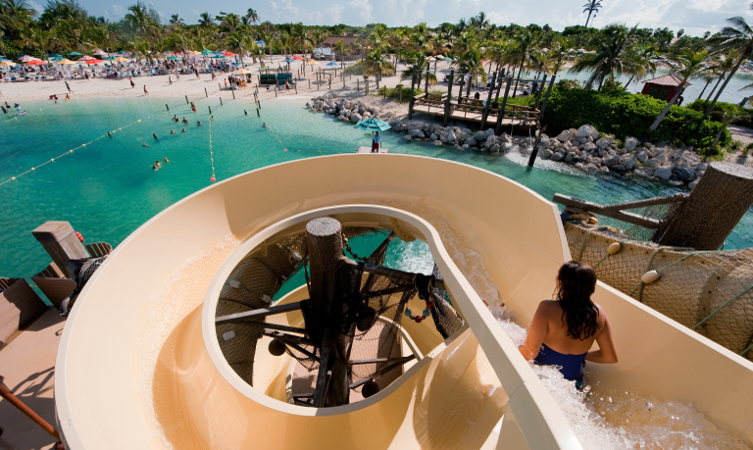 - Sports. The island also boasts a sports beach reserved for fun team activities such as soccer, volleyball, and tetherball. Ideal for getting to know fellow cruisers, or if you've indulged in one too many ice-creams!
- Waterpark attractions. Of course an island resort like this wouldn't be complete without some splashy attractions! Find a drench bucket, waterslides, and kid-friendly waterpark to have fun and cool down fast.
- Serenity Bay. This adult-only area of the island is great for cruisers looking to escape the frolics. Stay here all day and treat yourself to a massage and enjoy the range of BBQ food and speciality drinks on offer.
For more information about the excursions at Castaway Cay talk to your sales agent.
Great Food and Drink
At Castaway Cay visitors will find a number of places offering some impeccable barbecue food and deliciously refreshing drinks. Choose from the likes of rotisserie chicken, grilled fish, hotdogs, hamburgers and more, before washing it down with your favourite cocktail, beer, frozen drink, or soft drink. Eateries include:
- Cookies BBQ
- Cookies Too BBQ
- Serenity Bay 'Secret' Adults Only BBQ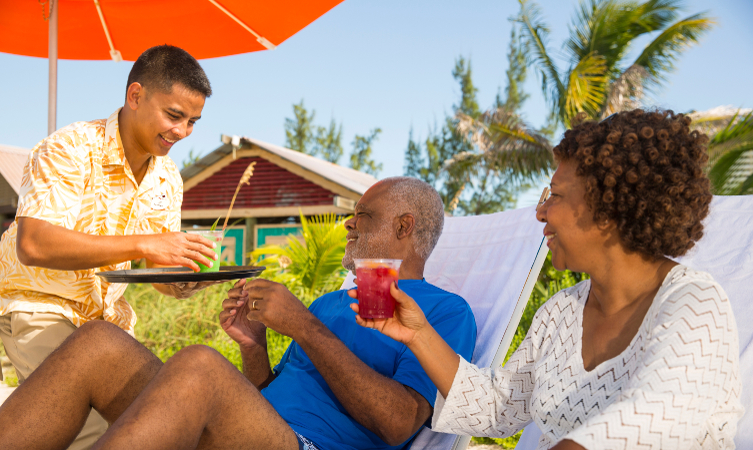 Castaway Cay – Helpful Information
There are a few little tips that are worth knowing for anyone who will be visiting this fantastic private, resort island.
- It's English-speaking. All crew members speak English so there's no need to bring your phrase book along!
- Towels are provided. Don't worry about bringing towels to the island from the ship.
- Cash is redundant. Those who plan to buy some souvenirs on the island can simply use their room key card.
- There is a post office. It's possible to send postcards from the island, however keep an eye on opening times.
- Food is free. Food and drink on the island will be the same as onboard the ship; according to your cruise package.
Take a look at our range of Disney Cruise Line cruises and get started planning your family's next adventure.
Back to cruise guides and features
Go