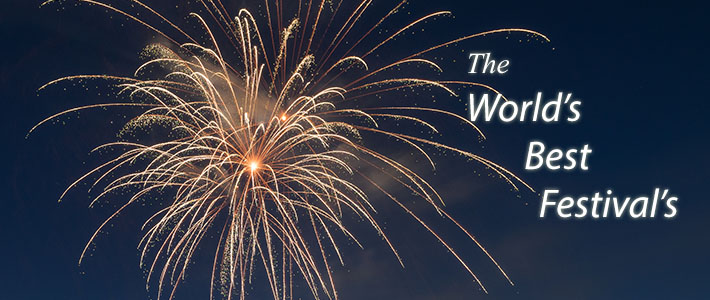 With so many amazing destinations all over the world, it can sometimes be tricky trying to decide on a place to visit on your next adventure. To make things easier, you may want to focus less on the actual destination and more on the events that are taking place during the time you have set aside for a holiday. In particular, cultural festivals always provide an amazing experience and enable tourists to see a travel destination in its full glory, getting a taste of local traditions while at the same time having a real blast.
There are, of course, countless festivals to discover all over the globe, and it would take more than a lifetime to visit them all. To help you narrow down your selection of events to attend on your next cruise holiday, here at Planet Cruise we've compiled an exciting list of the world's most spectacular and unmissable festivals.
Chinese New Year Parade
When: 16th February 2018
Where: Hong Kong and Major Cities Worldwide
Why you should go:
This ancient festival is an experience like no other; it marks China's New Year - an important traditional Chinese holiday celebrated at the turn of the Chinese calendar. With dragons, fireworks, symbolic clothing, flowers, lanterns, and celebration, China marks their most important and significant day of the year in style. The heart pounding action features a fabulous parade of floats, dragons, symbolic clothing, international and local performers, and a stunning fireworks show over the harbour.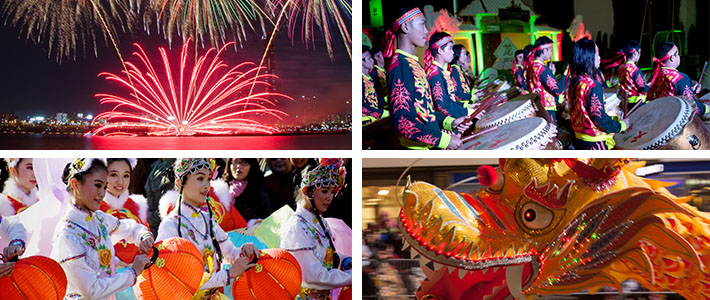 Holi Festival
When: 13th March 2017
Where: India, Nepal, Sri Lanka and Major Cities Worldwide
Why you should go:
The Festival of Colours celebrates the end of winter and the beginning of spring. It's fun, safe, and free. It is an ancient Hindu religious festival that is celebrated with enthusiasm, singing, dancing and a rainbow of colours. Groups carry drums and musical instruments, go from place to place, while everyone plays, chases and colours each other with dry powder and coloured water, with some carrying water guns and coloured water-filled balloons.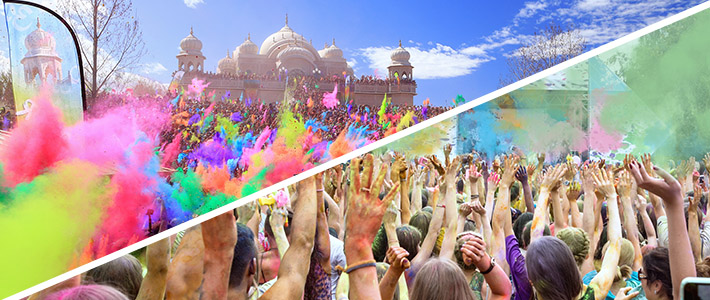 Oktoberfest
When: 16th September - 3rd October 2017
Where: Munich, Germany
Why you should go:
The famous Oktoberfest is the largest Volksfest beer festival and travelling funfair in the world. Held annually in Munich, Germany, Oktoberfest began life as a wedding for the Bavarian crown prince Ludwig to Princess Therese on October 12 1810. It has since grown into a 16-day festival running from late September to the first weekend in October with more than 6 million people from around the world attending the event every year. The event is all about beer, beer and only beer. Grab a huge traditional beer glass and start the celebrations.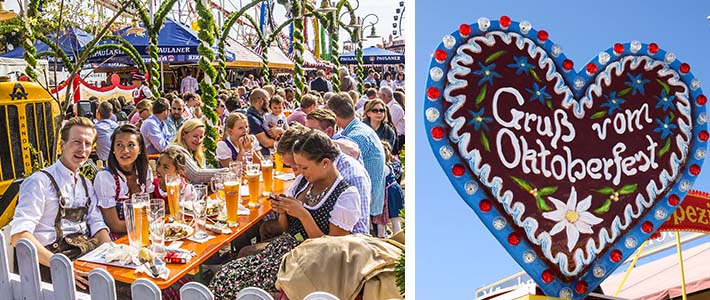 Albuquerque International Balloon Festival
When: 7th - 15th October 2017
Where: Albuquerque, New Mexico, USA
Why you should go:
The Albuquerque International Balloon Festival is the largest gathering of hot air balloons in the world. Essentially it's like the movie Up — but better. The Albuquerque International Balloon Fiesta is a yearly festival of hot air balloons that takes place in Albuquerque, New Mexico, USA. The Balloon Fiesta is a nine day event, and has around 750 balloons. The event is the largest hot air balloon festival in the world. Once the balloons are let off, watch as the Skies of Albuquerque become a rainbow of vibrant colours making a breathtaking spectacle. You can take part, climb aboard and take flight or even get married way up in the clouds.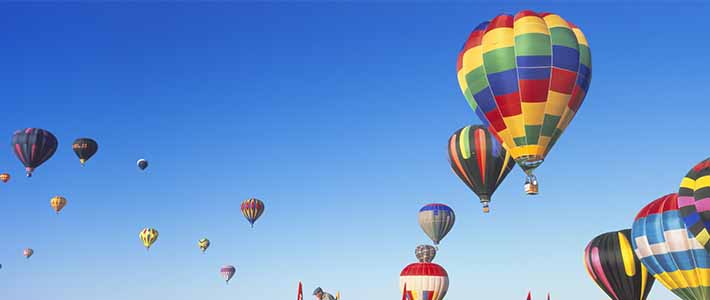 Rio Carnival
When: 9th - 14th February 2018
Where: Rio de Janeiro, Brazil
Why you should go:
Rio carnival is simply electrifying; the combination of pulsating music, samba dancing and nonstop party, with the special addition of Brazilian flair. The Carnival in Rio de Janeiro is a world famous festival held before Lent every year and considered the biggest carnival in the world with over 2 million people per day on the streets of this vibrant city. The first festivals of Rio date back to 1823. The typical Rio carnival parade is filled with revellers, dancers, glittering costumes, giant parades and adornments. This festival is a mind-blowing week of sequin-fuelled fun in one of the world's most beautiful destinations.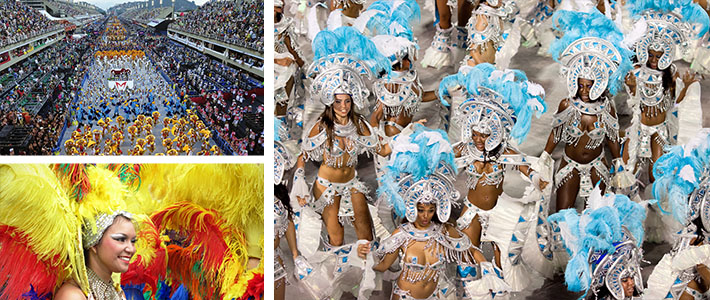 Lantern Festival

When: 2nd March 2018
Where: Taiwan
Why you should go:
The Lantern Festival is traditionally celebrated on the 15th day of the first lunar month, and originally celebrated to ward off evil and disease from the town. The Taipei Pingshi Sky Lanterns were released originally to let others know that the town was safe. Witness thousands of sky lanterns light up during one of the world's largest lantern festivals. If you're looking for a little magic, there is nothing more surreal than a sky ablaze with thousands of floating lanterns. The lanterns are decorated with wishes and images relating to the owner and finally they're released off into the sky together magically decorating the sky into a sanctuary of lights. Don't miss the great street festivals that take place during the day.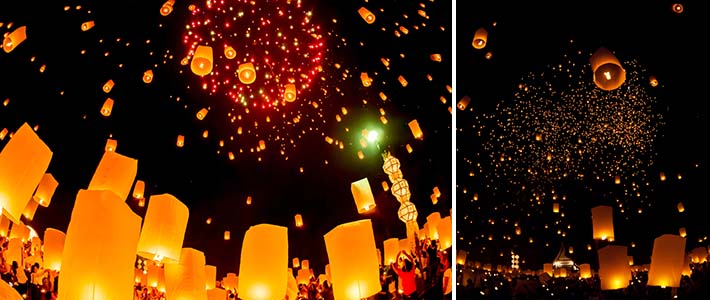 Up Helly Aa Fire Festival
When: 30th January 2018
Where: Lerwick, Scotland
Why you should go:
This is Europe's largest fire festival, complete with the burning of a full-scale Viking ship. Need we say more? This superb spectacle is a celebration of Shetland history, and a triumphant demonstration of the islanders' skills and spirit. Up Helly Aa day involves a Nordic themed series of marches and visitations, the procession culminates in a torch-lit procession and the burning of a galley. This is followed by hours of performing acts and dancing in halls throughout Lerwick. This northern Mardi Gras lasts just one day (and night). But it takes several thousand people 364 days to organise. Much of the preparation is in strictest secrecy.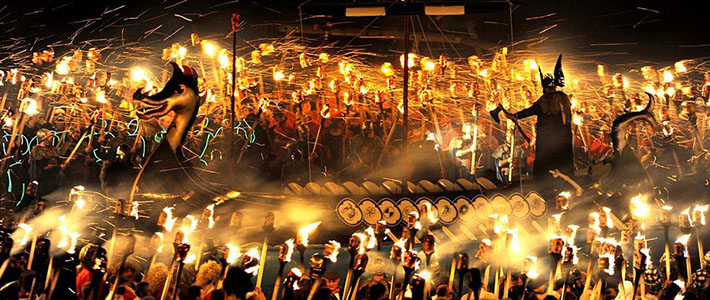 image credit: www.no-straight-lines.com
Mardi Gras
When: 13th February 2018
Where: New Orleans, USA
Why you should go:
In many ways Mardis Gras' reputation precedes itself — if you want to party like there's no tomorrow, New Orleans is where you belong. Mardi Gras, meaning "Fat Tuesday" in French is a festival marked by an endless cyclone of feathers, costumes, beads and booze that whips through city streets of New Orleans. It's been called the wildest fete in the U.S and for good reason. Every year, droves of party-goers flock to New Orleans to take in the floats, the festivities and the food, and to leave their mark on the Big Easy. Don't miss the throwing of beads, it's a staple of the festival.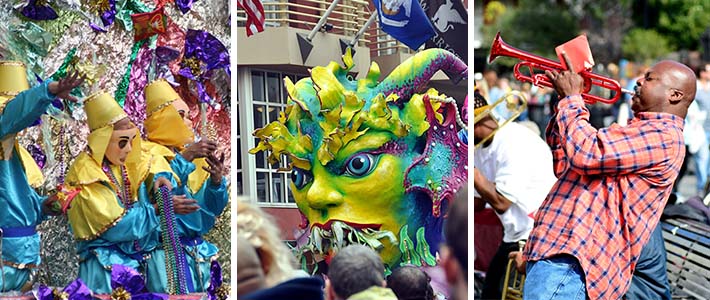 Kings Day (Koningsdag)
When: 27th April 2017
Where: Amsterdam, Holland
Why you should go:
On the 30th April 2013, Holland welcomed its first male monarch since 1890, King Willem-Alexander. This succession meant many changes for the festival, which now takes place on the 27th April, the new king's birthday. When it comes to parties, Amsterdam's annual celebration of their monarch's birthday is the ultimate Dutch treat. In a city known for its "anything goes" party vibe, this annual event is the wildest 24 hours of the year. Key points to remember - get out your favourite orange top and start celebrating in the streets of Amsterdam to mark the reigning monarch's birthday and to say "Vaarwel" (Goodbye) to winter and welcome warmer weather. Bring good shoes to walk in and if you're by the canal, join in the party for the best way to experience Kingsday.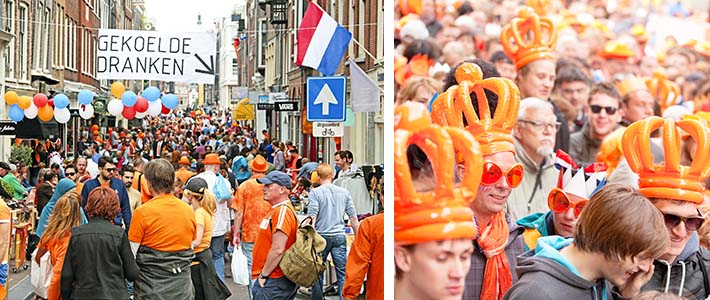 Carnevale di Venezia
When: 3rd - 13th February 2018
Where: Venice, Italy
Why you should go:
Everyone has seen a Venetian mask, although not many people are aware of the origins of this elegant and intriguing disguise. If you want to learn more about how they first came about then a trip to the Venice Carnival could well be in order.
Taking place each year for several weeks leading up to the beginning of Lent is the carnival that dat
es back 900 years. To avoid having to feel any remorse or face the consequences of their actions, locals adopted the tradition of wearing masks, thereby enabling them to act however they pleased without being
recognised
. Today, the Carnevale di Venezia is one of the most spectacular events in Italy, as the city comes alive with street performers and the Grand Canal fills up with colourful boats. Plenty of masked balls take place throughout Venice at this time of year too, so if you want to experience something typically Venetian then visiting in February could be just the ticket.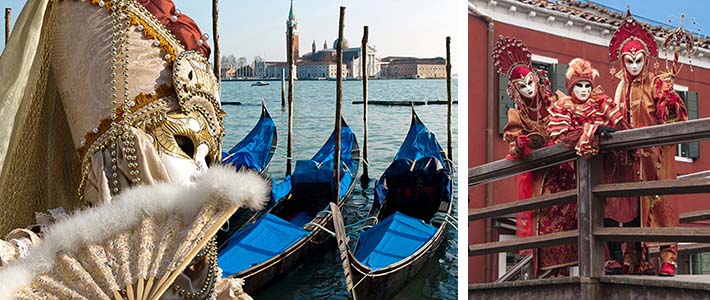 Snow & Ice Festival
When: 5th January - February 2018
Where: Harbin, China
Why you should go:
The Harbin festival is the largest snow and ice festival in the world, exhibiting the most exquisite ice and snow sculptures ever made. Experience the magnificent Ice and Snow World for its incredible carvings that tower an amazing 20 feet high and the perfectly crafted full-size monuments designed from gigantic blocks of ice decorated with lights and lasers. This exhibition has a lot to offer, one can only find out after visiting it...and it is phenomenal!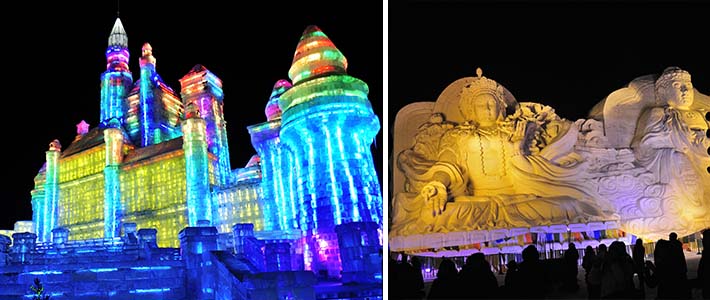 **Want to combine your cruise with one of the world's best festivals? Make an enquiry with our sales agents and they can arrange for your holiday to be tailor-made to ensure you are in destination for your preferred festival.**
Back to cruise guides and features
Go