Journey to Japan and you can expect to see beauty illustrated in every direction. The natural world shines with stunning landscapes from mountains to secluded lakes, complimented by cherry blossom in the spring and Japanese Maple in the fall. Amongst this serene setting you'll find a captivating culture that fuses sacred traditions with a unique energy and fascination for the futuristic.
Practicing tried and refined customs, the Japanese lifestyle radiates a high level of respect for others and an ornate attention to detail that fixates all who pass through. Appreciation and celebration is something this society knows well and if you're lucky enough to be visiting during festivities you'll be wowed by what's on display.
With a total heart and soul approach, festivals in Japan can induce a sensory overload with an explosion of sights, sounds smells and illuminations of colour. From powerful parades with exotic costumes to neo firework explosions lighting up the night sky, Japan is by far the host with the most.
Most of Japan's famed firework festivals occur during the summer season, so if you plan to visit during this time you'll get to witness a memorable and enchanting display. Below is our top selection of Japanese firework festivals not to be missed!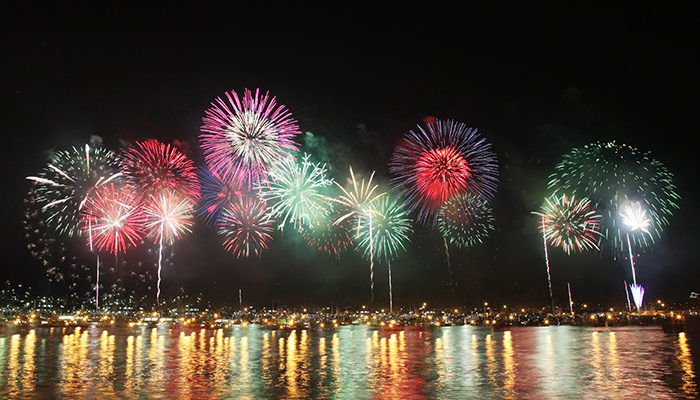 The city of Kumano is a stunning destination that homes religious sites, sacred shrines and ancient pilgrimage routes. Once a year it also hosts one of the biggest and best firework festivals in Japan. This usually peaceful place transforms for a firework frenzy of grand proportions with water surface displays, big booming explosions and bright lights. Spectators can find a spot on Shichiri Mihama Beach (rocky not sandy, but perfectly suited) to see the fantastic display play out.
With the active volcano Mt. Sakurajima and Kinko Bay providing the backdrop, this yearly summer night firework display is the biggest in Kyushu and attracts spectators from all over. With perfectly timed music to boot, around 14,000 fireworks light up the sky. Highlights include heart shaped fireworks and others so large they reach 480m in diameter.
The Toyoashi Fireworks have been held annually for more than 400 years with multiple displays occurring throughout the city competing to be the biggest and best. 20m high flames, fire rain and a whole host of fantastical flames illuminate the region during this spectacular event. Other highlights of Toyoashi include the Toyoashi Park and Yoshida Castle Ruins.
See the Japanese Fireworks with Princess Cruises on selected itineraries and sailings –
Kumano
,
Kagoshima
,
Toyoashi
For more information about cruising in Asia, sign up for our new
Asia brochure
.
Back to cruise guides and features
Go