Planet Cruise TV celebrates its 400th show.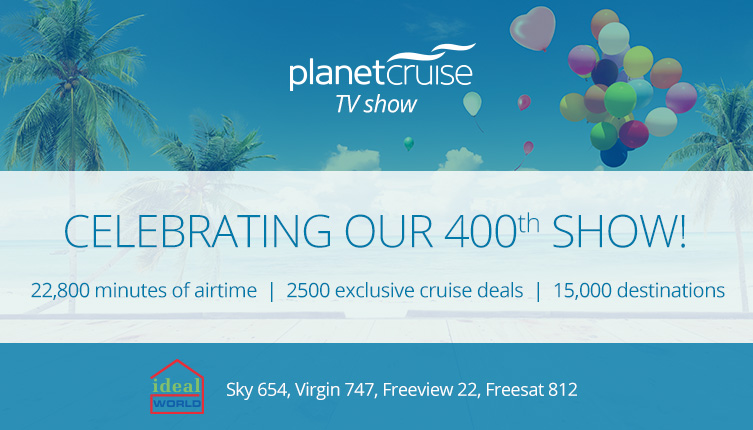 To recognize this amazing achievement we would like to congratulate everyone who has played a part in helping us achieve this success and reaching this great milestone.
We truly appreciate all of our loyal viewers, our extraordinary presenters and guests who continue to fill our screens with excellent shows every week, and the phenomenal Planet Cruise team who work tirelessly behind the scenes to make everything possible.
Planet Cruise TV takes you on a journey like no other.
From the comfort of your living rooms we embark on an adventure, bringing you the expert guide to all the different cruise lines and ships from around the world. From small yachts in the Mediterranean, Grand Ocean liners sailing the Transatlantic, and Viking long ships navigating through the snow covered fjords.
We have visited every continent, explored the 7 wonders of the world, witnessed the Sphinx, walked the Great Wall of China, enjoyed the sun on a velvet sandy beach in Tahiti, and climbed the rugged landscapes of Alaska. We have enjoyed the company of celebrity guest stars such as Mary Berry, James Martin, the Strictly Dancers and Marco Pierre White.
We' have taken you on all-inclusive cruises, and dined Al Fresco on luxury 6 star cruise ships. You've slept in inside virtual balcony staterooms and in grand luxury suites, you've had a whirl of a time on the bumper cars, climbed the rock wall, sky dived, and chilled out on your own private cabana at sea.
All from the tranquility of your living rooms.
Fun Fact: In our fantastic 400 shows we have provided a staggering 22,800 minutes (380 hours) of cruise information, interviews, visual images, film and much more direct to our wonderful viewers.
That is the equivalent of flying to the Moon and back six times!
We are very pleased that our viewers have recognized the value of our shows.
This milestone is the result of your commitment, and this motivates us to continue bringing you the best cruise shows on TV. A big thank you from the whole Planet Cruise team!
Watch the highlights
See our 400th Show
Catch up on the Planet TV show online here
Back to cruise guides and features
Go