The Arabian Gulf is a fascinating fusion of modern living and historic traditions. Its distinct cultural identity, futuristic architecture, sacred mosques, and extravagant lifestyle make it one of the most alluring places for travellers. A cruise could be an ideal way for you to discover the hidden gems of this unique part of the world.
Destinations
The Arabian Gulf lies between Iran and the Arabian Peninsula, spreading across 8 countries and flowing into the Indian Ocean. Popular stops on an Arabian cruise include;
Dubai, UAE – Otherwise known as 'the Pearl of the Arabian Gulf', Dubai is a glistening diamond surrounded by orange desert sands. Its innovation is what makes it so intriguing, from man-made islands to underwater hotels.
Khor Al Fakkan, UAE – Hugged by mountains,, this quaint town is the best place to experience a 4x4 desert safari and sight the many valleys that run through the vast landscape.

Abu Dhabi, UAE – This is the capital of United Arab Emirates, and is a world of contrasts. Here you'll find many traditional Souks and the beautiful Sheikh Zayed Grand Mosque, in addition to the world's largest indoor theme park, Ferrari World.
Muscat, Oman - Nestled in terracotta mountains, Muscat offers an enchanting look into old world Arabia. Its natural landscape showcases its diverse flora and fauna, including gazelles, porcupines, green turtles, and Omani wildcats.
Food
Food is an important part of your cruising experience, and when you're on ship and off exploring the local ports, be sure to treat your taste buds to a local delicacy or two.
Shawarma – The most popular food of the UAE. Wrapped in an Arabic Roti is a mixture of pickles, tomatoes, chicken, or lamb, mixed with garlic sauce.

Khameer - This fluffy Arabic bread is a popular breakfast item, served with a sweet date syrup and fresh cheese.
Marak samak - This deep and spicy dish is a scrumptious stew made with fresh fish. With the addition of chilli, coriander, and cumin, this dish is as aromatic as it is tasty.
Halwa – This is Oman's sweet treat. Made with rose water, eggs, Oami spices, honey, sugar, and nuts, the texture is almost like thick custard and is simply delicious.
Cruise Lines
Not that long ago a stop in this beautiful part of the world could only be had as part of a world cruise. Fortunately, now many cruise lines offer sensational cruise itineraries here;
Seabourn - their stunning, 6* ships allow you to cruise in ultimate luxury. Their immersive outlook on travel showcases the best of the Arabian Gulf with the opportunity to explore India, Thailand, and Singapore as well.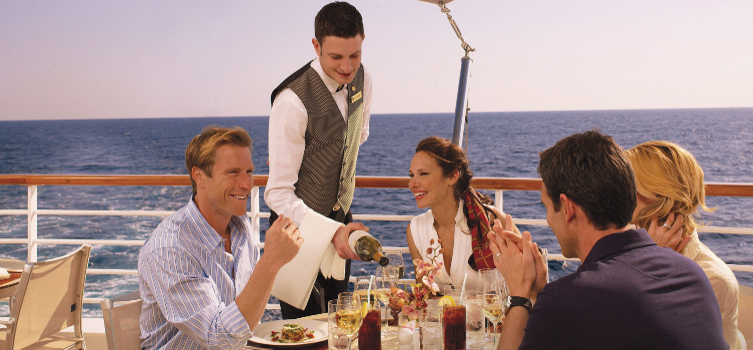 Celebrity Cruises – this innovative line offers a world of modern luxury and outstanding service. Celebrity Constellation enables you to sample the highlights of the Arabian Gulf before heading off to the delights of India.
MSC Cruises – Built on a 300-year family seafaring tradition, and the first cruise line to home-port one of their ships in Dubai, MSC Cruises boast a vast knowledge on these enticing ports.
Hints and Tips
When to Visit - Late October to mid-March is the best time to visit as the temperature is still warm - rarely going below 24°C - but is not so hot that you can't enjoy the sunshine.
Pack the sun cream – The UV rays are very strong especially when the sun is out, so an all-day sun cream is recommended.
Clothing – Visitors must consider what they wear in public as well as at religious sites. Both men and women should cover legs to at least below the knee – linen trousers or long skirts are recommended. As well as this shoulders should remain covered by both sexes, and low cut or v-neck tops will be frowned upon. It's a good idea to keep a shawl on you at all times in case you need to cover up.

The Weekend – Some countries in the Arabian Gulf have their weekends on Thursday and Friday, so don't be surprised to see many locals enjoying the nightlife on a Thursday night. There may be various closures of restaurants and shops on Fridays; many cruise ships spend this day at sea, but if not - pick your beach day wisely.
Back to cruise guides and features
Go