Updated November 2017
The tropical islands of the Caribbean are truly glorious. Miles of untouched white sands, breath-taking waterfalls, mesmerising lagoons, lively carnivals, delicious cuisine, and acres of natural wilderness are just a few things you can expect to encounter in the Caribbean.

The adventurous at heart are in for the holiday of a lifetime. Discover the many unique treasures and hidden gems that the Caribbean is renowned, which are all awaiting your exploration. There is something very special about the Caribbean - the array of different cultures, dialects, customs, and traditions make each island distinctive from the next. In this feature, world cruise expert and Planet Cruise TV presenter Keith Maynard offers his specialist knowledge on four of the most popular ports of call on a Caribbean Cruise itinerary. The islands of Jamaica, Barbados, The Bahamas, and Antigua are the main focus. Take note of any top tips, so you are fully prepared when you embark on an unforgettable Caribbean cruise holiday.
Jamaica
Many visitors to Jamaica say the vibrant island has it all. Sway to the iconic sounds of Reggae music as you enjoy a Caribbean experience like no other. Whether you seek well-known attractions like Dunns River Falls or Dolphin Cove in Ocho Rios, or are in search of a little piece of paradise filled with tasty cocktails, soft sandy beaches, live entertainment, and sun rays - this island has something for everyone. Jamaica is world famous for many things - from iconic athletes and musicians, to delicious cuisine and carnival culture, but the best thing about the island has to be the warmth and happy vibes you'll receive from locals.
Barbados
The small island of Barbados is unique in many ways. Lending its sun-kissed shores to both the Caribbean Sea and Atlantic Ocean. Lovers of freshly cooked tropical fish are in for a real treat if they head down to Oistin's famous Friday Night 'Fish Fry'. Your taste buds will thank you later! Discover Barbados by land on an exciting jeep tour, stopping off at the islands finest beaches. Get your torches out and burrow underneath the earth at Harrisons Cave, or lay back on a catamaran with a cool drink in hand as you sail up the crystal clear coast.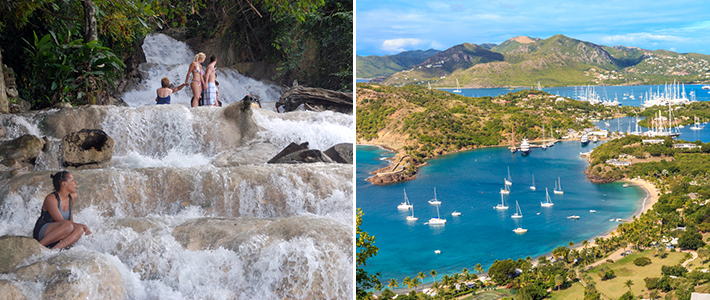 The Bahamas
The beautiful Bahamas is a blissful archipelago of 700 scattered islands, that spread from the tip of Miami's coast all the way to the neighbouring Turks and Caicos islands. Begin your Caribbean adventure by taking in the surreal, panoramic views on offer at one of the many beaches and cays. Retrace the steps of the islands' early inhabitants - the indigenous Amerindians - and explore the Lucayan National Park, which is home to the largest underwater cave system in the world. The Bahamas perfectly combine unique natural beauty with a touch of modern luxury, to make the islands a true picture of paradise.
Antigua
When someone says "life is a beach", you could argue that they are secretly referring to Antigua. The idyllic island is home to 365 beaches - one for each day of the year! Though Antigua is a small island, it sure packs a big punch. Whether you desire a luxury escape complete with candlelit dining beneath the stars, and utter relaxation, or a lively and active affair filled with water sports, new adventures, and sunset parties, this island offers all you could ask for.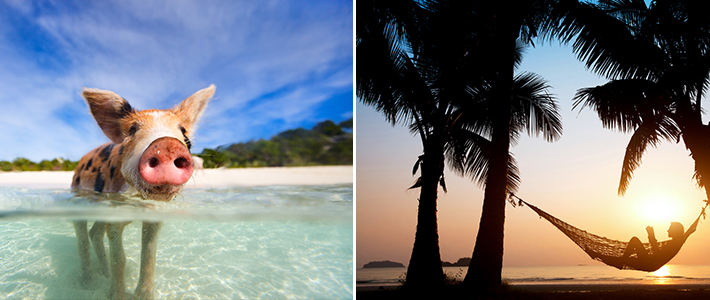 Click here if you missed part 1 of Keith Maynard's Top Tips in the Caribbean and check out our Caribbean Cruise page for more information.
Back to cruise guides and features
Go