There are plenty of beaches to visit while cruising around Southeast Asia, but here are Planet Cruise's top 5 favourites, each one offering something unique.
5. Patong, Phuket, Thailand
This beautiful, natural beach resort offers a lively environment for those looking for a vivacious beach experience with friendly and fun people, surrounded by vibrant greenery. The coastline comes to life just after mid-day and remains lively into the evening with help from the surrounding bars and restaurants. If you're looking for a chance to catch the sun, it's recommended that you grab a sunbed early – before 2pm to avoid the rush (they're typically 100baht (£2.30/$3) each). Friendly vendors come to offer you food, drink, and souvenirs, as well as exciting water-sport opportunities like parasailing or a ride on a jet-ski. The beach is separated into sections, each dedicated to different activities. There are areas for water-sports, areas of clear beach in the shade, more in the sun, and then even more laden with sunbeds and parasols. The beach itself stretches across 2.2 miles, (3.5 km) meaning that you're sure to find a spot that's perfect for you. As the daylight hours fade there is still plenty happening in the evening with shops, clubs and bars, all offering entertainment. Patong beach is definitely a must visit location for those looking for a lively beach excursion.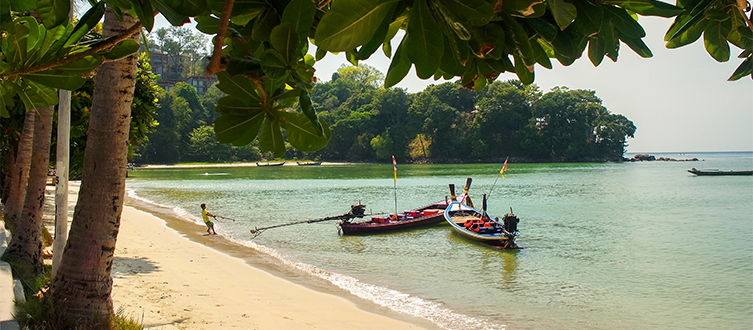 4. City Beach, Nha Trang, Vietnam
City Beach is a must-see if you visit Nha Trang. If a thriving beach atmosphere is what you seek, you'll find it here, or, if you'd rather a more tropical and seemingly adventurous experience, this is just a short walk away from the busier sections of City Beach. Looking out across the sea, you'll get beautiful views of the island Vinh Nguyen, while looking back, you'll see the bustling city of Nha Trang itself. There are many cafes dotted along the seafront, where you can enjoy a taste of the fresh local seafood. The water is warm, clear, and perfect for swimming, and the main area where sunbeds can be rented is perhaps surprisingly serene and relaxing. You're never too far from a lovely walk along the promenade, parallel to the shore, where you can find even more local cuisine to try, as well as souvenir shops.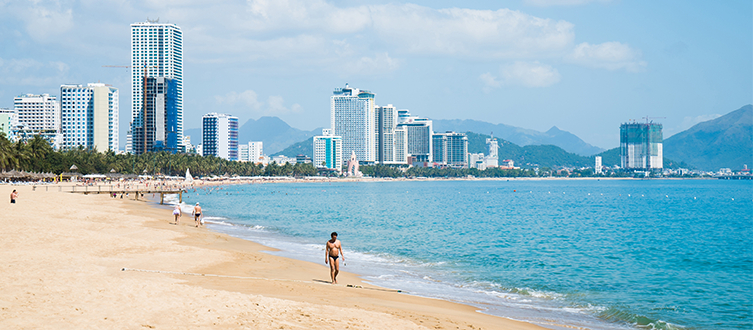 3. Otres Beach (2), Sihanoukville, Cambodia
Considered an excellent way to escape the busy city of Sihanoukville, Otres Beach is calm and tranquil, perfect for relaxation seekers. It's just a short tuktuk ride away from Sihanoukville, but you'll soon discover that the further you get from the city, the more serenity you will find. The water is clear and without pollution, as is the air, meaning the beach is refreshing and relaxing for all. The soft sand-banks extend as far as the feet can touch and, while some waves can be strong, the water is safe to swim in or even just dip your toe in if preffered. The views and scenery mean every picture you take will win you bragging rights, especially in the evening when the sun sets; the horizon perfectly frames the reddening sky and makes for an exceptionally picturesque event.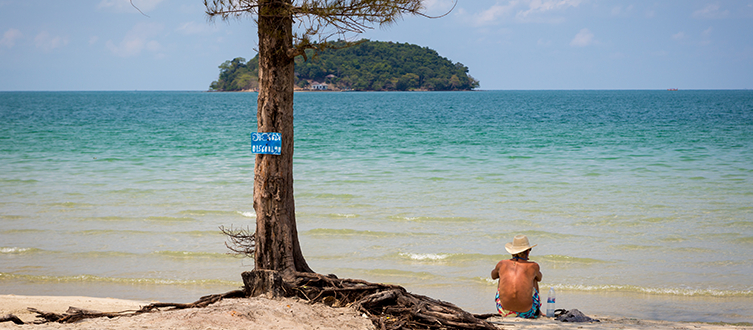 2. Palawan Beach, Sentosa, Singapore
Palawan is an excellent tourist location for families. There's plenty for the kids to do while parents can relax on the white beaches. There's a rope bridge taking adventurers to the southernmost point of Continental Asia, exotic wildlife, and even a playtime pirate ship. Plus, the beach is just a short bus ride away from KidZania Singapore, where children can take part in real-life role-playing experiences in a city designed and run by kids. There are no sunbeds available to rent, meaning families will have to bring their own towels to sit on, but that only brings the kids closer to the sand. There are plenty of authentic eateries and shops to enjoy surrounding the beach, as well as countless activities including the impressive bird show. The beach itself is one of fantastically clean, soft white sand.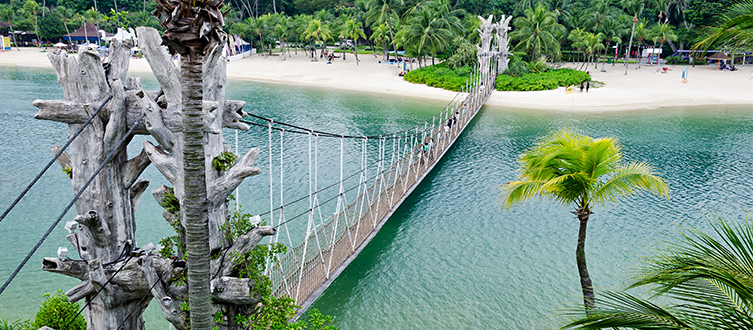 1. White Beach, Boracay, Phillipines
The eponymous powdery white sands of White beach give this attraction its enchantment, alongside the clear, warm water. The texture of the sand makes it easy to walk across barefoot, making for romantic walks or even just comfortable retreats from paddling in the soft waves. The beauty of White Beach has to be seen to be believed. The only litter is the very occasional flake of seaweed or splinter of driftwood. There are vendors offering a multitude of activities; anything from the thrill of water-sports to a relaxing massage. There are also plenty of bars and restaurants to choose from. The pristine sands, warm clear waters, and options for things to see and do are why we think White Beach is the top beach to visit in Southeast Asia.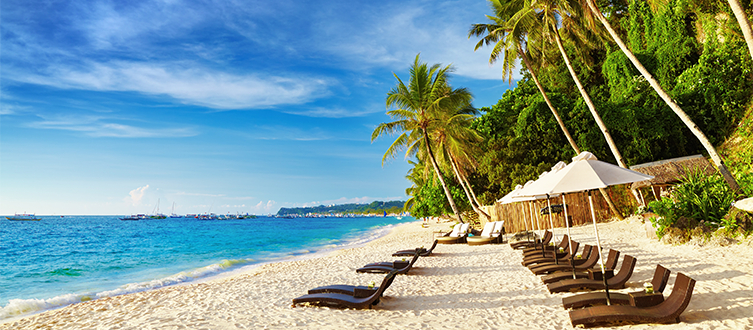 Tick some of these stunning locations off your bucket list, and browse through our cruises in Southeast Asia.

Back to cruise guides and features
Go