FOCUS ON: VENICE
A fairy-tale back in time.
Venice is simply magnificent. The sheer beauty and romantic allure of this fascinating city will leave you in awe as you sail into port. Revered as one of the world's most popular destinations, the City of Bridges has plenty to offer as it perfectly bridges the gap between the past and the present; the city built on water is not afraid to dream.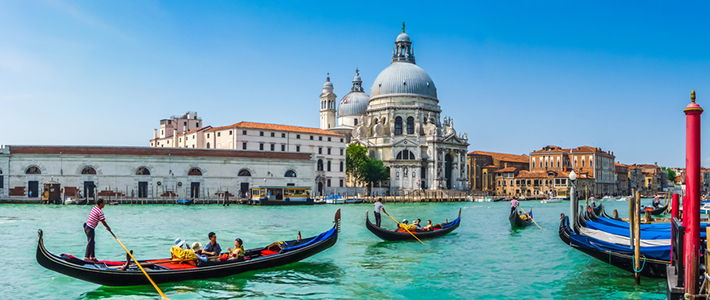 Revel in the romantic ambience, indulge in irresistible food, and view exquisite art. Become enchanted by the city's stunning architecture and marble palaces built upon blue lagoons, with colourful buildings lining the narrow labyrinth of streets making this destination one of the world's ultimate travel experiences. Tour the impressive Palazzo Ducale, and behold the gothic façade with white Istrian stone and Veronese pink marble housing lavishly decorated chambers. Do not miss the Basilica di San Marco, which can be found in the Piazza San Marco.
Aside from marvelling at the Italo-Byzantine architecture, you can also catch a glimpse of the famous gilded bronze horses for which the church is famous. Enjoy tranquillity as you meander around the Gallerie dell'Accademia, with works by Bellini, Titian and Tintoretto amongst others.
Keith Maynard's Top Tips
Take a moment to fully absorb the grand gallery which features vivid early works, and showcases Venice's precocious flair for colour and drama. Glide down the serene waters of the Grand Canal, by gondola, through pretty buildings and narrow backstreets; the perfect way to spend an afternoon. Uncover architectural treasures as you explore the tiny streets bursting with neighbourhood churches and priceless marbles.
Every inch of this city has something to offer. Feast on inventive Venetian cuisine, with tantalising tastes in amongst lavish spreads. Unwind in the evening, and enjoy gourmet seafood washed down with prosecco at canal-side bistros, or ask your server about seasonal treats and house specials to truly experience the best of Venetian cuisine.
Be charmed even further and bask in the city full of life and culture. Amble through the many shops, sip fresh coffee from a café nestled in the square, and linger by the village fountain; it's hard not to fall in love with Venice's charm.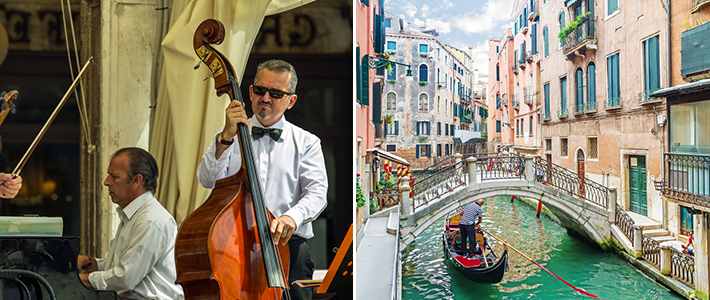 Why I love Venice
by Managing Director - Simone Clark
"Venice is a beautiful destination, and there is so much more to do than just the iconic gondola ride. With many delightful buildings to see, and incredible food to taste, Venice can be enjoyed by singles, couples, and even families. I always find a small bar or trattoria away from the main streets for delicious food and drinks, as this allows you to fully immerse yourself in the Italian culture - and benefit from not having to pay tourist prices.
To compliment a light snack or lunch, my favourite is a refreshing Aperol Spritz - a combination of Prosecco or white wine with Aperol orange bitter liqueur. Many bars serve "cicchetto" tiny savoury sandwiches, pastries, and bruschetta which are delicious. If you're with children, you can visit the Venice Lido for the afternoon; it's got lovely beaches to relax on and is just a short boat ride away."

Explore the marvelous city of love and all it has to offer onboard an unforgettable cruise to Venice.
Back to cruise guides and features
Go