We sat down with Leon Hand, Celebrity Cruises' UK and Ireland Brand Training Manager, to ask him all about Celebrity Cruises sailings to the Galapagos Islands.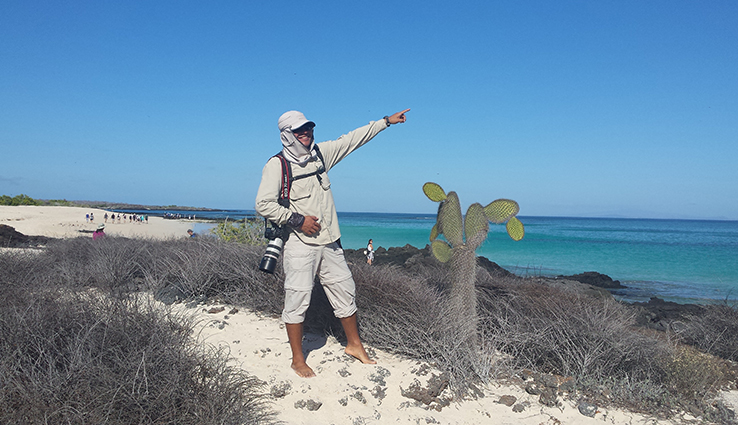 PC: When did you go to the Galapagos Islands?
LH: I went out to Ecuador and the Galapagos Islands on 20th October. My trip was a research and fact-finding mission! To fully experience every aspect of our programme there in order to become the UK expert on Galapagos. I am the UK & Ireland training manager for Celebrity Cruises and my product knowledge has to be accurate and in-depth so that I can adequately train and educate our trade partners.
PC: What wildlife did you see?
LH: Incredible species such as the marine iguana (the only reptile in the world that has learned to hold its breath and dive down to the ocean floor to forage for food). We also saw the famous blue footed booby birds, as well as Galapagos seals and huge pelicans. Lots of very colourful fish and marine wildlife can be seen up close when you go snorkeling.
PC: Why do you recommend going with Celebrity Cruises?
LH: We are the established experts in the Galapagos Islands, with 3 small ships and over 10 years of operating as market leaders. This is our only all-inclusive programme and we offer our guests a totally seamless and smooth experience to a major 'bucket list' destination. We also offer incredible add on experiences such as 2 night stays in Quito, a 3 night land immersion experience and also a 6 night post cruise stay in Machu Picchu, Peru.
PC: What can you do on a Galapagos Cruise?
LH: Every cruise is 7 nights long, and we visit two areas of the Galapagos every day – morning and afternoon. The shore excursions are of course included, as is full snorkeling gear! All guests are transported to each island via a state-of-the-art zodiac speed boat. You can choose from gentle to active activities, which can be wildlife spotting up-close from the zodiac boats or along the beach, to hiking and snorkeling. The key element is getting close to the incredible and rare animals and birds. These animals are endangered and indigenous to the islands so you would not get to see them anywhere else in the world.
PC: Did you do any of the shore excursions? If so, what would you recommend doing?
LH: I did them all as they are all included! I loved snorkelling as I got to see so much of the incredible and colourful marine wildlife and even got to play with a seal! I love to run and hike so I particularly enjoyed the long walks and expeditions on each island.
PC: What do you recommend packing for this type of cruise?
LH: Plenty of insect repellent and high-factor sun cream, a wide brimmed hat, swimming costume and comfortable walking shoes. Loose casual clothing at night as the dress code onboard is smart casual; a sense of adventure and curiosity!
PC: If you could choose one, what is your favourite experience?
LH: Seeing the famous giant tortoise – we saw these up close in Santa Cruz island and they are magnificent! They live to over 100 years old and are very much loved and respected by the islanders. Also the tortoise is the official emblem/symbol of the islands.
PC: How does a Galapagos cruise differ from a regular cruise?
LH: Everything is included in the cruise price, including wi-fi. This is a once in a lifetime experience to view and interact with the most delicate and endangered species of plants, animals and marine wildlife that exists on the planet. Everyone is talking about the Galapagos now as it has been on TV a lot recently. It is such a unique and fiercely-protected area and there is nowhere else like it in the world. The level of interaction and immersion with the wildlife and landscape of these islands is unmatched by any other operator in my opinion.
PC: What type of customer would you recommend the Galapagos Islands to?
LH: This is definitely not a relaxing chill out holiday so I would recommend it to anyone who is interested in wildlife and the environment, and who wish to interact as much as possible with both. Many of the guests had been planning this trip for years and it was a lifetime experience for them. It also would appeal to those who enjoy expedition or adventure tours, or anyone looking for special interest holidays with an emphasis on natural history/science / geography etc.
PC: Did you find the onboard lectures useful and informative?
LH: They are invaluable and very interesting. The cruise director took us through the next day's itinerary and activity choices in detail with lots of relevant information regarding the particular island to be visited the following day. There is a great presentation with maps, photos and films to be fully informed on what to expect.
PC: Tell us about your favourite moment of your trip to the Galapagos…
LH: Participating in tree planting in the hills of Puerto Baquerizo Moreno on the island of Santa Cruz. I had never done anything like this before and it was so rewarding to work with a farming collective to help them and support them with vital reforestation work.
PC: Describe the destination in five words…
LH: Unforgettable, enriching, life-changing, eye-opener.
Back to cruise guides and features
Go