Updated May 2017
FOCUS ON: GALAPAGOS ISLANDS
See evolution in action on the Galapagos Islands.
The Galapagos Islands are one of the most isolated places on earth, home to some of the most unique creatures on the Planet. Discover why a cruise here is the ultimate encounter with nature.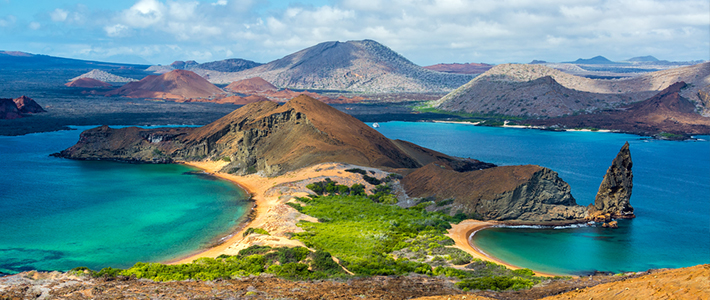 With an intriguing array of local flora and fauna and a uniquely remote location, this collection of volcanic isles off the coast of Ecuador played an inspirational part in Charles Darwin's Theory of Evolution. As a result, this destination has attracted fascination for centuries and has cemented itself as a once-in-a-lifetime destination for travel lovers across the world. Choose a cruise to sail around all of the highlights, with expert naturalists to guide you.
Why are the Galapagos Islands so unique?
The Galapagos Islands are renowned throughout the world for their incredible wildlife, with a huge number of species that can't be found anywhere else on the planet. To understand how and why the archipelago came to harbour such a unique array of creatures, you only have to look at their location.
Straddling the equator, around 600 miles west of mainland South America, the Galapagos Islands couldn't be much more remote. But rest assured – this volcanic archipelago is a hot spot of natural activity and evolution, leaving endless explorations to be had. The beauty of their location is that the extraordinary wildlife, which has evolved independently from the rest of the world, seems to show no fear of humans. Be prepared for plenty of unique encounters and unrivaled experiences.
Expedition cruising
Darwin's theory
Because of their segregation from other members of their species, the residents of the islands have followed their own evolutionary paths, adapting to local conditions and emerging as totally new species. This is best summed up by 'Darwin's Finches', a group of 13 species of birds that all descend from a common ancestor, yet have all developed distinct characteristics to help them adapt to conditions on the islands. Some, for example, have evolved to be able to feed on the local plant life, with prickly cactus's included in their diet. These birds played a huge role in Darwin's thinking when he came up with his famous theory of evolution and the fact that they can't be found anywhere else on earth provided a huge clue to unlocking the mystery of how species have come to exist as they do today.
Fascinating wildlife
A major highlight of any trip is the chance to see the legendary Galapagos penguins - the only penguins to live north of the equator in the wild. The penguin population are predominantly found on Fernandina Island and the west coast of Isabela Island. The islands are also well known for the giant Galapagos tortoise, which can famously live for several centuries and is the largest species of tortoise in the world. Other highlights include the red-footed and blue-footed boobies, flightless cormorants, the Galapagos waved albatross, land iguana's and a huge diversity of marine life. If you have a passion for wildlife then this is the place to be, discover creatures you won't find anywhere else.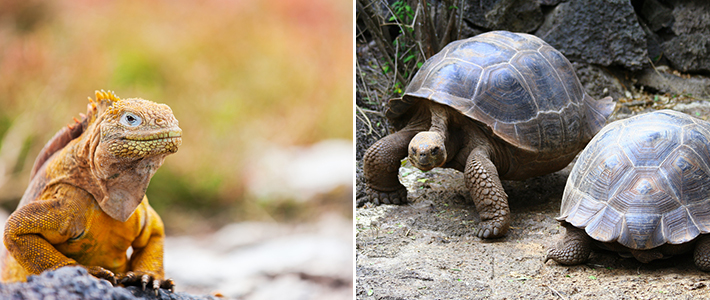 Volcanic terrain
The islands were formed around five million years ago by a series of volcanic eruptions. Some of the volcanoes are still active, meaning that new land is still being formed to this day. Some of the youngest islands have less than one million years of existence and offer great insights into how the islands were created. Discover the volcanic terrain as you explore the islands; hike through lava fields, scale volcanic land-forms and snorkel among sea turtles and reef sharks in a sunken crater.
Embark on an unforgettable adventure
A cruise is the perfect way to explore as you can navigate between the 13 islands with ease. Sail to the Galapagos Islands onboard Celebrity Xpedition® or Yolita; ships designed for maximum exploration with a handpicked knowledgeable crew, environmentally sound ship design and Galapagos National Park certified onboard naturalists to help preserve this delicate archipelago.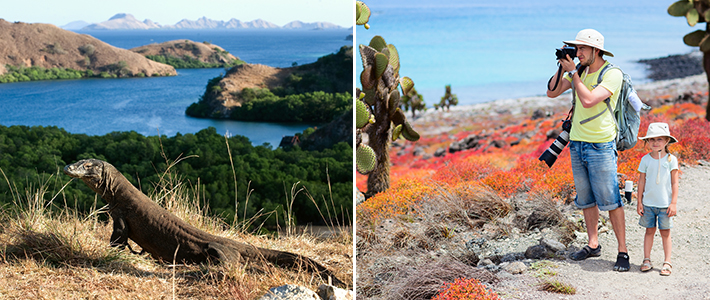 Discover the Islands of Galapagos and meet spectacular inhabitants on a Galapagos Expedition Cruise.
Back to cruise guides and features
Go