Our very own Imogen from the marketing team was lucky enough to be an invited a three-day experience sailing from Palma to Barcelona, on the beautiful Marella Explorer. Find out if this is the ship for you by reading her review of what she found onboard.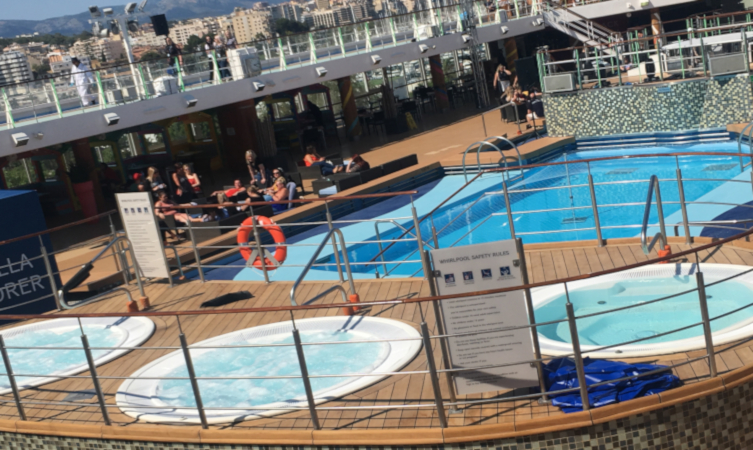 Some Quick Points about Marella Explorer
Dress code – ranged from 'smart casual' during the daytime to 'dress to impress' for the evening, so if you enjoy feeling nice and casual during the day but love putting on some glad rags once the evening comes, you'd enjoy Marella's onboard dress code.
Food – varied from Snack Shack by the pool, to buffet style in The Market Place or 3-course meals in Latitude 53.
Favourite things about the ship – The cocoon chairs and Balinese beds on the Veranda are my favourite features for Adults-only relaxation with amazing views. The Champneys Spa is incredible – the biggest in the fleet, with very tempting gym facilities; the treadmills and bikes look out to sea and classes are organised to suit the guests.
The Itinerary: 3 nights from Palma to Barcelona and back.
Day 1: Arrived around lunch time.
I had an Inside cabin (4 berth – 2 beds either side able to fold down) on Deck 9 and was really pleasantly surprised with the room and size of it; there was ample storage for enough clothes to suit the various different dress codes across the trip. Some colleagues were lucky enough to have a Balcony Cabin onboard, which also didn't disappoint with your own hammock on the decking.
We self-explored the ship with lunch at Snack Shack in the wrap-up, city-themed beach huts, followed by a compulsory muster drill and pre-dinner drinks in the Lounge, before heading to dinner in Latitude 53 on deck 6.
After dinner, there was a musical show put on at the Broadway Show Lounge but we chose to visit the Squid & Anchor to enjoy the live band playing, before finishing the night with a boogie in the onboard club, Indigo. For those feeling lucky, you could try your hand at a game of Blackjack at the Casino there also.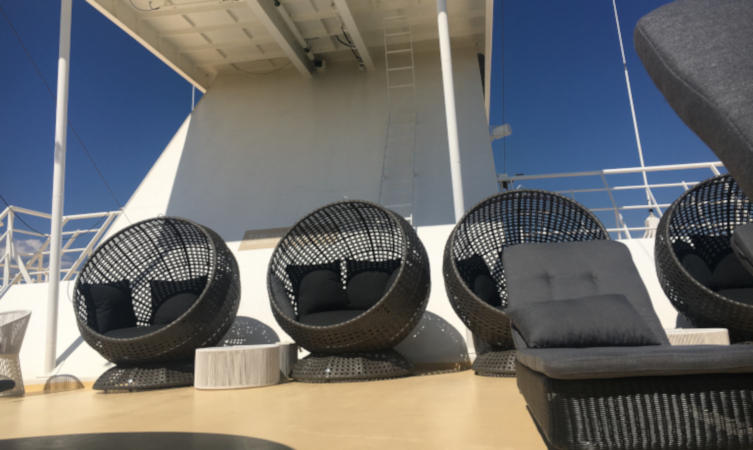 Day 2: We started the day with breakfast in Latitude 53, with a made-to-order omelette and Danish pastries.
As an activity to get to know some of the fellow passengers and discover more of the ship, there was an organised treasure hunt competition. During this, lunch was served as either a buffet style in The Market Place or as finger sandwiches in Latitude 53.
We all headed to the Broadway Show Lounge (where during normal shows, there's waiter service, so you won't miss a thing!) for a wrap-up and winner announcement (we came second!) mixed with a variety show including singing, dancing, and magic from the onboard performers.
Later on, we were fortunate to watch the official naming ceremony of the ship. This was held on the Main Pool Deck, starting with speeches from the onboard team and Captain, unveiling the two godmothers of the ship as Sue Stewart, Hotel Operations Manager and Mandy Galloway, Tui Agent of 14 years. This was followed by the traditional smashing of champagne against the bow and performance by surprise special guest, Craig David (which was amazing).
As we set sail, tribute band, Re-Take That, sang us away in unison with a firework show to 'Rule the World'.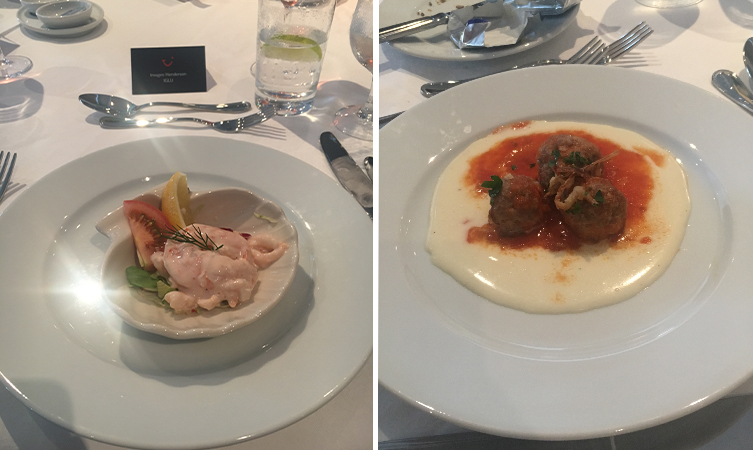 Day 3: Our final day onboard.
For our last day, we began with a buffet breakfast in The Market Place on Deck 5, which I would highly recommend as they have a much wider range of choice, including the freshly made omelettes and eggs as in Latitude 53.
We disembarked the ship for a leisure day in Barcelona. As the sun was shining, we opted to walk over the bridge and down La Rambla, however, I would recommend getting the shuttle from outside the ship.
Back on the ship for 4 pm, we then prepared for the Sail Away Party, and the evening of 80's theme fancy dress where we were once again surprised with special guest number 2 - Trevor Nelson, who did a great DJ set in Indigo full of three-day throw-back tunes.
Marella Cruises have a range of different ships, which cater for all kinds of holidays, for example with Marella Discovery you'll find a diverse level of entertainment for families, or diversely, Marella Explorer 2 is an adult-only ship. Why not have a look at our at our guide to find out what Marella Ships, creates the best experience for you.
Back to cruise guides and features
Go