Barcelona: the enchanting Spanish city with boundless culture, historical treasures, sun-kissed beaches, and world-famous cuisine. With so much to see and experience, Barcelona has become one of Europe's most popular destinations. If your Mediterranean cruise has a stop at this great port city, you might be wondering how best to make the most of your time here. If so, this guide on how to see Barcelona in 24 hours is for you.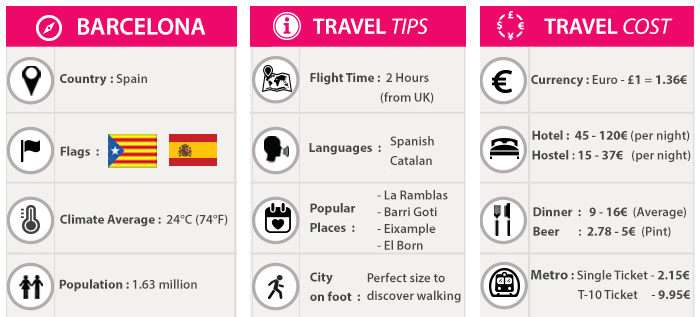 Getting Around Barcelona
Barcelona cruise port is close to one of the most popular areas of the city; Las Ramblas. Depending on which of the seven cruise terminals you arrive at, you can either make the 15-minute walk to Las Ramblas or take the regular shuttle bus. The price for this is around €3 for a single and €4 for a return. From Las Ramblas, you can walk to many attractions in Barcelona, or there are nearby metro stations providing links to the rest of the city.
Other options for getting to the heart of the city include the popular hop-on-hop-off tourist buses or taxi service. Both of these can easily be found close to the cruise port.
4 Must-See Attractions in Barcelona
Known as the avant-garde capital of Spain, with its mix of ancient architecture and modern design, Barcelona has become a cultural melting pot. The vibrant soul of this marvellous city is found throughout the bustling Ramblas, trendy shopping districts, along the ocean shores, and in the exuberant markets and festivals abuzz with locals and tourists.

Here are our top recommendations of places to see in Barcelona;
1. Sagrada Familia
Work on Antoni Gaudi's masterpiece first began in 1882, and as time passes this magnificent religion and nature-inspired marvel is inching closer to the projected completion date in 2026. It was not consecrated until 2010, and yet the symbolic towers and grand facades are iconic in Barcelona.
2. Barceloneta Beach
Voted the 'best urban beach in the world' by the Discovery Channel, Barceloneta Beach was actually manmade back in 1992 for the purpose of the Olympic Games. It is located just a 10 minute walk away from the city centre, and boasts more than 1,100 metres of golden sands begging to be explored.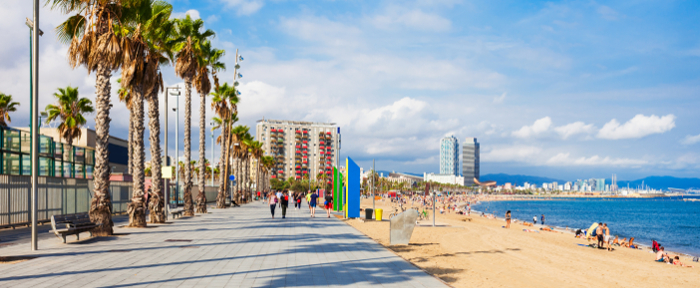 3. Park Guell
Another of Antoni Gaudi's works, the famous Park Guell is one of the most beautiful locations in the city. It's possibly most known for its elaborate, multi-coloured mosaics, but also boasts varied and interesting architecture and one of the best, panoramic views of the city.
4. Barcelona FC Stadium
Known locally as Camp Nou, this football stadium has been home to Barcelona FC since 1957 when construction was completed. Football fans can take a guided tour around this, the third largest football stadium in the world, and then explore football memorabilia in the museum too.
Another popular reason why people come to Barcelona is to see the Spanish Grand Prix. Hosted every year in May, the majestic Circuit de Catalunya never fails to deliver an exciting race.
What to Eat in Barcelona
A foodie's paradise, Barcelona is famous for its authentic Catalan cuisine, fine wines, excellent seafood, and a great selection of tapas. The city is bustling with delicious food markets like the famous La Boqueria within Las Ramblas. This huge market offers an abundance of fresh fruit and vegetables, seafood from the Mediterranean Sea, jamon from the Catalan countryside, and a great variety of sweet treats.
Must-try foods in Barcelona include;
Las Bombas - One of the most popular tapas dishes in the city, las bombas are essentially potato croquette spheres filled with meat or vegetables, and served with delicious spicy tomato sauce or aioli.
Alcachofas a la Brasa - Translating to grilled artichokes, this Catalan delicacy is served all over Barcelona, as they are grown in abundance in this part of Spain. Grilled and drizzled in butter, olive oil, or served with aioli is delicious.
Crèma Catalana - Catalonia's answer to Crème Brulee, this creamy and sweet dessert usually has a slightly orange flavour in Barcelona. It's a great way to end a perfect meal.
Churros con chocolate - Believe it or not churros are a popular breakfast food in Barcelona, but they are delicious mid-afternoon too! Go to Carrer de Petrixol – a street famous for this moreish treat.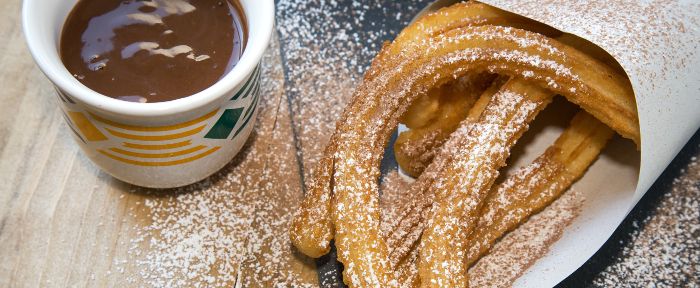 If this quick guide has inspired you to want to visit this incredible capital, take a look at our range of cruises to Barcelona, or find out more about the best times of the year to visit with our guide to Barcelona's festivals.
Back to cruise guides and features
Go