FOCUS ON: THE FAR EAST
Experience more in the Far East on your next cruise adventure.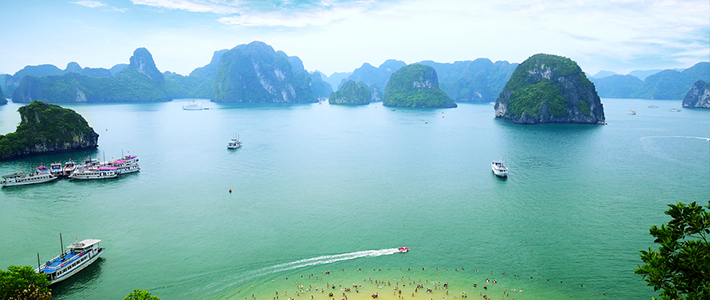 Cruising to the Far East offers a unique opportunity to immerse yourself in the sights and sounds of a variety of exotic ports. Here are our Top 5 experiences in the Far East, where you will discover the rich cultures, ancient wonders and authentic cuisine of this enchanting part of the world.
1. Halong Bay Junk Boat cruise
Relax aboard a Junk Boat excursion from Hanoi and take in the exquisite beauty of Ha Long Bay. Lush limestone islands protrude from the emerald water, and the best way to experience these is from a traditional Junk Boat. Glide through the clear water, exploring the idyllic coves and white sand beaches. The spectacular panoramic views of Halong Bay's towering islands are memories you'll treasure forever.
2. Elephant Safari under the stars
Get up close and personal with majestic elephants as you ride through the misty forest of Taro at nightfall, on this enchanting excursion in Bali. This twilight elephant trek offers a magical experience, as you are immersed into the dimly lit Elephant Safari Park. How better to experience the Balinese wildlife?
3.Tokyo Geisha performance & dinner
Watch in awe at the incredible Geisha performers in Tokyo, you'll see ancient customs come to life before your very eyes. Set in an authentic restaurant in downtown Tokyo, you'll dine on a traditional Kaiseki meal which demonstrates 'The Japanese Art of Food', while you complete your cultural adventure.
4.Cocktail party at Jim Thompson House
Engulfed in a beautiful jungle garden in Bangkok is the location of Jim Thompson's House, the founder of the Thai Silk Company. Jim Thompson highly regarded in Thailand for his exceptional service to the nation and was thus awarded the Order of the White Elephant for his achievements. The house doubles as a museum where tourists can prepare to be welcomed by an Angkalung band, before a fascinating tour, a cocktail party and traditional Thai puppet show.
5. Black sand bath & Samurai Houses
Visit the city of Ibusuki from Kagoshima, Japan to experience a traditional therapy. Who knew you could enjoy the benefits of natural hot springs without having to get wet. Sand baths are unique to this region and involve covering your entire body in hot black sand, before a relaxing Japanese-style bath cleanses you. Once you are cleansed and revitalised head to the well preserved Samurai Houses of Chiran, which will give you a glimpse into how these ancient warriors once lived.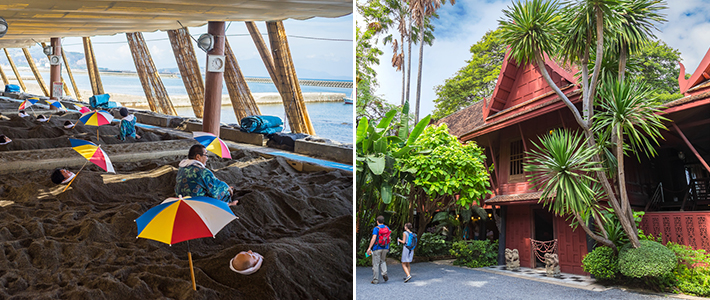 Back to cruise guides and features
Go