Updated November 2017
DISCOVER & EXPLORE
When in Rome..
Join our Cruise and Destination Expert Keith Maynard in Rome, and discover the beauty, culture, delicious food, and fascinating sights that Rome has in abundance. Rome is a great place to visit by cruise on a Mediterranean itinerary. From the moment you arrive in Civitavecchia, you'll be whisked away to the city to absorb the iconic landmarks and thriving culture.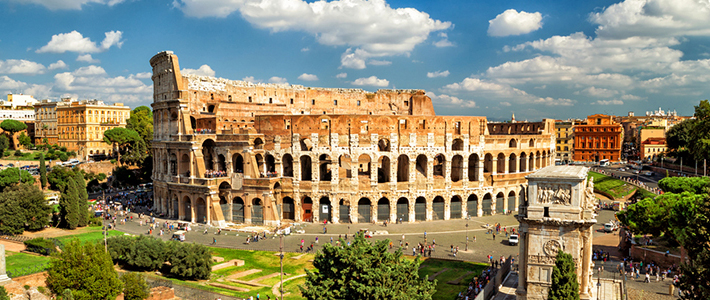 Travel Highlights
All roads lead to the ancient city of Rome. Founded in 753 BC, this iconic city transcends the ages and remains one of the greatest places on earth to visit. Long after the days of powerful emperors, gladiators, and the artistic renaissance, the historical legacy of this exhilarating city is still as important as ever.
Exploring Rome is like taking a step back in time. The well preserved historic centre of the city is a UNESCO World Heritage Site, and is awash with quaint vistas, ancient ruins, romantic gardens, famous statues, and charming piazzas.
Top 3 Sights to see
The Vatican City - Home to Pope Francis, the Catholic Church, and many architectural marvels such as the Sistine Chapel, Vatican, and Roman sculptures.
Trevi Fountain - Flock to see the emerald waters flowing from the world's most famous fountain, which was designed in the 18th century.
The Colosseum - The world's most spectacular amphitheatre is home to myths and legends dating all the way back to 80 AD. Gaze in amazement at this architectural wonder, and walk where gladiators once stood before you.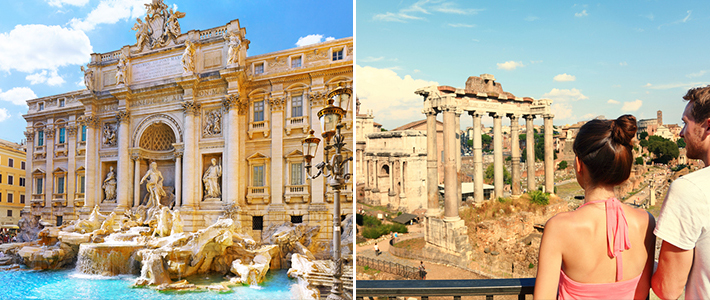 Rome Cuisine
Enjoy 'La Dolce Vita' (the sweet life), and head towards the bustling streets tucked between Via del Corso, and the artsy Piazza Navona. Whether you want to sample the intoxicating flavours of the finest, freshly ground coffee, or devour a slice of crispy pizza or a true hearty Roman meal, look no further than the city's picturesque side street cafes, and neighbourhood trattorias.
Hidden Treasures
Pyramid of Cestius: A pyramid in Europe? This might seem like a peculiar claim, but it's not just a mythical folktale. The legendary tomb of Remus rests beneath the steep Pyramid of Cestius (120 ft high), which was inspired by 'Egyptomania' which gripped Rome in the wake of the conquest of Egypt in 30 BC. This majestic site is located close to the Protestant Cemetery, in Porta San Paolo.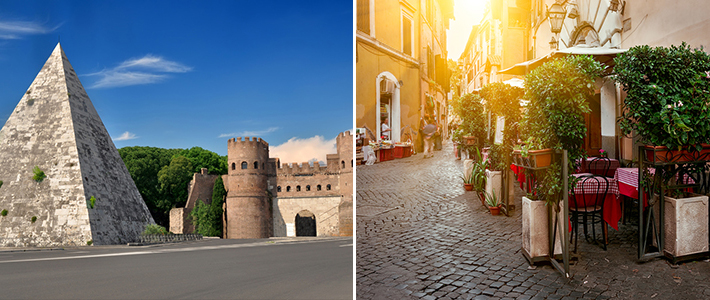 For more information on Cruises to Rome and its timeless history.
There is a whole world of discovery awaiting you with Planet Cruise, make your next holiday one to remember.
Back to cruise guides and features
Go