Many celebrity chefs have their own restaurants onboard cruise ships. Eating on cruise ships is an exceptional experience, as the cost for the food of Michelin-star chefs is much lower than it is on land. Find out more about eight celebrity chefs at sea.
Roy's restaurants are on the award-winning MSC Seaside, a ship that is highly regarded in the cruising community. His venue is an Asian market kitchen that has three separate food options; an à la carte section for pan-Asian food, where the famous 30-year-old recipe of choccy soufflé cake is a winner, a teppanyaki-style room, and a sushi counter. At the sushi counter, the caterpillar roll with the unagi katsu is a top pick.
This world-renowned chef has trained the likes of Gordon Ramsay and Philip Howard and is the youngest and first British chef to be awarded three Michelin stars. Marco operates six restaurants on P&O Cruises' ships. The top picks are the Mediterranean inspired White Room on Ventura, where his fillet of turbot is a highly rated meal, the French Bistro on Aurora, and the Italian Café Jardin on Oceana where his gnocchi sorrentina is a signature dish. In addition, he has further created family menus at the casual dining Beach House.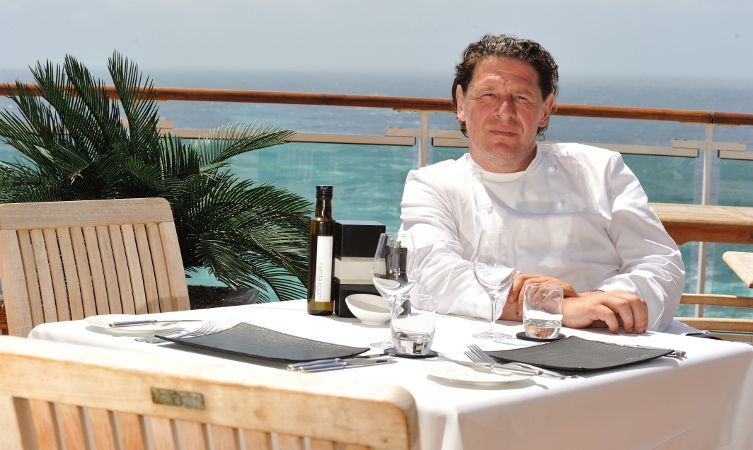 Hailing from Italy, Angelo Auriana is greatly influenced by the local cuisine of the northern regions of the country. He transformed the menu at Sabatini's onboard Princess Cruises' ships to make it their signature Italian restaurant for nearly two decades.
This American Emmy Award-winning chef has his 'Guy's Burger Joint' onboard every Carnival ship, with a charming 1950s diner vibe. Specialising in burgers with a unique brown sugar barbeque sauce and toppings, these popular bites are presented buffet-style with a wide variety to choose from. Amazingly, the restaurant is free as it is included in the price of your Carnival cruise.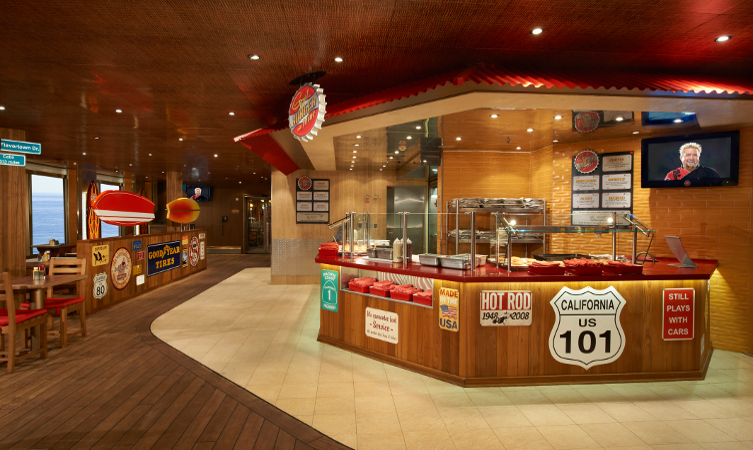 This French celebrity chef has a three Michelin star restaurant named l'Assiette Champenoise in the city of Reims, France. Collaborating with Disney he has created a French menu for the restaurant 'Remy', which is an adult-only restaurant on Disney Dream and Disney Fantasy. It's an ideal spot to wind down and enjoy whilst the kids are being taken care of at one of the kid's clubs. The restaurant has up to nine different small plates, enabling you to try a vast array of dishes.
You can find ever-popular Jamie Oliver's famous 'Jamie's Italian' chain onboard Royal Caribbean ships. Here, you have a selection of rustic family-style Italian dishes, with the wild mushroom and smoked mozzarella risotto and delicious lasagne as particular standout favourites. What's more, the pricing is considerably lower than his land-based restaurants, making it even more of an incentive to visit the chain during your stay on a Royal Caribbean cruise.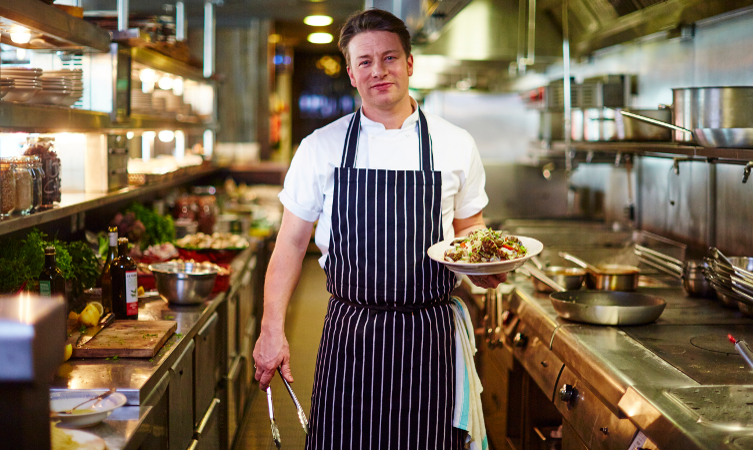 A true pioneer within the culinary industry, Jacques is a key figure within the Oceania set up. Here, he is the Oceania Cruises master chef, with his restaurant 'Jacques' on Marina and Riviera being particular standouts within a cruise line that is specifically food-focused. Pepin has three signature dishes in steak frites, poulet roi, and the supreme salmon. All meals are included within the fare too, so if you're a foodie, Oceania Cruises are surely the way to go.
Norman specialises in chocolate, owning one of the top chocolate shops in America. Princess Cruises partnered with Norman offering customers 'Norman Loves Chocolate Journeys'. A particular highlight is the chocolate-themed activities on offer, such as the chocolate massage in the spa. Additionally, the puddings are free at the buffet and in the main dining room.
Read our Cruises for Foodies blog for more inspiration, or if you like being adventurous with your food, check out Around the World in 18 Dishes.
Back to cruise guides and features
Go