The river Rhone, starting in the beautiful Swiss Alps of Valais and travelling all the way to the Mediterranean Sea, is known for its stunning views and historical background. Quieter than other European river cruise waterways, but no less full of culture, history, cuisine, and all other aspects that make a river cruise so fulfilling, on a trip through the Rhone you'll see some of the most sought-after sights in France. Read on for an overview of some of the beautiful places you'll see while river cruising on the Rhone.
The City of Avignon
This ancient and vibrant city is made up of narrow cobbled streets filled with an array of churches, museums, and the stunning Palais des Papes. If on a late summer cruise, children can enjoy Les Luminessences d'Avignon, a 35 minute 3D light show in the central courtyard of the palace.
If you're feeling creative, the city also hosts a cooking school in the elegant Hôtel de La Mirande, which is run by Michelin-starred chefs from across the region. Classes are followed up with a three-course gourmet meal complete with wine tasting.
Arles
This small town, famous for being home to Vincent Van Gogh in the years before his death, is one of the best stops on the trip. The town is covered with golden-bricked buildings and even houses an extraordinary Roman amphitheatre as well as many other remaining Roman sites.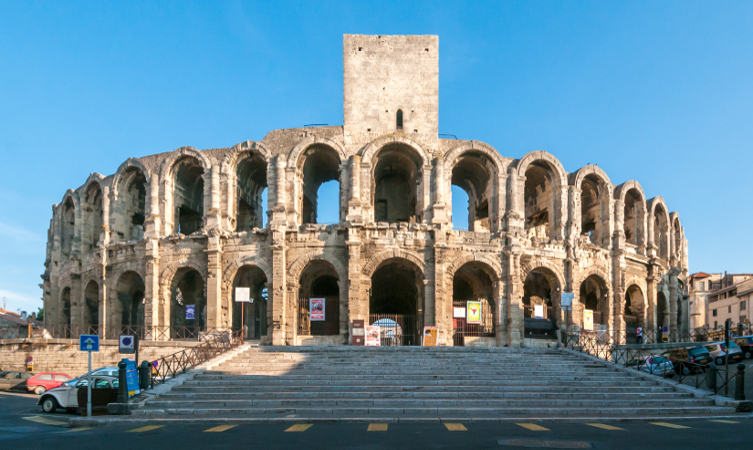 If you find yourself inspired by the beautiful views, there are many painting classes on offer for passengers to try out some impressionist painting and channel the resident spirit of Van Gogh. Some other shore excursions include visiting the site where Van Gogh's house used to stand, and visiting St. Paul de Mausole Monastery which is one of the most beautiful in the province. To get even more out of a trip to the monastery you can also visit the adjoining psychiatric health institute, where self-admitted Van Gogh stayed and created over 150 paintings.
Pont du Gard
Despite being a little bit away from the city of Avignon, this is definitely worth a visit if you're stopping in a nearby port. As one of only eleven remaining ancient Roman aqueducts in the world, it is certainly an impressive sight to behold. There is the museum, with café and restaurant, and is also a very child-friendly area. The museum includes an interactive toy library for kids, which allows children to step into the shoes of many exciting roles such as an archaeologist or a Gallo-Roman pupil.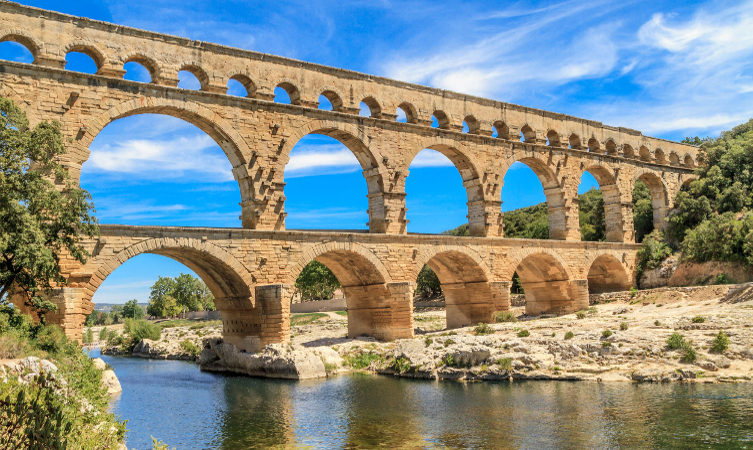 Lyon
As the second most significant cultural and culinary centre after Paris, Lyon is an incredible place to visit and many would say it beats Paris as a river cruise destination. From Lyon's towering and ethereal Roman church known as the 'Basilica of Notre-Dame de Fourvière' to the newly built 'Musée des Confluences,' there's much to see in this ancient town. This museum may be an amazing building architecturally, but the inside is no less amazing. The museum attempts to tell the story of humanity through 2 million objects including a 2,000-year-old mummy and even a piece of moon rock.
Beaune
This walled and cobbled town is situated right in the centre of the Burgundy winemaking region and is therefore surrounded by great vineyards. The town itself is also renowned for its annual wine auction held at the Hôtel-Dieu. Perfect for any wine fanatic! For a brilliant excursion, there are many wine tasting and vineyard visits on offer. However, if you're looking for something more active, there is a half day bike tour starting from Beaune's centre led by local guides to discover some of the most popular vineyards of Burgundy. The tour follows a beautiful and scenic route, stopping off at multiple vineyards, visiting the cellars and tasting the wine.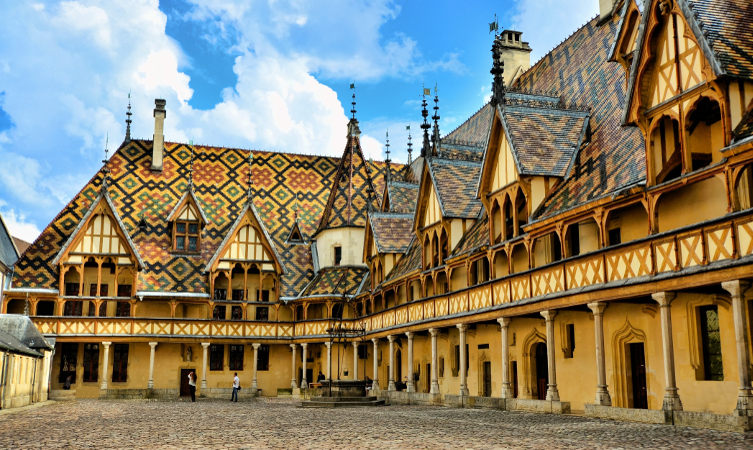 It is not all about the wine though; the town is also well-known for its vibrant polychrome renaissance roofing style. Lots of the buildings are covered with beautiful patterns, and a simple walk through the town is filled with exciting new sights.
Tournon-sur-Rhone
This little town with historic sites dating back to the Middle-Ages lies right by the banks of the Rhone. This, therefore, makes the town readily available to passengers as they can easily come and go from the ship as they wish.
Passengers can take the opportunity to stroll in the scenic park known as Le Jardin d'Eden – The Garden of Eden. This can be found in the old town fortifications and is a verdant and beautiful setting for a moment of peace.
If you're feeling inspired but aren't sure if the Rhone is for you, take a look at our guide to river cruising in Europe, or some of the best cities you can see on a river cruise.
Back to cruise guides and features
Go