With the designs for P&O's Iona finalised and being executed, we here at Planet Cruise are keen to find out everything we can about what's in store onboard the new ship. From décor and furnishings, to food and activities, we want to know everything. If you're as interested as we are about this exciting, British-style cruise ship, read on to find out everything we know about life onboard Iona.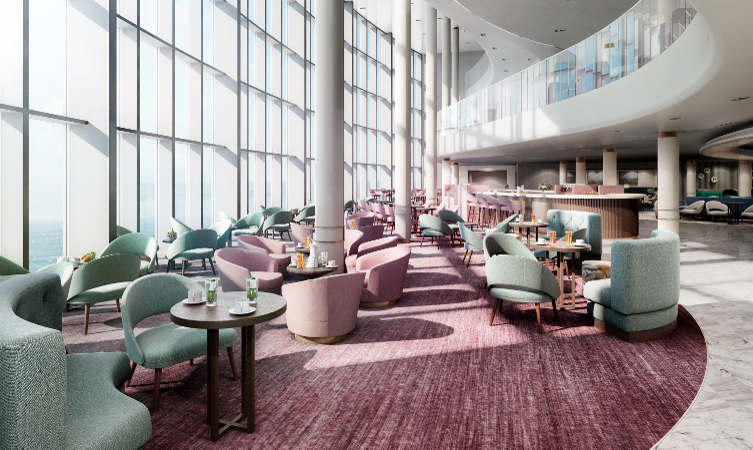 What will the cabins on P&O Iona be like?
P&O Cruises had a clear and definite vision of their new ship, and how it should celebrate the sea as much as possible. With this in mind, designers have truly put the ocean in the spotlight throughout their plans. Cabins themselves are decorated in gentle creams, golds, and white, with instances of blue tones as well, particularly shades of nautical navy blue.
As well as the colours, attention has been paid to the in-cabin features. Porthole style mirrors adorn the walls, and furniture is made with high-quality natural wood wherever possible. The idea is that when guests want to retire or relax in their room, there will be a peaceful ambience reminiscent of gazing at a calm sea.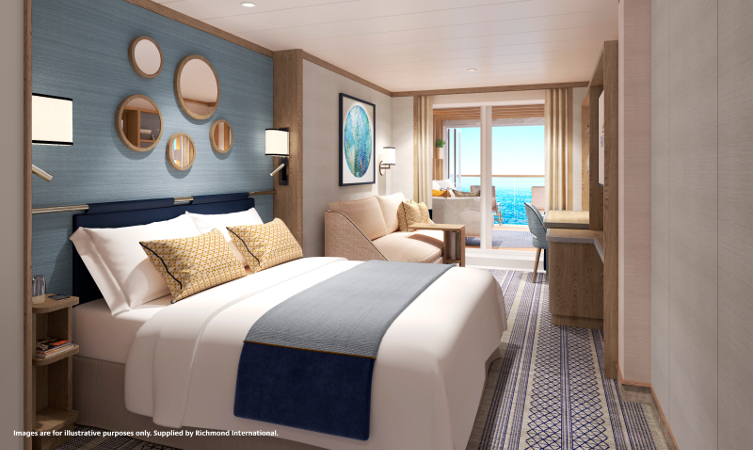 P&O Iona will actually debut a new style of cabin for P&O Cruises as well; the Conservatory Mini-suite. This means that guests will have a choice of seven different accommodation types, so surely there will be something to suit all needs. The new cabin offers a gorgeous space between the main room and the balcony – the conservatory. It's the perfect area to relax with a book or enjoy your morning cup of tea while looking at the impressive views of the ocean.
What will the atrium on P&O Iona be like?
The designers of Iona are particularly excited about the atrium – the heart of the ship. Again keeping attention on the sea, the area – which spans three decks (6, 7, and 8) – boasts floor to ceiling panoramic windows. This means that any guests spending time in the atrium and its surrounding venues will be able to drink in those magnificent views at all times.
The staircase itself is described as 'sweeping', and is equally impressive on all decks. Designed in a similar fashion to the staircases on classic cruise ships, guests will certainly appreciate the glamour and splendour of the space.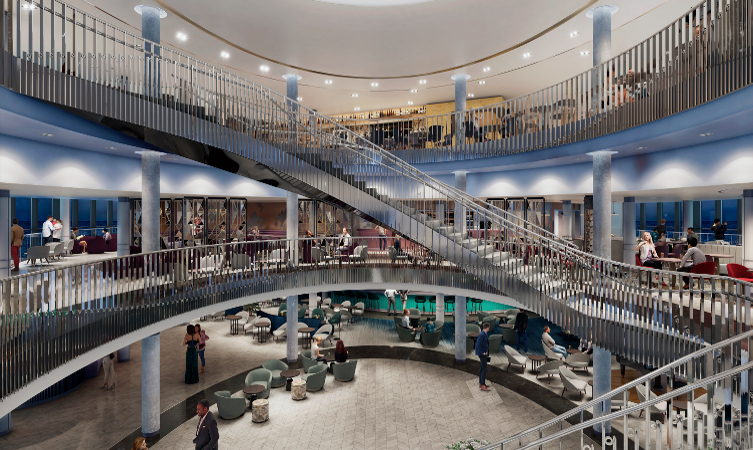 As one of four main entertainment areas onboard, there will be sporadic performances in the atrium throughout the day and going in to the evening. These will include some incredible aerial circus performances, and can be seen in the atrium's various dining and drinking venues as well.
What are some of the bars and restaurants on P&O Iona?
So far information about just a few of the public venues has been released, all of which can be accessed from the atrium of the ship. Here's what you can look forward to:
The Glass House – this will be especially popular with wine drinkers. Wine expert and P&O Food Hero Olly Smith has specifically selected all the wines available here, which can be enjoyed with lunch or dinner (breakfast is served here too). This is also the location for wine talks, tastings, and wine-pairing dinners at which you can hone your skills.
The Quays Piazza - a self-service, food-market style venue, here guests will find the perfect chance to dine casually and try a range of delicious food - from Asian street food to classic American diner fare.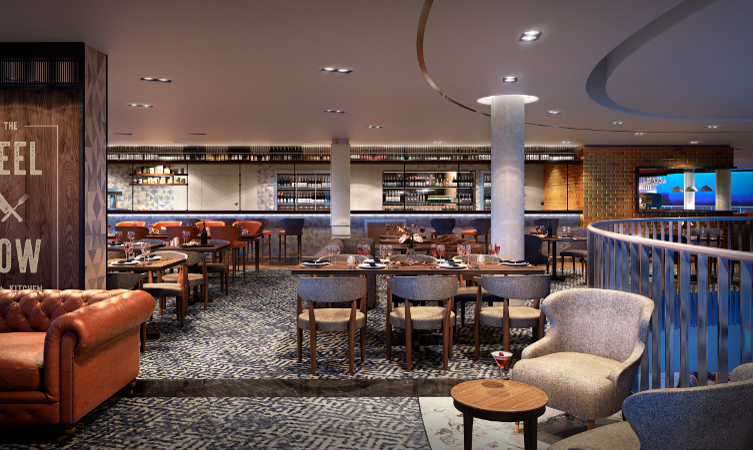 Vistas Café Bar – this casual venue features the expertise of another P&O Food Hero – the highly esteemed patissier Eric Lanlard. Choose from a collection of his cakes and pastries to indulge in with your tea of coffee.
Emerald Bar – sip on a cocktail with new friends before dinner, or end your evening with your favourite short in this elegant bar. It could be the perfect spot for a romantic evening as well, with those sea views complimenting the room.
The Keel & Cow – we are especially excited about this new addition for P&O Cruises. It's set to be a casual and comfortable gastropub serving breakfast, lunch, and dinner. The steaks kept in the dry-aging fridge will be particularly tempting.
What other features will be onboard Iona?
There are a number of different features and facilities that will be debuted on Iona which we can't wait to discover. Here are just a handful of the things you can look forward to:
Sky Dome – there's a lot of hype circulating about this innovative venue, which is going to comprise of a high-roofed pool with retractable stage, spanning across decks 16 and 17. It's set to be the perfect, diverse location where you can play, relax, and dine during the day and be entertained with shows, aerial performances, and deck parties in the evenings. It's sure to be one of the main social hubs of the ship, the place to head for everything from morning coffee at 7am, to dancing at DJ parties well into the night.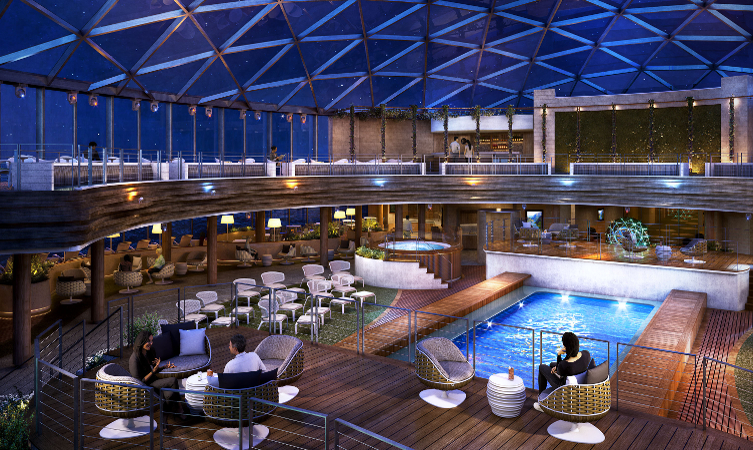 Ocean Studios – guests can take it easy and be entertained watching a range of films, from cinema classics to recent blockbusters, in this great boutique-style cinema complex offering four screens.
710 Club – this adults-only venue is a brilliant place to spend an evening socialising and having fun. Live music here ranges from Rat Pack style and both classic and modern jazz, to rock songs and acoustic covers.
With so many choices when it comes to spending time onboard Iona, the fantastic onboard kids clubs can be a parent's saving grace. Separated into 5 different age groups (6mnths-2yrs, 2-4yrs, 5-8yrs, 9-12yrs, and 13-17yrs), all the young cruisers will find plenty of new friends and things to do. Parent's can also make the most of the night nursery, where children aged between 6 months and 4 years can stay between the hours of 6pm to 2am, while the adults go and enjoy an evening together. Those who make use of the night nursery will be given pagers so they're alerted if there are any problems or when their child wakes up.
Where will P&O's Iona be cruising?
When Iona graces seas in 2020 she will begin a series of fantastic itineraries in the Norwegian Fjords. Taking visitors to a range of incredible ports such as Olden and Geiranger, there will be ample choice when it comes to things to see and do, no matter what kind of cruise holiday you're looking for.
Families will enjoy uncovering exciting Viking history in places like Stavanger, aka 'the Cradle of the Vikings', and foodies will relish in tasting local delicacies such as crayfish, smorbrod (open rye bread sandwiches), and brunost (sweet cheese). Active holidaymakers will jump at the chance to get river-rafting and Nordic walking, and those looking to relax and simply appreciate the surroundings will love the cable cars and funicular, which transport you to the best vantage points.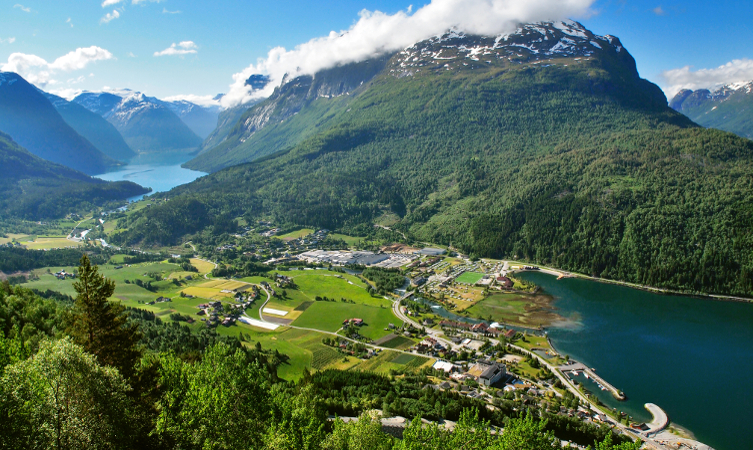 Iona is perfect for such a stunning destination as the fjords, considering the way she has been designed. With the sea and surroundings in focus as much as possible, passengers can gaze at the views from spots onboard like the Lania Deck, the glass-walled atrium, and their own personal balconies.
It will be possible to pre-register for a sailing from Monday 3rd September, and cruises onboard Iona will go on sale to past passengers on Monday 10th September and on general sale on Wednesday 12th September.
As P&O Cruises release more and more information about Iona, we'll be doing our best to keep our readers up to date as well. Please be sure to register your interest in Iona, and sign up to our mailing list to receive all the latest cruise news straight to your inbox.
Back to cruise guides and features
Go