Flowing from the Swiss Alps to the North Sea, the River Rhine is one of Europe's most fabled rivers. It embodies a romantic, fairy-tale ambience as you drift past crumbling castles and lyrical landscapes. But as with any destination, your experience can differ depending on when you cruise, who you cruise with, and which cities you dock in.
The Best Time to Sail the Rhine
Sun-seekers will absolutely love the River Rhine in the peak summer season, but as with any destination in Europe this can mean it's quite hot and busy. Sailing at other times of the year can be just as insightful and maybe even more delightful.
Easter or Spring
Sailing at the start of the season in spring, or particularly over Easter, can be a really serene and beautiful cruise. The river banks are starting to burst with colour from the local flora, quaint markets are preparing for the Easter season and the temperature is lot milder. Stopping at local markets you can pick up unique souvenirs including painted eggs and traditional wooden decorations.
Late Summer – Rhine in Flames Festival
The Rhine in Flames festival that happens annually, usually in August, is truly a spectacle to behold. A kaleidoscope of lights and colour erupt in the sky above fairy-tale castles and cultural landmarks as a flotilla of sailboats and river ships glide along the river. River banks are lit up with red Bengal torches, and lively events take place across villages and towns along the Middle Rhine - where each location has its own unique character. There are plenty of wine festivals, music, and dancing to get involved in too.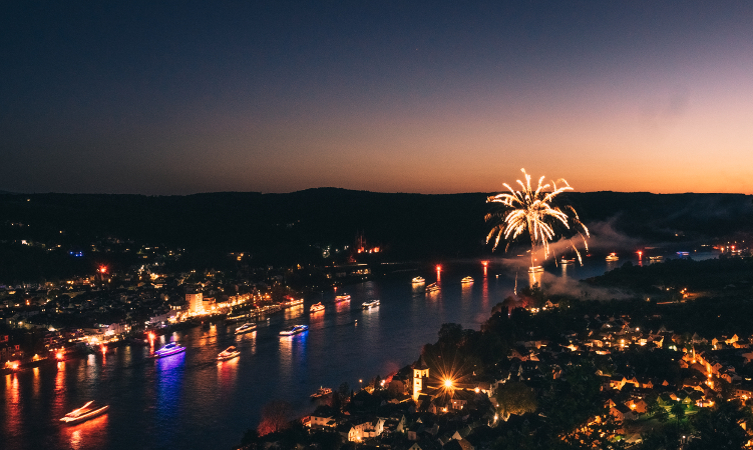 December and the Christmas season
If you're the kind of person who thinks about Christmas year-round, then a cruise along the Rhine in December is a dream. Cities and towns across Germany, Switzerland, France, and more are lit up in festive spirit and Christmas markets are in full swing. The smell of gingerbread and roasting chestnuts permeate the air like a homing beacon for Christmas fanatics, whilst quirky gifts and unique souvenirs line the stalls. Christmas carols, albeit in varying languages, fill the air with a familiar cheer.
Top Locations along the Rhine
Amsterdam, Netherlands
Many river cruises along the Rhine will either begin or end in Amsterdam, and most cruise lines offer at least an overnight onboard here so you can get the most out of this fantastic city. It's elegantly pretty with plenty of history packed into its winding, cobbled streets. The Anne Frank museum is usually not far from where your ship will dock, or if you're looking for some tasty treats there are plenty of local cafés in walking distance - or a quick hop on a local bus. As for excursions here, river cruise lines like Avalon Waterways include an enriching canal cruise along the Gratchen, taking in the pretty flower-lined canals.
Rudesheim, Germany
Rudesheim is the gateway to the incredibly scenic, and World Heritage-listed, Rhine Gorge. Ancient castles and mighty fortresses watch over like guardians from their hilltop settings, as luscious vineyards cling to rolling green hills tumbling down to the river banks. Home to the famous Riesling wines, a visit here wouldn't be complete without sampling the delicious nectar for yourself. It's actually possible to enjoy a private wine tasting in the estate of Castle Vollards with a Uniworld cruise.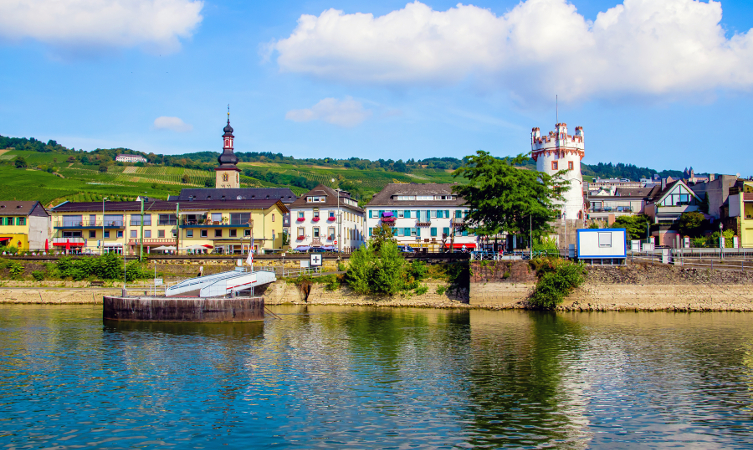 Strasbourg, France
Close to the border between France and Germany, this quirky city combines elements of both cultures in its languages, cuisine, and everyday life. Sitting directly opposite the German town of Kehl, you can actually take a stroll across the bridge taking in the gorgeous, expansive greenery full of walking trails and lush gardens. You can even see the Black Forest from here. Heading into Strasbourg's centre, one of the most notable attractions is the iconic Notre Dame Cathedral with its dramatic interiors. Those looking for local flavours might enjoy a visit to the historic wine cellar, said to contain the world's oldest barrel dating back to 1472.
If you're inspired to embark on a magical cruise along the legendary River Rhine, you'll find plenty of options for cruise line to set sail with such as APT, Riviera Travel, Emerald Waterways, and even Fred. Olsen who've recently launched their new river programme. Find out more about cruising the great rivers of the world, and the adventures waiting to be had on them.
Back to cruise guides and features
Go